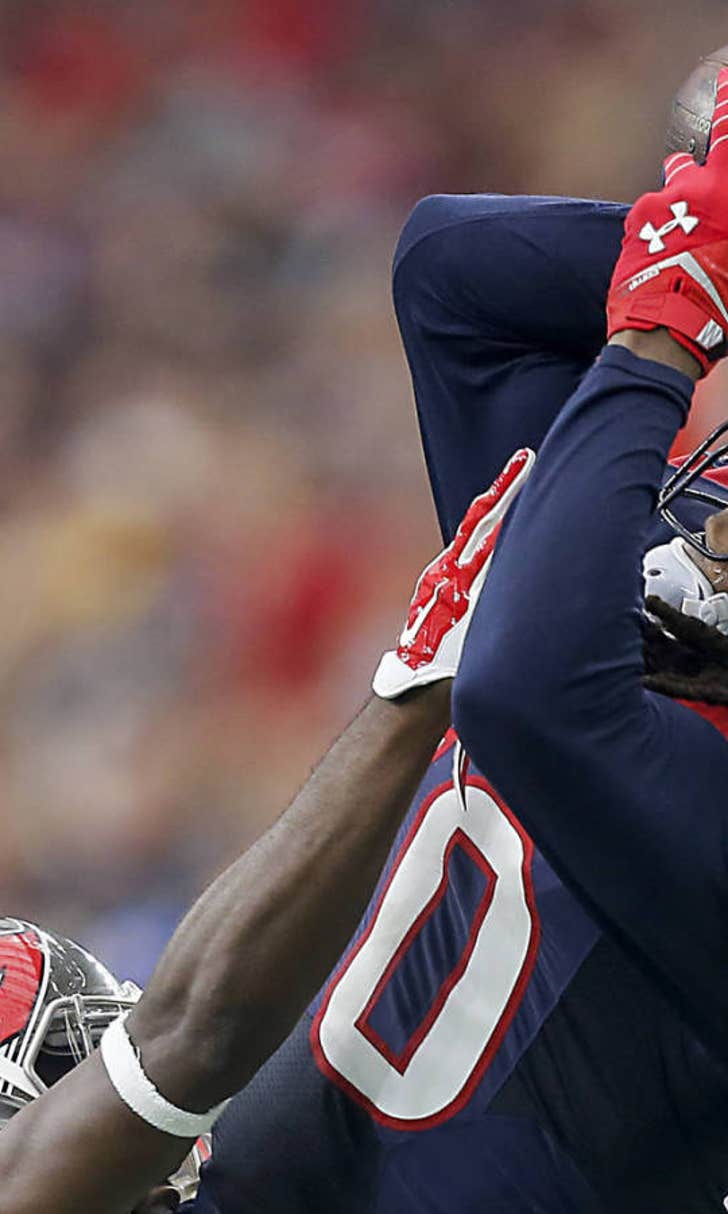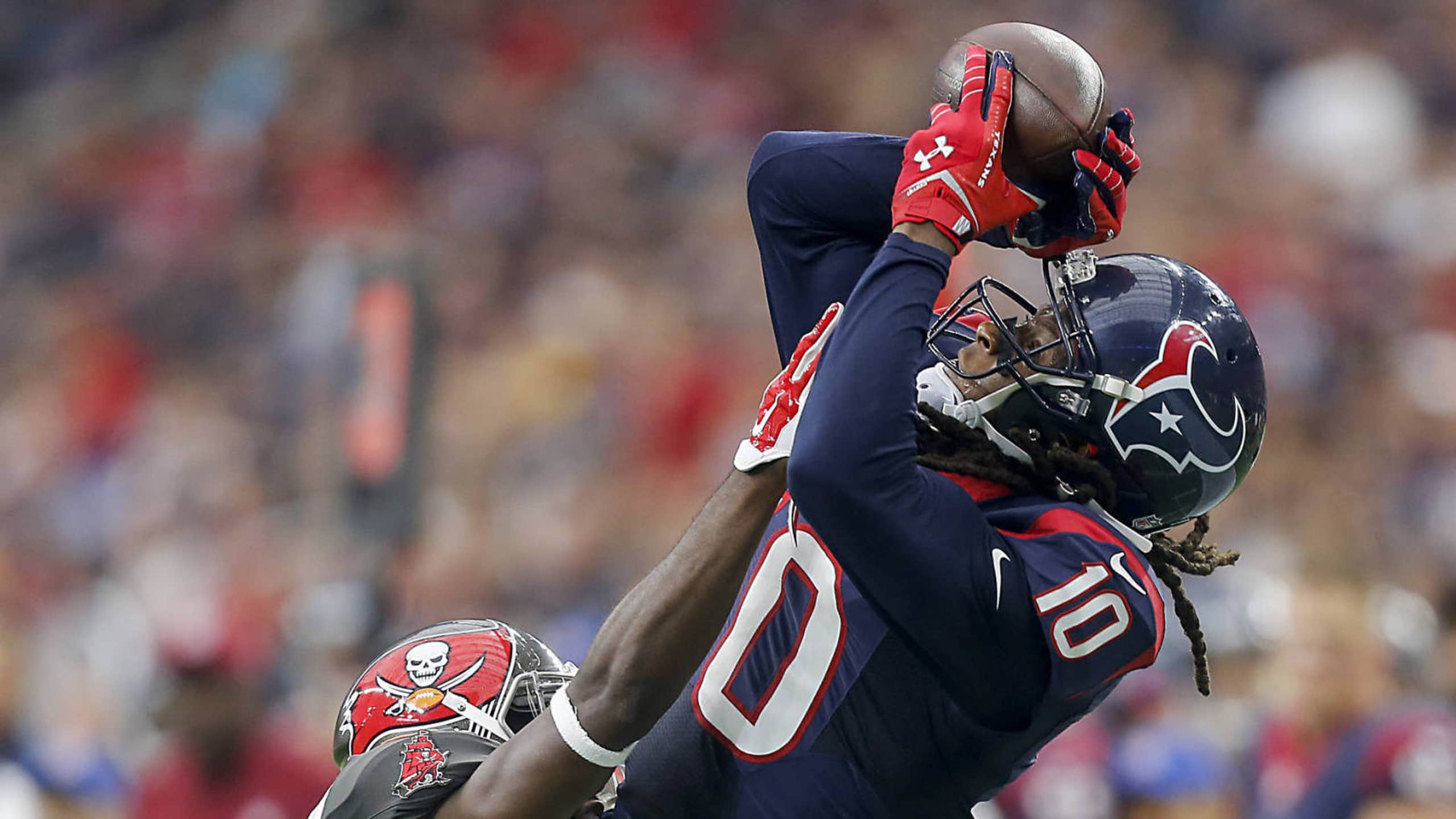 DeAndre Hopkins on pace to shatter single-season target record
BY foxsports • October 13, 2015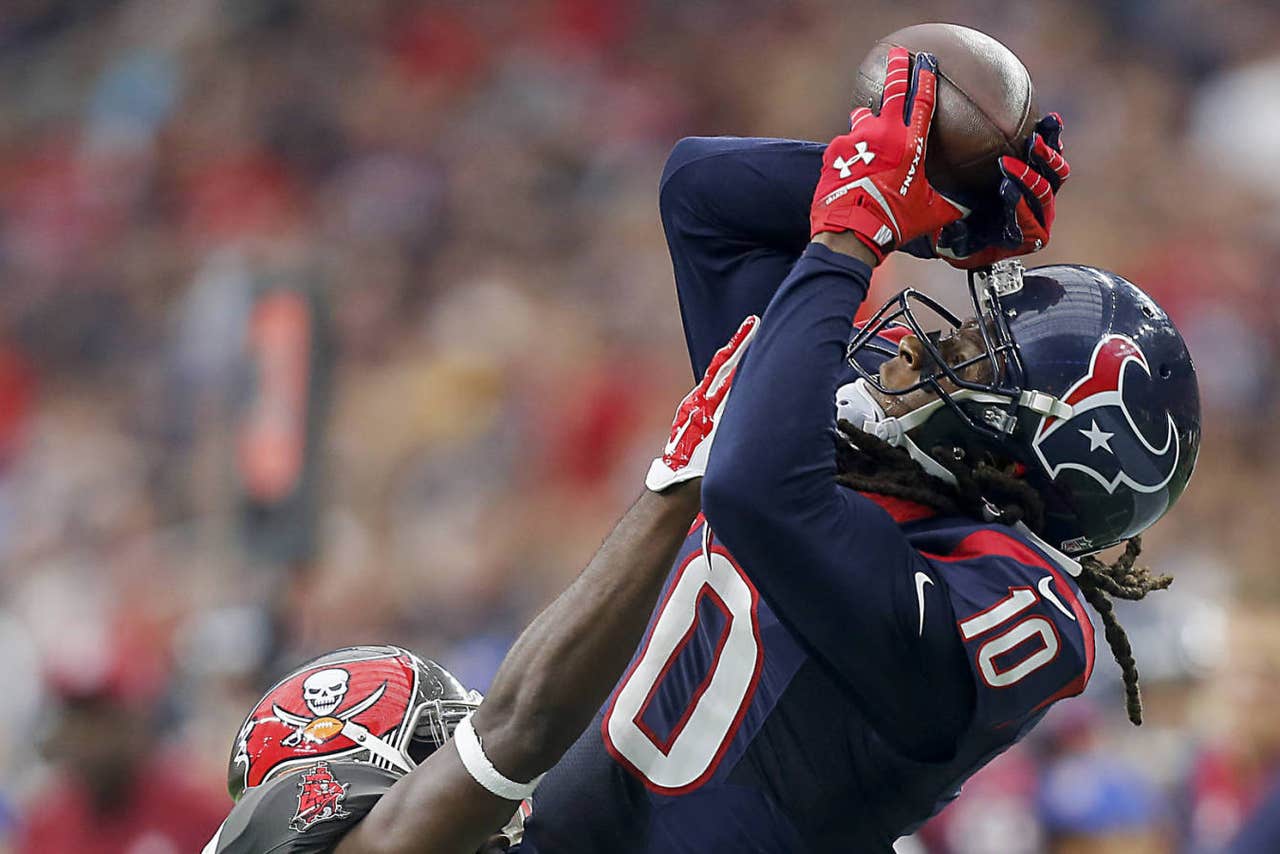 by Vincent Frank
After putting up 11 receptions for 169 yards on 14 targets against the Indianapolis Colts last Thursday, Houston Texans wide receiver DeAndre Hopkins has now been targeted 74 times in five games.

That has him on pace to shatter the single-season record set by former Arizona Cardinals receiver Rob Moore back in 1997. Hopkins, a third-year pro out of Clemson, is also on pace to come close to both the single-season reception and yardage marks for a wide receiver.

We know looking at where a player projects after just five games can be a fool's game, but all indications are that Hopkins will continue to receive an absurd amount of targets.

Through five games, Hopkins has recorded 31 percent of Houston's receptions and the same percentage of the team's targets. For comparison's sake, Calvin Johnson, who ranks fourth on the all-time list with 204 targets back in 2012, accounted for 28 percent of the Detroit Lions targets that season.

This just goes to show us how heavily involved Hopkins has been in the Texans passing game through five games. When extrapolating Hopkins' numbers from the first five games of the season to the entire campaign, his final numbers would look something like this: 134 receptions, 237 targets, 1,850 receiving yards. 

At this point, Hopkins is on pace to record nine fewer receptions than the single-season record Marvin Harrison tallied in 2002. He would also finish with 114 fewer receiving yards than Johnson put up in the aforementioned 2012 campaign.

In terms of targets, Hopkins finds himself on pace to record 29 more than Moore recorded as a member of the Arizona Cardinals in 1997. Interestingly, Moore caught well less than 50 percent of the passes thrown in his direction that season.

With Andre Johnson now on the Indianapolis Colts, Hopkins has taken over as the Texans top receiver — a distinction many will say he held last season while putting up 76 receptions for 1,210 yards.

With injuries to both Cecil Shorts and Nate Washington, the Texans found themselves relying on rookie third-round pick Jaelen Strong to play a large role opposite Hopkins last week. While the Arizona State product found a way to record touchdowns on the first two receptions of his NFL career, the expectation here has to be that Hopkins will continue to see a large volume of targets moving forward.

Including the final three games last season, Hopkins is average a ridiculous 13.2 targets per game. In fact, he's recording 7.9 targets per outing in his first two-plus NFL seasons — a number that matches Calvin Johnson in his first 37 games in the league.

Some may indicate that Houston will pass the ball less with Arian Foster back in the fold at running back. Unfortunately, an uncharacteristically 24th-ranked scoring defense in Houston may throw that idea out the window (almost literally).

Behind two less-than-stellar quarterbacks, the Texans are averaging over 48 pass attempts per game. If those numbers hold, Houston would find itself with the most pass attempts in NFL history — 34 more than the 2012 Detroit Lions.

While that's highly unlikely to take shape, are you sensing a theme here? That was also the season that Johnson recorded the most receiving yards and the fourth-most targets in NFL history.

Dating back to 1990 when targets started being tabulated, only four receivers have recorded 200-plus targets. Of those four, only one (Marvin Harrison, 69.8 in 2002) caught over 60 percent of the passes thrown in his direction.

With a 57 percent catch rate, that's a number Hopkins isn't projected to meet. It's also a number he can build on should the Texans receive better quarterback play moving forward. After all, the former first-round pick has dropped just four of the 74 passes thrown in his direction this season. As you can tell, it's all about the quarterback, whoever he may be, getting Hopkins the ball on a more consistent basis.

The other dynamic to look at here is quarterback play in general.

When Moore broke the target record in 1997, Jake Plummer was tossing the rock around in the desert. Plummer finished that season with as many touchdowns (15) as interceptions en route to a 73.1 quarterback rating. Career backup Kent Graham also started six games, finishing with just four touchdowns compared to six picks.

Herman Moore of the 1995 Detroit Lions is currently second on the all-time list. He had the pleasure of catching passes from Scott Mitchell with an all-time great in Barry Sanders in the backfield.

No. 3 on the list is the aforementioned Marvin Harrison, who was lucky enough to be Peyton Manning's favorite pass catcher when the quarterback was in the prime of his career.

We can look at Calvin Johnson with Matthew Stafford in 2012 and Isaac Bruce with Chris Miller, two receivers that round out the top five. In all but Harrison's case, having a stud quarterback wasn't necessarily a requirement here.

And that's the point. Struggling quarterbacks tend to latch on to one receiver as a way to gain confidence. It's a comfort zone they need. With slightly improved play from either Ryan Mallett or Brian Hoyer, there's no reason to believe Hopkins can't continue this historical season.

It just remains to be seen if the young receiver will have the receptions and yards to show for what will likely end up being a record number of targets when all is said and done.

Check out Vincent's other work on eDraft.com and follow him on Twitter @VincentFrankNFL.
More from Yardbarker:
---
---