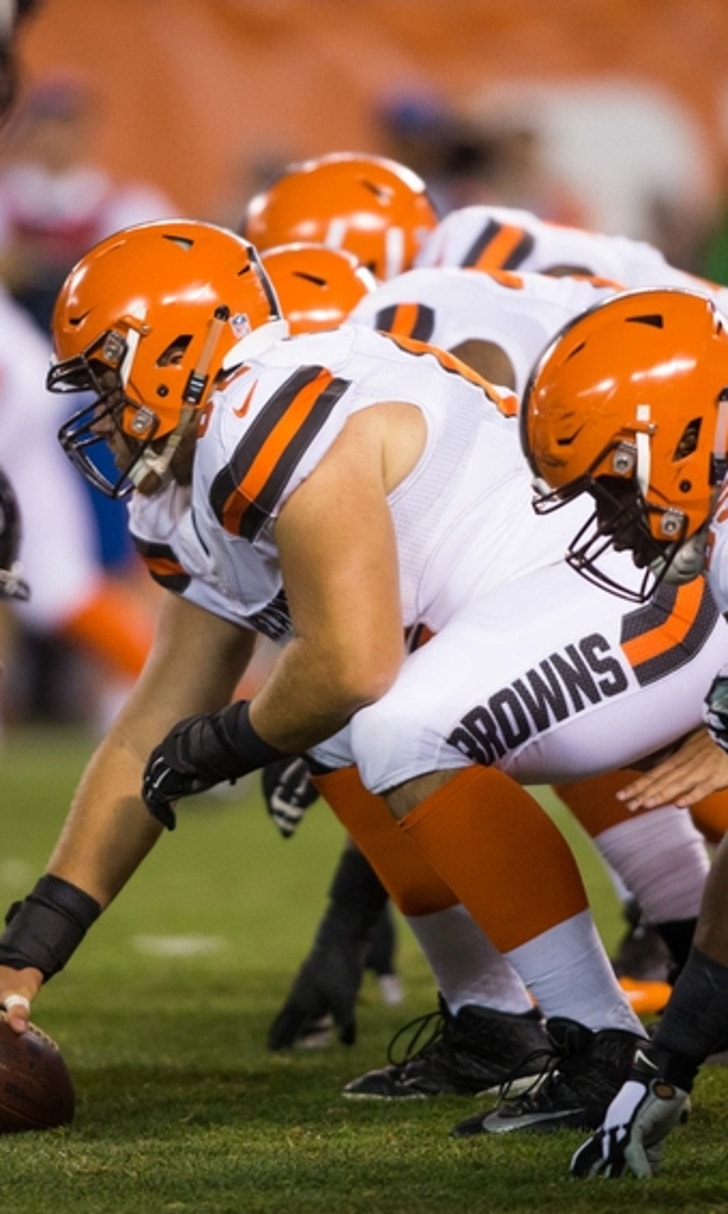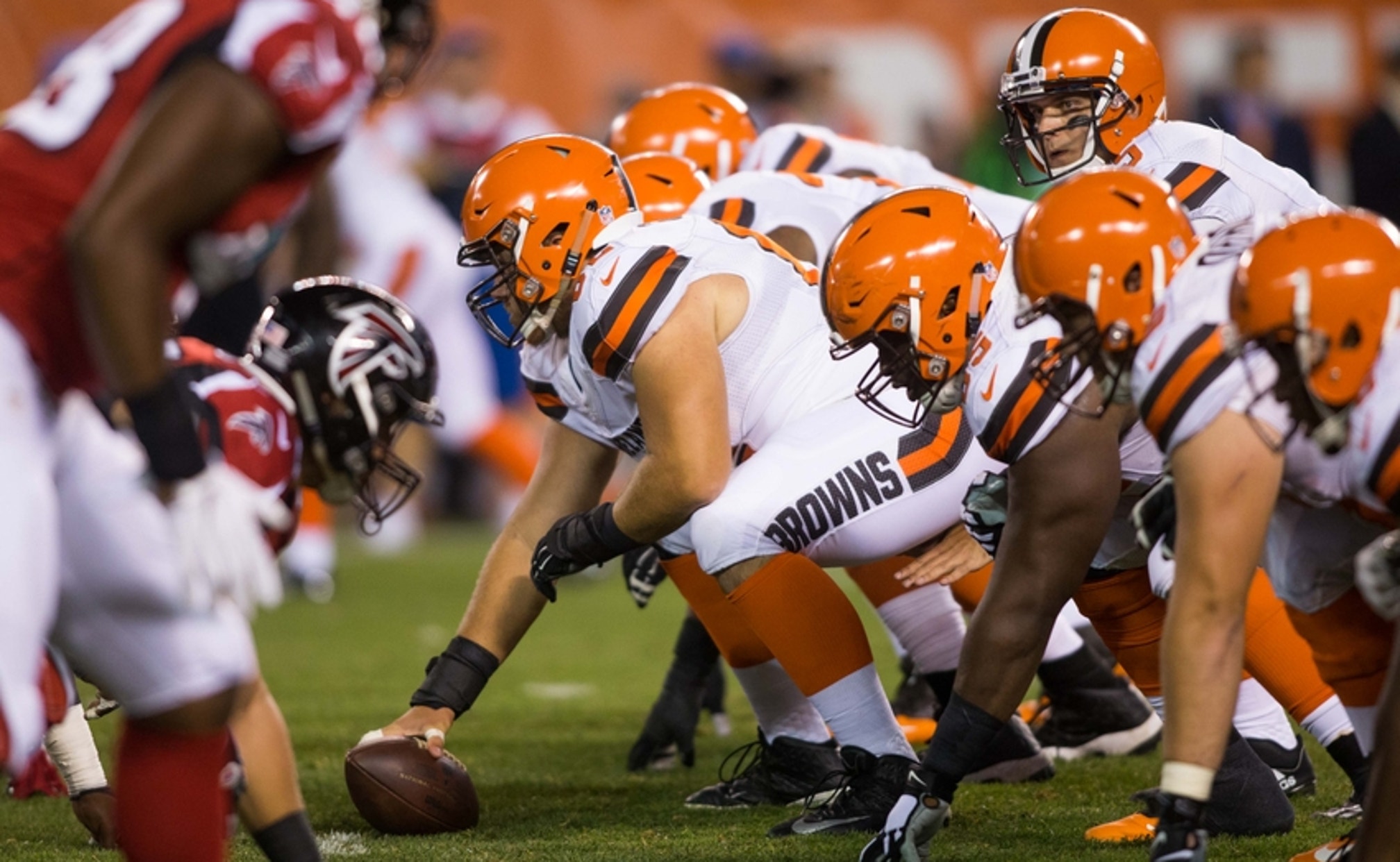 Cleveland Browns: The Offensive Line is in Place
BY Fansided and Peter Smith/FanSided via NFL Spin Zone • June 30, 2017
The Cleveland Browns have a better offensive line than most are willing to accept and their priority should be keeping it together and developing it, not rebuilding it.
One of the common refrains from the 2016 season was that the Browns needed more help on the offensive line. After losing Alex Mack and Mitchell Schwartz in the offseason, there were expected growing pains that the team went through, but they've done that. And believe it or not, the Browns don't need to prioritize offensive line in the offseason.
The Browns leave 2016 with basically eight offensive linemen they can have some level of confidence in for the future.
Joe Thomas is an obvious Hall of Famer and despite constantly being talked about as someone the team should trade (stop it) or that is going to retire any minute, he insists that he is going to play as long as the Browns will let him. Thomas also has two years left on his current deal.
This past year was a "down" year for him relative to his standards because he was playing hurt for so much of it. His knee wasn't right for much of the year, but he's dealt with that in the past and played through it, because that's who he is and what he does.
Joel Bitonio is an excellent left guard who is entering the final year of his rookie deal. He also had to have Lisfranc surgery on Oct. 18, which comes with a lengthy recovery. Nevertheless, next season he should be a priority for a contract extension.
Cam Erving struggled early in 2016, but improved steadily and did his best work after the bye week. Unfortunately, while experimenting at right tackle, he suffered a sprained MCL, which requires some recovery, but shouldn't prevent him from having a productive offseason and get him prepared to be more effective at the start of 2017.
Most notably, he has to be more confident in the protection calls up front, which he can work on while rehabbing. He also needs to work to improve his pad level as he still runs into situations where he comes out too tall and gets out-leveraged by opponents.
His play at right tackle wasn't awful. The problem he runs into, which isn't unique to tackle, is that he will overextend, which stops his feet. That's what got him beat on the sack he gave up to Bud Dupree in Week 17. He simply has to trust his strength more and keep moving. In case of injuries, Erving could fill in there with more work.
More from NFL Spin Zone
John Greco, like Bitonio, had to have Lisfranc surgery and his was in December, so he will probably have to start 2017 on the PUP list. Greco has been a steady right guard but also provides depth at center. This is his last year under contract and it remains to be seen if the two sides will want to continue that relationship beyond 2017. He'll be 32 next season.
Austin Pasztor was far better than he will ever get credit for in 2016. Many of the critics of Pasztor were also extremely critical of Mitchell Schwartz his entire time with the Browns and now are upset that he's no longer a member of the Browns.
Pasztor is a free agent and the team should resign him. He's still just 26 years old may be in line to start at right guard in place of an injured Greco, but also can play right tackle if needed. Pasztor was a terrific pulling guard in 2015 when he played left guard for the Browns and is a strong run blocker in general.
Shon Coleman was finally able to give fans a glimpse of what they are waiting to see from him against the Pittsburgh Steelers. The Browns benefited from Pasztor's effective play, which enabled them to really properly prepare Coleman to play right tackle. In a little under a half, he was extremely effective. With a productive offseason, he stands as the favorite to start at right tackle.
Massive and light on his feet, Coleman has a ton of ballast. It makes it difficult for people to get around him in pass protection. He's also a powerful run blocker and was able to knock down an opponent going down the field. It's critical for Coleman to improve his ankle flexibility this offseason, so it will allow him to gain leverage more effectively and maximize his agility.
Spencer Drango was a fifth-round rookie this season and ended up taking over left guard for Bitonio when he went down. Drango struggled at times, especially in pass protection but he did some good things in the running game. His athletic upside is limited and he may never be a good option as a starter but he's already proved to be capable of depth. Drango just doesn't move as well as virtually anyone else on the team, so he has to be right to be effective. He has little room for error.
Anthony Fabiano, like Coleman, only played in the one game. An undrafted free agent from Harvard with a ton of upside, he showed enough to be a backup pivot who could become a starter. This was a nice addition by the front office working the waiver wire, which has been discussed in a previous article.
The most troubling situation on the line is center. Even though Erving has improved, most fans are skeptical and seeing Erving play tackle only fuels that skepticism. Erving is better than he gets credit for, but he also needs to make big strides as he heads into year three.
Fabiano is promising and has the potential to ultimately be a starting center, but it's a stretch for him to be there quite yet next season. Greco provided a safety net for the position, but with his status a huge question mark, center now has the fewest options. Should the Browns feel compelled to make a move to bring in more help, it would almost certainly be at center.
Dec 11, 2016; Cleveland, OH, USA; Cleveland Browns center Cameron Erving (74) during the first quarter against the Cincinnati Bengals at FirstEnergy Stadium. The Bengals won 23-10. Mandatory Credit: Scott R. Galvin-USA TODAY Sports
If for whatever reason the Browns were not to sign Pasztor, with Greco's injury situation, that becomes a hole in the line and would be one that could be addressed in the draft or free agency. Simply resigning him seems the most prudent option. Not only is he young (26) he's played pretty well, knows the system and shouldn't be expensive to retain.
This does not mean the Browns definitely won't draft an offensive lineman. They should be on the lookout for a potential long term answer to Joe Thomas for when he ultimately does decide to retire. It's possible this draft could have in them in a situation where the value is just too good and they pick another promising lineman. It just means that offensive line is not the screaming priority that some make it out to be, allowing them to attack other areas on the team.
They did sign Zach Sterup to a futures contract. He's 6-9, 318 pounds and his movement skills are impressive, which makes him pretty unique. He may get a look to be a long term tackle, be it on the left or right side.
The Browns still have the awful Alvin Bailey, who was easily the worst lineman the Browns put on the field this year. He was suspended for a DUI and was terrible on the field. Bailey is quite athletic and still young, but to this point, it  just hasn't clicked for him to this point.
They also have Gabe Ikard, who has been on the active roster most of the year. The problem for Ikard is that he's another center and if the Browns like Erving and Fabiano, his days may be numbered in Cleveland.
Austin Reiter appeared in one game and played well against Washington, albeit against a 36-year-old Cullen Jenkins. Unfortunately, he suffered an ACL tear that he is currently recovering from and is another candidate for the PUP list with the possibility that he won't be able to contribute at all in 2017.
Maybe the most interesting part of the Browns offensive line group is their ages. Joe Thomas is 32 and Greco is 31, but beyond that, no one is older than 26 with Bitonio and Coleman being 25, Erving and Drango 24, and Fabiano just 23.
Those are who the Browns have. The question becomes why should the Browns be confident in them. Aside from the sheer athletic upside, the improvement is noteworthy and Hal Hunter Jr. deserves a lot of credit for the job he's done this year, but let's dig into the numbers.
Usually the first stat critics will bring up with this line is the sacks they've given up this year. 66. It's an ugly number. In 2015, with Thomas, Bitonio, Mack, Greco and Schwartz, the Browns gave up 53 sacks, which at the time was a popular refrain from critics of that unit.
This year, like last year, an outrageous number of the sacks given up were caused by the quarterback. It's notable just how much quarterback play strangled this offense the past two seasons, especially when it came to taking terrible sacks.
It didn't help that Browns quarterbacks held onto the ball as long as anyone else in the league.
Notice who else is on there: Landry Jones. The Browns sacked Jones four times in their final game. In 14 games this year, Roethlisberger was sacked just 17 times, barely one per game. The Steelers had four of their five starters in and the backup, B.J. Finney, wasn't the one giving up the sacks. And no one is going to accuse the Browns of suddenly having a fearsome pass rush. Coming into the game, the Browns had a season total of just 22 sacks.
Jones held onto the ball as long as the Browns quarterbacks tend to do and the result was an uncharacteristic amount of sacks for that offensive line. The big difference was with who was taking the snaps. Jones also isn't scaring anyone and the Browns blitzed him relentlessly. Unlike Roethlisberger, who forces teams to be far more careful with their defensive coverages, Jones doesn't command that type of respect. Neither do Josh McCown, Robert Griffin III or Cody Kessler.
That sack number is unacceptable and the team has to get better and has to improve, but it's never just the offensive line. The most important part of the pass protection is the quarterback.
The other part of this is the running game and comparing 2015 to 2016:
2016 Team Rushing – 350 carries, 1,712 yards at 4.9 per carry
Isaiah Crowell – 198 carries, 925 yards, 4.8 yards per carry
Duke Johnson – 73 carries, 358 yards at 4.9 yards per carry
2015 Team Rushing – 380 carries, 1,529 yards at 4.0 yards per carry
Isaiah Crowell – 185 carries, 706 yards at 3.8 per carry
Duke Johnson – 104 carries, 379 yards at 3.6 yards per carry
The Browns ran the ball less in 2016, but were more productive. There are some other things, like the blocking scheme and offense, to take into consideration. Alex Mack was playing hurt through 2015 while Thomas was in 2016. The 2016 edition got less games from their starting unit as well. With all of that in mind, it's not a small difference that can be dismissed as margin of error.
Certainly, the running backs deserve credit for their own improvement, but here again, the same players over two seasons and one season was significantly better than the other. It's difficult to ignore a yard improvement.
The offensive line always provides opportunities to look for talent and try to put them in their system and develop them. Erving is an illustration of that on the field while Fabiano and Coleman have done it off the field. If opportunities present themselves, take advantage, but the team should not feel compelled to prioritize the offensive line this offseason beyond re-signing Austin Pasztor. Outside of that, the Browns need to get their players healthy and continue the development of the unit they have in place.
---
---