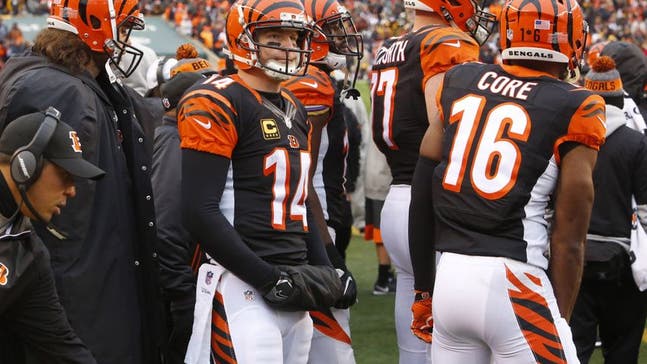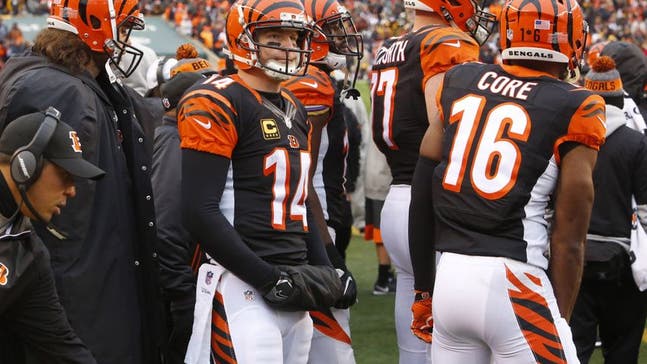 Cincinnati Bengals: When Does The Madness End?
Updated
Mar. 4, 2020 2:17 p.m. ET

Fansided, Emile Pierce/FanSided via Stripe Hype
Bengals fans deserve more. Don't be mad at Jon Gruden. Hopefully, one day, Mike Brown will understand the sermon he's preaching.
If you're like the rest of the diehard fans that follow the Bengals, you're fed up. But you're caught in the whirlwind of hope and dreams that keep you coming back. Just like last year, this was supposed to be the season that sent the beloved Bengals over the top. But, once again, the hammer fell and things fell apart. This time, the show never got right. Now, with Tyler Eifert out and A.J. Green shelved, when does it end? When do fans pack it in and get ready for April and new empty promises? 
Technically, the Bengals' season was done when they lost a Week 2 matchup with the Steelers. That game proved how little Lewis and Co. had accomplished since the January 9 meltdown. Even though Cincinnati was 1-1 and still in the thick of the AFC North race, the loss showed the lack of preparation that has caused the Bengals to be disrespected by many. 
When ESPN NFL analyst Jon Gruden uttered the words that angered Bengals fans, he was speaking the truth. During the Monday Night Football loss to the Giants, Gruden was brutally honest with his observation.  
"Cincinnati is one of the most disappointing teams in football."
That one really hurt. But, the truth always does.
Gruden is one of the most respected figures in the NFL. To hear him blast the Bengals with no hesitation was a harsh reality that Cincinnati fans refuse to accept. Sometimes, that river of denial isn't in Egypt…it's right in front of you. 
bengals
Stripe Hype 1 dCincinnati Bengals: Will Getting Rid Of Marvin Lewis Help?
More headlines around FanSided:
1 d - Cincinnati Bengals Have More Issues Than Just a Kicker1 d - Are The Bengals Making Enough Halftime Adjustments?1 d - Texans hold on to beat Bengals, clinch AFC South title2d - Bengals Fail To Play Spoiler, Lose To Texans2d - NFL Christmas Gifts for Each Starting QuarterbackMore News at Stripe Hype

Does Anyone Get Mad??
The most recent loss to the Houston Texans was another heartbreaker. Simply put, the game wasn't supposed to end the way it did. With five seconds on the clock, all the Bengals needed was a field goal from Randy Bullock. Yes, it was a 43-yard behemoth in enemy territory. But, kickers are paid to connect on those demon filled nightmares. They live for the pressure. Isn't that why they become kickers? Bullock missed, the Bengals lose…same old song and dance. 
Maybe Domata Peko finally gets it. He spoke out, after the disappointing performance that filled Cincinnati homes on Christmas Eve.
"It sucks. I feel bad. Just having a new kicker and then the same result, that sucks. I thought he was going to make it. I'm out there on the field goal team I was looking up and I see the s*** veering right. It sucks."
Was it anger, confusion or the final straw? Peko's observation and matter-of-fact attitude are what more Bengals need to let loose. Why? The franchise is in need of a bit of fresh air. Someone…anyone has to address the lack of emotional investment.
After 14 years of listening to Marvin Lewis laugh, giggle and say the word "football" enough times to choke a horse, Paul Brown Stadium is stagnant. Yes, Lewis has brought the Bengals back to respectability. But, that's only in terms of winning in the regular season. The 0-7 postseason drought has got to make Mike Brown face the music. But, if the sound of money piling up and the sight of arses in seats is all that matters…Lewis will be back. Hey, it's a business move.
Sick And Tired Of Being Sick And Tired
The 2016 season was a ripoff. Bengals fans were given a bogus set of promises and left standing at the alter. At the risk of sounding like Lewis, this needs to be said. Football is an emotional game. There are moments when it ebbs and flows like a mighty river, constantly gaining the trust of those who willingly invest their time. But, when there's no return, fans shouldn't be held hostage with a subpar product.
So far, the 2016 campaign has proved one thing. Brown still has a lock on the city of Cincinnati's heartstrings. He knows his father started something good. Unfortunately, that product hasn't been good enough since 1981 and 1988.
Twenty-six years is a long time to be sick and tired of the same old story. Bengals fans deserve more. Truthfully, this team is better than their record. Don't be mad at Jon Gruden…just hope Mike Brown eventually understands what he's preaching.
More from Stripe Hype
This article originally appeared on
---
---