Cam Newton, Peyton Manning may not be the biggest factors in deciding Super Bowl 50
BY foxsports • January 29, 2016
All season, Matt Chatham has been breaking down tape for FOXSports.com's NFL Game of the Week column. Now, as we shift our focus to Super Bowl 50, he will break down four key aspects that could decide if the Carolina Panthers or Denver Broncos emerge victorious. The first in our four-part series looked at how the Panthers' pass rush will rattle Peyton Manning. The second examined how the Broncos' defense can corral and contain Cam Newton. The third looked at how the Panthers' wideouts might give the Broncos' secondary some issues. Today, our final installment looks at how the running games -- not the quarterbacks -- could tip the scales.
So I hear the NFL is a passing league? Naw, 2015 was yet another reminder that it's still just a football league. The best two teams at playing all-around football usually advance to this stage, and this season neither of them are particularly adept at throwing the football compared to their couched NFL peers.
But here they are in Santa Clara, California, still playing football. Huh.
It's been a while since both Super Bowl participants were so dependent upon their running games as the first weapon in their offensive arsenal -- although both of these teams run the football decidedly different ways. Style differences aside, it's a safe bet that if either of these two teams has their running games significantly stymied by the opposing defense on Sunday, we then know who the new Super Bowl champion will be.
For Carolina, they're as odd of a duck as you'll get in a present-day defensive preparation week. Oddball motions, goofy formations, stretches of plodding play followed by some of the most explosive action you'll see in today's game. They test the patience of opposing defenses and adherence to the fundamentals of run fits in a defensive front as much any offense in the league. They lull you to sleep with piles of benign 3-yard runs until you slip. Then they swallow half the field in a single run.
But News Flash: Cam Newton is the heart of this Panthers operation. 
Yes, technically he's a quarterback in your game program, but he's also the best runner on the Carolina roster. He's big and fast (I'm pretty sure you've heard that by now). But what makes him particularly dangerous with the ball is his combination of decision-making in the read elements of the Panther offense, his short-area burst to out-leverage tacklers in the box, and his fall-forward tendency to finish off runs -- a totally underappreciated aspect to his game that typically accounts for a couple extra yards on the tail end of nearly everything he does (see below). <pic 1>
As rare as true two-back offensive sets have become in the NFL, the Panthers have their own little twist. Because Cam is essentially a third potential ball carrier -- one even willing to throw from time to time -- two-back sets ostensibly have to be considered three-back sets by the defense. And because of this, typical seven- or eight-man boxes built to stop the run can still come up a gap short.
Running back James Stewart is the perfect complement to this offense because he's got deceptive quickness to the edge, good patience, solid change-of-direction skills, and the requisite power style that works in the tight spaces of Carolina's beefy formations (see below).   <pic 2>
One of the biggest reasons you've seen such great gains in Newton's pocket passing this year is the pocket is often a very safe place for him and his cannon arm. The run success the Panthers have had keeps opposing defenses out of hardcore man-to-man concepts because defenders simply can't afford to spend much time with their backs to the ball.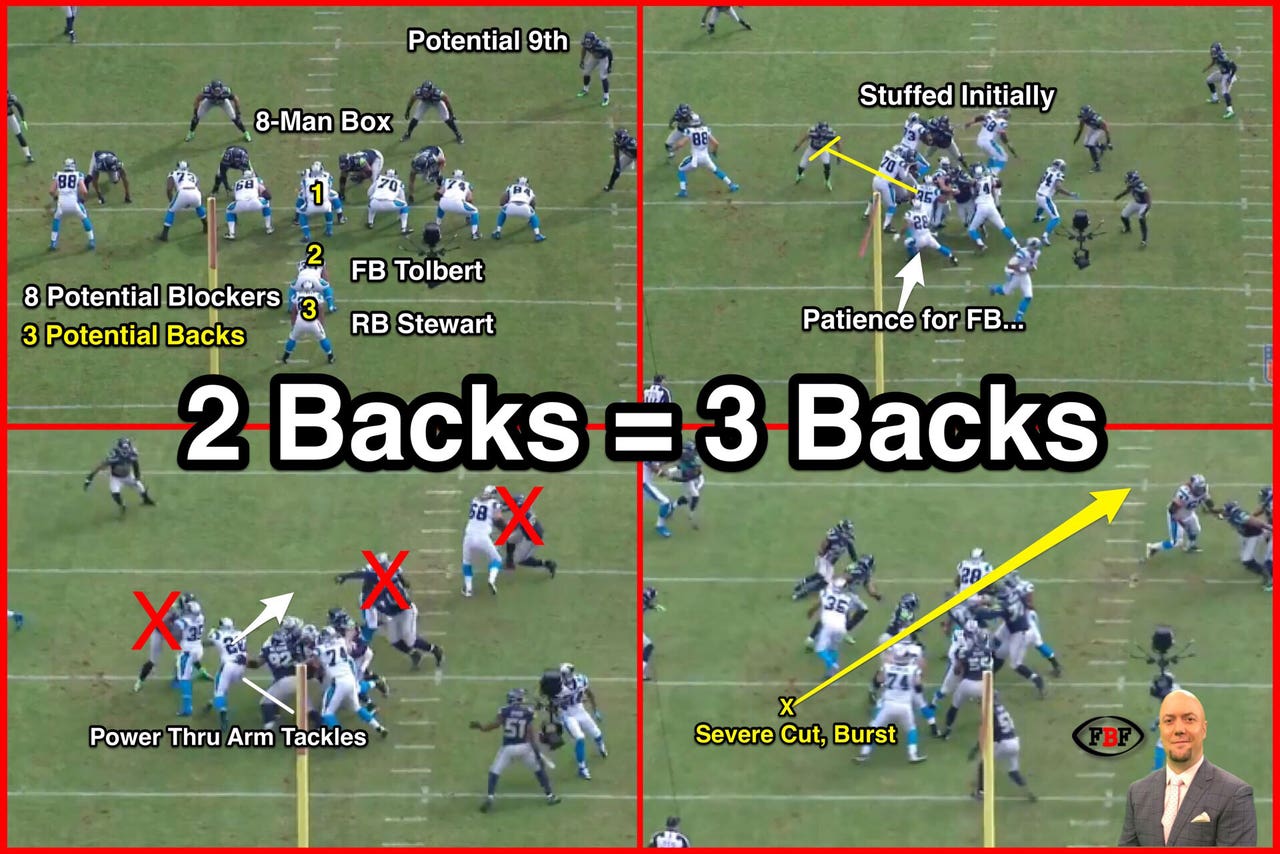 The glut of more basic, rules-based defensive looks also helps slow the exotic pass-rush schemes another passer in the pocket might see. This offense simply isn't one you want to gamble much against. They sit and wait for the big-shot play, willing to jab and jab until you're ready to be knocked out.
And those back-breaking plays are frequently run plays. Double huh. 
For the Broncos, the running game is more of a lifeline. Denver's defense has pulled them through the playoffs with outstanding performances, but the offense has been there with a handful of critical plays that the team has needed to advance. This is very much an offense that needs its running game to stay on track to help put the Panthers on their heels and out of Peyton Manning's face. 
Surprisingly, a very big part of the Broncos' running game is their quarterback who doesn't run so well anymore. I don't mean to say Manning himself runs much with the ball, but rather that he judiciously audibles and sets the point of attack in the running game to fit the defensive front's math. As a youth football coach of mine used to say, Manning is an expert at reading the box and picking the play to "run it where they ain't" (see below). <pic 3>
Both running backs CJ Anderson and Ronnie Hillman have had big days for this Denver offense throughout the season at different times. It's sometimes difficult to predict who'll garner more carries week to week, which is likely something Denver coach Gary Kubiak likes to keep the opposition guessing. Anderson has been the hotter hand lately, and his timely explosive runs in the Denver stretch-run game have been just what this team has needed.
Anderson and Stewart actually have quite similar styles, but Anderson has flashed another gear at times to get the corner or make the mundane into something special. One of the more positive areas of growth seen in Anderson late this season is penchant for working with his blockers -- playing off their leverage, helping to avoid too many negative runs (see below).  <pic 4>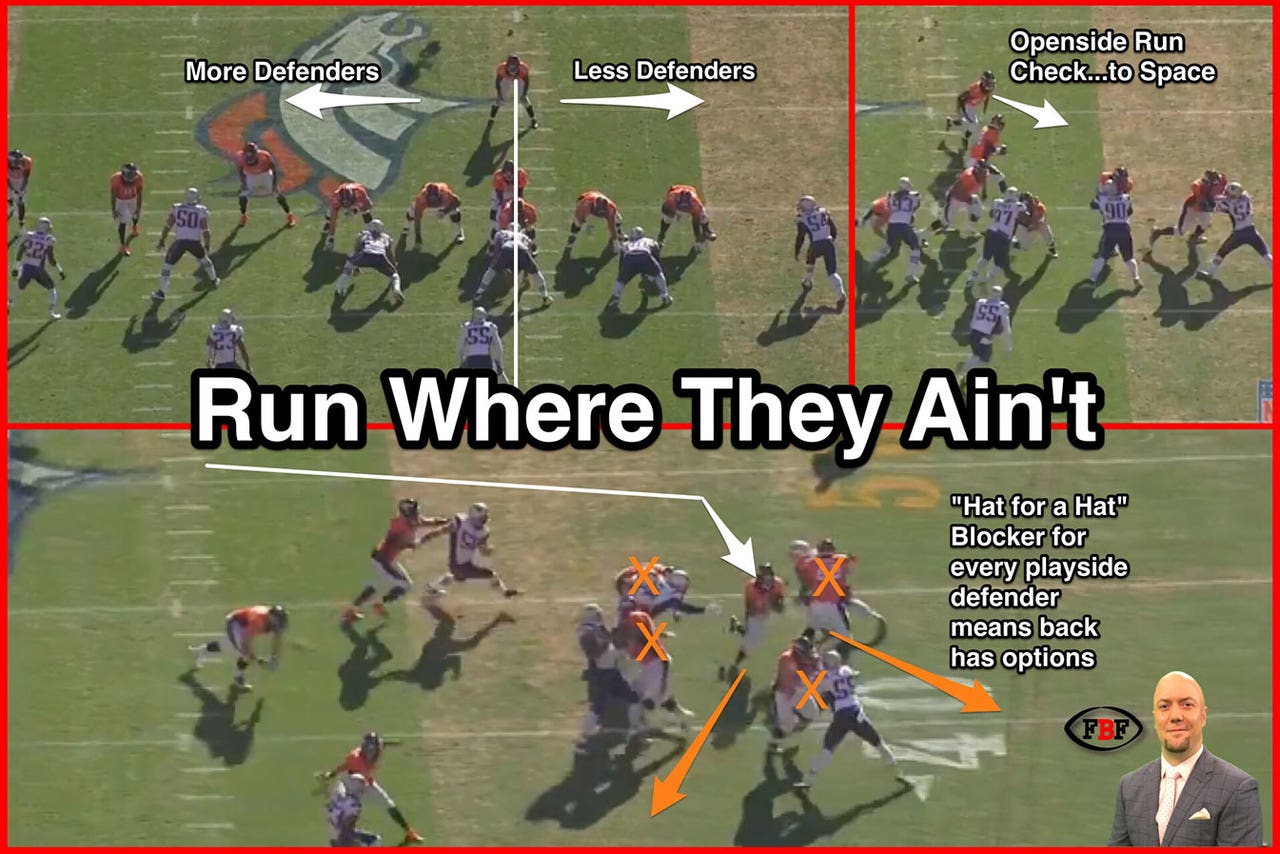 He plays with great leverage and explosiveness when he finds a hole, and should significantly test linebackers Luke Kuechly and patched-up Thomas Davis to not overrun cuts and wrap up in their second-level tackling.
Most importantly in all of this is Peyton Manning doesn't need third-and-10s. He needs third-and-3s. He can still pick you apart in the right down and distance. And getting him there sits largely on the shoulders of this Broncos running game.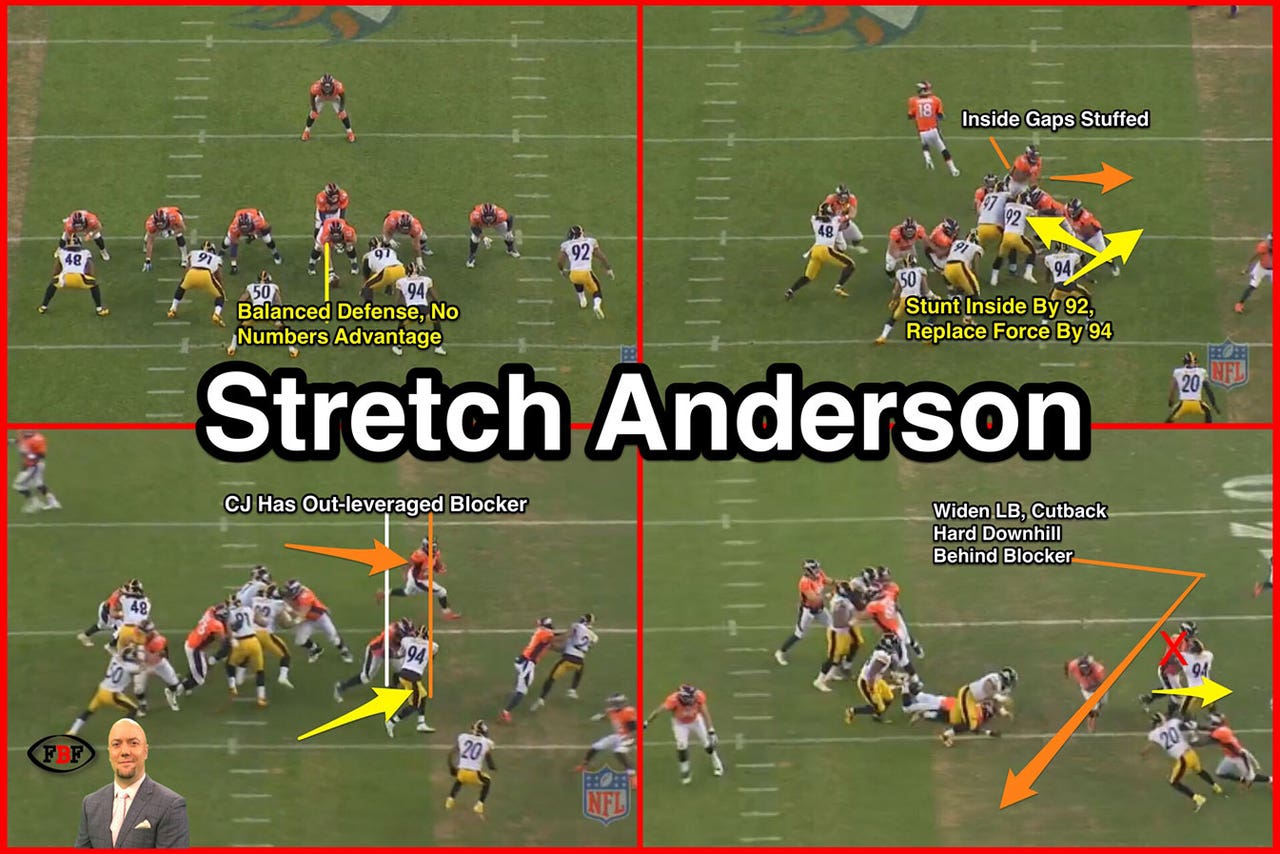 Football is still a game of getting from here to there. When you throw it, there's more risk.  When you don't have to, there's obviously much less. These two offenses rely heavily on the less risky proposition, and both have shown that complementary-only passing games can still get you onto the world's biggest stage. 
Somebody's going to take home the prize. My guess is that somebody runs off with it.
Rocky's IV: Pre-Super Bowl Week
VIDEO: Why the Patriots' two-point play against the Broncos failed
Will Cam Newton's Success Lure More Teams All-In on Dual-Threat Offensive Schemes?
Matt Chatham played for the Patriots and Jets for nine NFL seasons, winning three Super Bowls. He is also the founder of footballbyfootball.com. You can follow him on Twitter
---
---