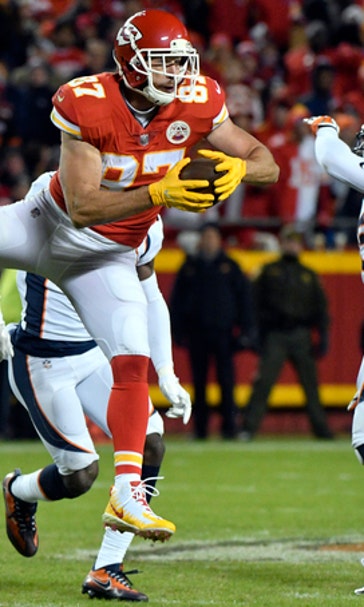 Butker's 5 FGs instrumental in Chiefs' win over Denver
October 31, 2017

KANSAS CITY, Mo. (AP) Harrison Butker's five field goals were instrumental to the Kansas City Chiefs' 29-19 victory over the Denver Broncos, especially the way the rest of their offense was faltering.
Don't think he felt any pressure, though.
''When I'm out there, it's really weird. It doesn't seem like a big kick for me,'' Butker said. ''It's just a normal kick, got to go out there and make it.''
After missing the first of his career, he has made 18 in a row.
Butker was claimed off Carolina's practice squad in late September after Cairo Santos, a three-year starter for the Chiefs, went down with a groin injury in Week 3. Butker impressed the Kansas City coaches enough to earn the job outright, and Santos was waived.
Five weeks later, Butker is averaging nearly four field goals per game.
''I have way more field goals then I ever made in college, probably for my career,'' said Butker, a standout at Georgia Tech. ''It's crazy. In one season in college I'll probably have like, maybe nine field goals or something, and now - I don't know, how many have I made? Eighteen now? It's crazy.''
Even though Butker said he settles into more of a rhythm with every kick through the uprights, he has been able to steer himself clear of psyching himself out mentally even with his success.
''We weren't sure exactly what we were getting when he came here,'' Chiefs coach Andy Reid said. ''We knew he was a good kicker in college. ... To have that confidence, that right there at the 35 he's going to be spot-on in that area, that's a great job by him building confidence in all of us.''
CHARLES' RETURN: Running back Jamaal Charles returned to Kansas City for the first time since he was let go earlier this year and signed with the Chiefs' division rival. He ran eight times for 39 yards, and a fumble early in the game was scooped up by Marcus Peters and returned for a touchdown.
Still, Charles enjoyed getting to see some of his former teammates again.
''Jamaal loves football, and I'm glad he's healthy,'' Chiefs linebacker Derrick Johnson said. ''I'm glad he didn't get off on us tonight, of course. Jamaal's a heck of a player, man. We love him, he loves us, and I'm just glad to see him out there playing.''
PETERS' BIG NIGHT: Not only did Peters return a fumble for a touchdown, he also had one of three interceptions of Broncos quarterback Trevor Siemian - two of the five turnovers Kansas City forced on the night. The defensive touchdown was the third of Peters' career.
''That guy made so many plays out there, it was ridiculous,'' Chiefs linebacker Justin Houston said. "When you make plays like that, it speaks for itself. You put points on the board.''
TROUBLESOME TRICKERY: The Chiefs threw their first interception of the season late in the first quarter, but it wasn't off the right hand of Alex Smith. It was courtesy of wide receiver Tyreek Hill, who faked a run outside before trying to loft a pass to tight end Ross Travis.
The ball wobbled through the air until it was pulled down by Broncos safety Darian Stewart.
''He'd done a great job on it during the work and he's been begging for that thing for a while,'' Reid said. ''So he got it. And he probably won't get it again.''
SHAKY SIEMIAN: Broncos quarterback Trevor Siemian threw three picks and had a season-low 52.8 percent completion rate, and most of his 198 yards passing came in garbage time. So it wasn't a surprise that coach Vance Joseph, while sticking with him through the game, would not commit to Siemian being the starter going forward - especially with Paxton Lynch back at practice.
''Late in the third quarter it's 20-13. So, we're back in the football game,'' Joseph said, ''so to go back with our quarterback is the right decision, in my opinion. Obviously, it didn't end well. But we're in the game. Even with three or four turnovers, we're in the football game. So, I stayed with Trevor. He's our guy. He's worked all week. So that was my decision.''
ANDERSON MOVES UP: Denver running back C.J. Anderson became the fourth player in franchise history to run for at least 400 yards in four straight seasons midway through the first half. The others to reach that mark are Sammy Winder (1983-88), Floyd Little (1968-73) and Terrell Davis (1995-98).
Anderson finished with 78 yards rushing and caught one pass for 7 yards.
---
For more NFL coverage: http://www.pro32.ap.org and http://www.twitter.com/AP-NFL
---
---