Ben Roethlisberger
Ben Roethlisberger
Bus stop; Steelers great Jerome Bettis bulls way into Hall
Published
Aug. 2, 2015 12:31 p.m. ET

PITTSBURGH (AP) By the end of 2004, Jerome Bettis was done. Finished. Burned out.
A dozen years in the NFL, most of them as the perpetually smiling blue-collared soul of the Pittsburgh Steelers, left him spent. The Steelers had just watched a 15-1 season evaporate a win shy of the Super Bowl. The tread on the force of nature simply known as ''The Bus'' had grown awfully thin.
All those carries. All those yards - many of them with a host of defenders along for the ride - had sapped his will. He privately told teammates he was set to retire, leading wide receiver Hines Ward to openly weep about the inability to get a championship ring for the player who served as the de facto big brother in the locker room.
Then Ben Roethlisberger called. So did coach Bill Cowher, who outlined a scenario where Bettis could serve as the ''finisher'' while young Willie Parker did the bulk of the work. Each plea came with a variation on the same thing: The Steelers could take that elusive step to a title if Bettis came along for one last ride.
''At the 12th hour I was convinced to come back and give it one more shot,'' Bettis said. ''Boy, I'm glad I did.''
The decision changed the arc of the franchise, and most likely Bettis' spot in history. With Bettis as the emotional touchstone, the Steelers rode a wave of momentum that crested in Detroit. Playing a few miles from his childhood home, Bettis walked off Ford Field in a sea of confetti with the Vince Lombardi Trophy aloft after Pittsburgh smothered Seattle for its first Super Bowl victory in a quarter century.
The triumph gave Bettis the storybook finish his teammates promised.
''I would have been one of those guys, `I was really good but,''' Bettis said. ''I would always have that `but' there. `He was a great player but they never won championship.' ... It takes that ''but'' away and all you focus on is the fact that hey, he was a great player.''
Perhaps the final one of his kind. When Bettis is inducted into the Pro Football Hall of Fame on Saturday, he'll do it as the sixth-leading rusher in NFL history (13,662 yards) and maybe the last who gained most of them by having his body double as a cannonball.
The 5-foot-11, 252-pound Bettis played up the ''Fat back'' persona, even if there wasn't always truth in advertising. Sure, he loved to dip his shoulder or mash a massive thigh into a defender. Give him a little room though, and the feet that Bettis once believed would make him a professional bowler were only too happy to run away from you.
''He could make cuts you didn't think a big guy could make,'' said Steelers president Art Rooney II.
Bettis always made a habit of zigging when zagging would have been easier. Bettis admitted to briefly selling drugs while growing up in Detroit, only to end up on scholarship at Notre Dame. Coach Lou Holtz turned him into a fullback with a rare combination of speed and power. The Los Angeles Rams selected Bettis with the 10th overall draft pick in 1993, and he responded by winning Rookie of the Year, rushing for 1,429 yards as the lone threat on a team that won five games.
After the franchise moved to St. Louis, Bettis clashed with new Rams coach Rich Brooks, who invited Bettis to search for a new home after the 1995 season. Pittsburgh, coming off a Super Bowl loss to Dallas and looking for stability in the backfield, couldn't get to the phone fast enough.
''It was one of those things that you couldn't believe we had the opportunity when he became available,'' Rooney said. ''Everything just sort of fell into place.''
Second and fourth-round picks in 1996 brought Bettis and a third-round pick, one of the more lopsided trades this side of Herschel Walker. Bettis soon provided a reminder of what St. Louis said it could do without, with 129 yards and two scores in a 42-6 destruction of his old team.
''He ran all over them,'' Rooney said. ''That day was the fastest I ever saw him run.
''Afterwards some of the guys in Rams' management were shaking their heads and we were laughing, not at them really, but laughing.''
The party continued for a decade, Bettis the steadying presence while taking handoffs from Mike Tomczak, Kordell Stewart, Tommy Maddox and Roethlisberger. All those yards, however, dried up in the postseason. When Pittsburgh fell to New England in the 2004 AFC championship game, Bettis thought his last chance to go out a winner was gone.
Roethlisberger spearheaded the recruiting effort to entice Bettis back, even in a reduced role. In a position most stars chafe at late in their career, Bettis thrived.
And when required, the Bus could still hit the gas. Trying to get back in the playoff hunt, Pittsburgh hosted Chicago in December 2005. Bettis rumbled to 101 yards and two touchdowns in the snow, including a 5-yard score in which Bettis ran through star linebacker Brian Urlacher for the final 6 feet.
It was vintage Bettis at a time a teetering season desperately needed it.
''It's Jerome right, Jerome left, Jerome right, Jerome left,'' tight end Heath Miller said. ''They knew it was coming and they could do nothing to stop him.''
Of course not. The Bus always ran on time.
---
A previous version of this story had an incorrect reference to Neil O'Donnell.
---
AP NFL website: www.pro32.ap.org and www.twitter.com/AP-NFL
---
---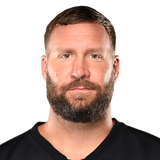 Get more from Ben Roethlisberger
Follow your favorites to get information about games, news and more
---