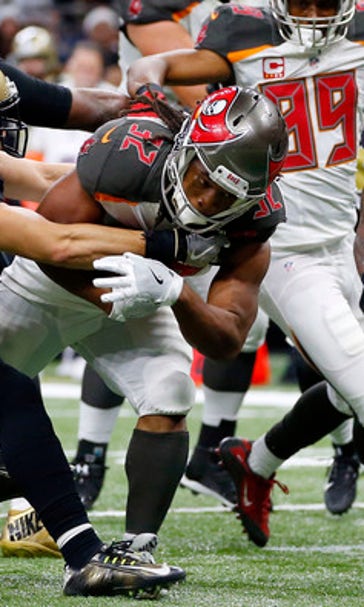 Bucs bench starting RB Martin in pivotal game against Saints
December 24, 2016

NEW ORLEANS (AP) Buccaneers running back Doug Martin was healthy enough to play but could only watch from the sideline as Tampa Bay's playoff hopes took a big hit.
Now the second guessing can start. Would the Bucs have been better off with Martin in the lineup on Saturday, when they fell to New Orleans, 31-24?
Jacquizz Rodgers rushed for 63 yards and a score, while Charles Sims III had only 12 yards rushing.
''It was a big game and, like I said, it's the coach's decision to have the best guys out there that he thought would be the best for us,'' Martin said.
When pressed further about the decision, Martin continued to repeat that he respected Koetter's decision even though he wanted to play.
While Martin's benching wasn't injury related, the running back seems to have had a tough time overcoming a hamstring strain that kept him inactive for six straight games.
Martin started the previous six games, but with four running backs on the roster, and Sims and Peyton Barber playing roles on special teams, the Bucs don't always have Martin and Rodgers active at the same time.
''It was a coach's decision. We have four backs and we can't give them all touches,'' said Bucs coach Dirk Koetter, who added he thought Rodgers would be a better fit against the Saints.
Against New Orleans, the Bucs netted 89 yards rushing and had to rely on Jameis Winston's arm to stay close to New Orleans. Of Tampa Bay's 23 first downs, only five came on the ground. Winston, meanwhile, threw for 277 yards and two touchdowns, but also was intercepted twice.
Martin has been the backbone of Tampa Bay's run game since 2012, twice rushing for more than 1,400 yards. This season has been a struggle for him, however.
Martin hasn't been able to maintain his momentum from 2015, when he ended the season as the NFL's second-leading rusher with 1,402 yards and was an All-Pro. He has rushed for 421 yards this season, scoring three touchdowns in the eight games he has played, averaging a career-low 2.9 yards per carry.
Koetter wouldn't say if Martin's relative drop in production played a part in his benching against New Orleans.
''I'm not going to get into any of that,'' Koetter said. ''We're blessed with good depth at running back, and this was a decision for today. It is what it is for today, and obviously we have to deal with what comes next.''
---
For more NFL coverage: http://www.pro32.ap.org and http://www.twitter.com/AP-NFL
---
---