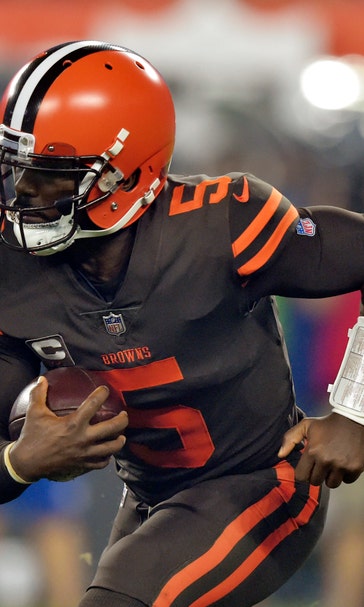 Browns QB Taylor practices after concussion, losing job
September 27, 2018
BEREA, Ohio (AP) — Tyrod Taylor's first days as a backup for the Browns have been difficult.
And not just because he lost his job.
Taylor, who was replaced as Cleveland's starter by rookie Baker Mayfield earlier this week, was cleared from concussion protocol and returned to practice Thursday, but was limited by a back injury that could prevent him from being Cleveland's No. 2 quarterback on Sunday in Oakland.
Coach Hue Jackson said Taylor was limited and there's a chance Drew Stanton will be the backup when Mayfield makes his first NFL start against the Raiders.
"We will see exactly where that is," Jackson said. "He did not do a lot, so I will make sure that if we do put him out there, that he's ready to go. Obviously, Drew has been there since the situation with Tyrod had happened. We will see where that is. I will know more about that tomorrow."
Jackson plans to make a decision on his No. 2 quarterback Friday before the team flies to California.
Taylor was in the locker room after practice, but said he couldn't speak with reporters because he had a meeting.
The 29-year-old sustained a head injury while taking a pounding during the first half of last week's game against the New York Jets. Mayfield replaced him and guided the Browns to a 21-17 win, their first in 20 games stretching to the 2016 season.
Taylor was under siege early on, taking hits on five of Cleveland's first six offensive plays as the line appeared to have several communication breakdowns, which resulted in Jets players getting free shots on the QB.
Coordinator Todd Haley said those early mistakes up front led directly to Taylor's rough performance (4 of 14 for 19 yards), and contributed to his injuries.
"I blame it 100 percent," Haley said. "I know that we are all very excited about Baker. That being said, I just want everybody to know that I think Tyrod has done nothing but a tremendous job and has done nothing but put us in a position to win the first two games. I have been very clear when talking about things that are not always comfortable talking about that we have made too many mental errors. A coach is never proud to say that of his group.
"That is what we need to do as a group because if we make some of the errors that we have made in all three games, it is not going to matter who is playing. ... It was not a fair situation to put Tyrod in."
Haley was effusive in praising Taylor for serving as a model and mentor for Mayfield, the No. 1 overall pick and Cleveland's presumptive franchise leader.
During his first season with Cleveland, Haley has been publicly candid when discussing several issues, and cameras captured some of his frank style during scenes on HBO's "Hard Knocks" series which chronicled Browns camp this summer.
Because of his affinity for Taylor, Jackson's decision to switch to Mayfield could have been against Haley's wishes. But the former Pittsburgh offensive coordinator would not comment on whether he agreed with the move.
"I am going to choose to not talk about any of the internal stuff," he said. "I like all of the guys, and I believe in all of the guys. What I will say about Tyrod is he came in and has been a leader from Day 1 of this group and of this entire building.
"There was not this same excitement and prettiness to it right now, and he was and is a big part of getting this thing continued and going in the right direction because I feel like we are.
"How this goes around, we have to have all of those guys ready all of the time, and he will be."
NOTES: Haley acknowledged that the trick-play, 2-point conversion the Browns executed flawlessly last week was stolen from the Eagles, who ran their "Philly Special" to perfection in the Super Bowl. "I have no shame," he said. "That is the whole league, though. I think you need to have your eyes open." ... DE Myles Garrett called the NFL's roughing-the-passer crackdown "ridiculous" and said he won't risk an injury to avoid a penalty. "I'm not willing to tear something to lay him on the ground like a child," he said.
---
---