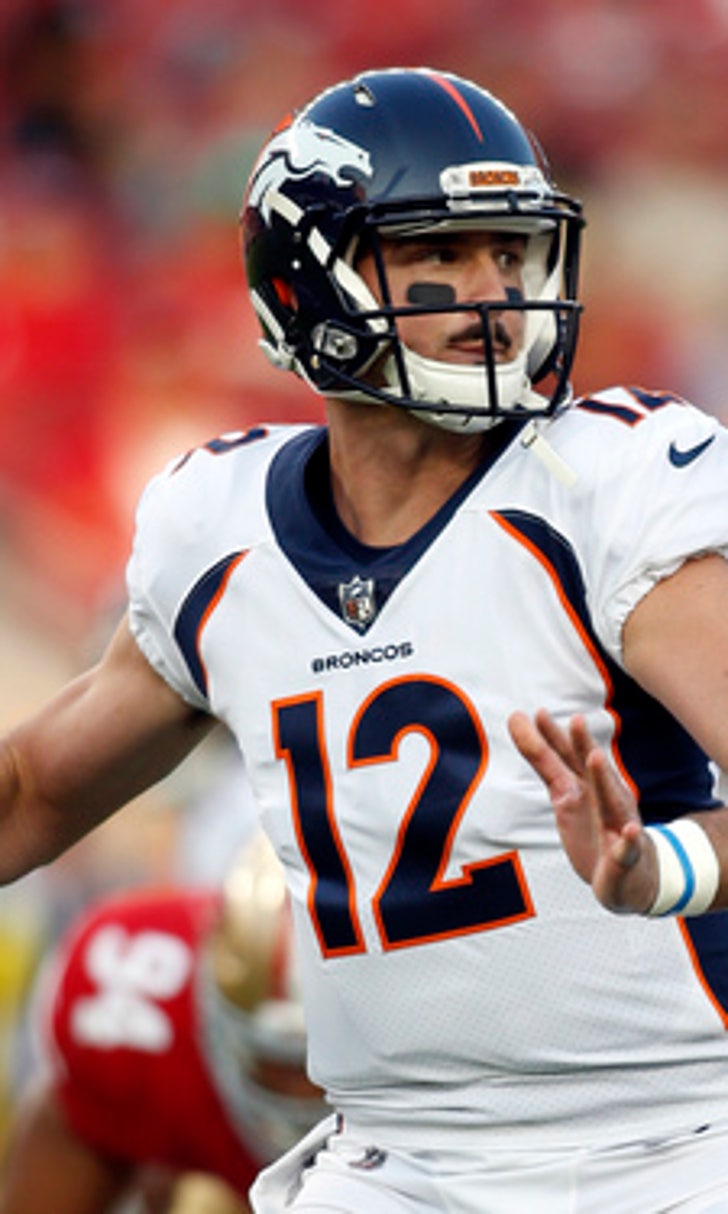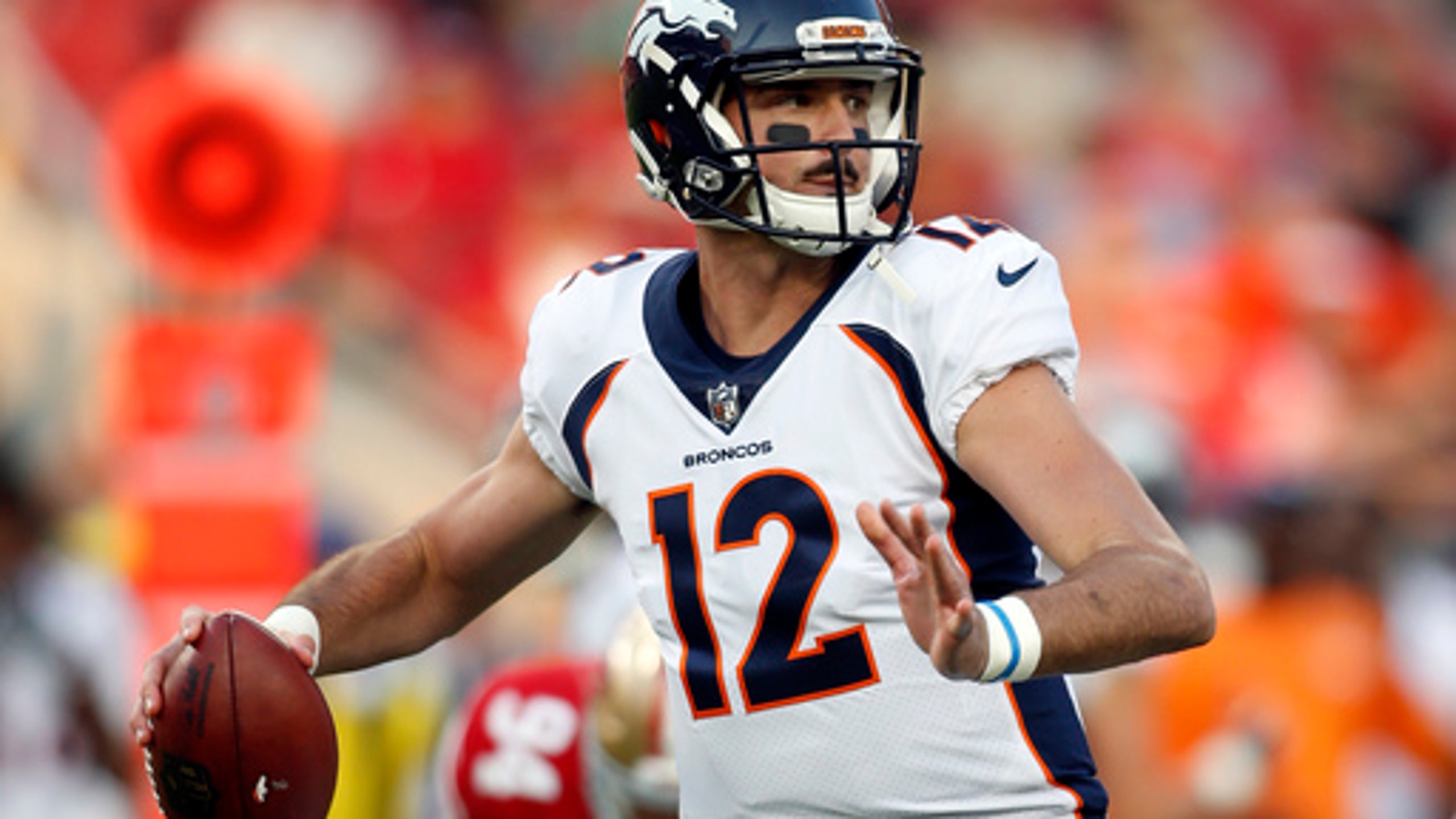 Broncos turning to Paxton Lynch at quarterback
BY AP • November 22, 2017
Vance Joseph handed Denver's starting quarterback job to Paxton Lynch on Wednesday, elevating the former first-round pick who failed to win the job outright under two different coaching staffs but gets another chance because of Denver's tailspin .
''Paxton is a talent and he's our first-round pick,'' Joseph said. ''We're trying to change what's happened offensively, so it's simply his turn.''
The Broncos (3-7) have lost six in a row and Joseph fired offensive coordinator Mike McCoy on Monday, replacing him with Bill Musgrave , who helped guide Derek Carr as Oakland's offensive coordinator the last two seasons.
The Broncos visit the Raiders (4-6), another underachieving team that had a staff shake-up this week, replacing Ken Norton Jr. with John Pagano as defensive coordinator Tuesday.
''I don't take it as a last chance, but I take it as an opportunity to go out there and show that you can be the guy,'' Lynch said. ''They called my number and I've been preparing this whole time, whether it was out here on the practice field or in the training room when I couldn't come out here. I'm confident in where I am and what we can do this weekend.''
Joseph is trying to match that enthusiasm with efficiency as the Broncos draw the blueprints for Lynch's first start in nearly a year.
''It's going to be his third NFL start. It won't be perfect, but again, we have to coach him to the point where he can be efficient with the offense,'' Joseph said.
Joseph instructed Musgrave to simplify the complex offense McCoy had installed and stubbornly stuck with despite a lack of depth at receiver and tight end and a porous line that crimped the passing game whether Trevor Siemian or Brock Osweiler was at quarterback.
After Siemian was in sweats Sunday for the first time, he was bumped up to No. 2 with Osweiler falling all the way from starter to third-string quarterback.
''This is our third quarterback this season. That's not a good thing,'' Joseph said. ''I think Trevor's worked hard and he's earned the right to have a chance to dress on game day. Again, it's really simple.''
Siemian handily won the drawn-out QB competition over Lynch for a second time this summer but a dozen turnovers left him benched after seven games.
The Broncos turned to Osweiler, Peyton Manning's former longtime backup, but he went 0-3.
So, now it's Lynch's turn.
''First off, I was excited about it to get my opportunity, especially being hurt all season and not being able to even practice or throw a ball,'' Lynch said. ''I was itching to get out here, but now that I'm out here it feels good to get back into the swing of things.''
Joseph insists this audition doesn't mean the Broncos have given up on 2017.
''We are playing for now,'' Joseph said. ''Playing Paxton is kind of a two-for. We have to see where he is as a quarterback, but we want to win on Sunday. That's not mistaken in our locker room. Everything we're doing this week is pointed to Sunday, to win a football game.''
Lynch sprained his throwing shoulder Aug. 26 in a preseason game against Green Bay shortly after Siemian was named the starter and spent September and October rehabbing. He returned to practice three weeks ago and amped up the throws last week when he was elevated to backup duty.
He suited up for the first time Sunday when he served as Osweiler's backup in Denver's first loss at home to the Bengals since 1975.
The Broncos need to find out if Lynch is a bust or just a late-bloomer as they prepare to enter yet another offseason of uncertainty under center.
If general manager John Elway comes to a conclusion that he erred in moving up and outmaneuvering Jerry Jones to select the former Memphis QB with the 26th overall pick in 2016, a deep draft class beckons as does a solid group of veterans in free agency.
Last season, Lynch went 1-1 in two starts. He completed 49 of 83 passes last year for 497 yards and two TDs to go with an interception. He was sacked nine times.
After his win over the Jaguars, ex-offensive coordinator Rick Dennison blasted the rookie for his unfamiliarity with the offense and earlier this year, running back C.J. Anderson said he felt Lynch had learned his lesson from not staying dialed in.
''Guys grow,'' Joseph said. ''He hasn't played since Week 3 (of the preseason). He's practiced, so how is he different? We probably won't know until Sunday.''
One thing he does know is that that Lynch doesn't lack mobility.
''His skill set is perfect when you're young,'' Joseph said. ''If it breaks down, he can run with the football. I told him, `Just play. Don't try to be a pocket passer. We call a play and it's not there, take off and run.' That's one of his strengths.''
---
For more NFL coverage: http://www.pro32.ap.org and http://www.twitter.com/AP-NFL
---
Follow Arnie Melendrez Stapleton on Twitter: http://twitter.com/arniestapleton
---
---