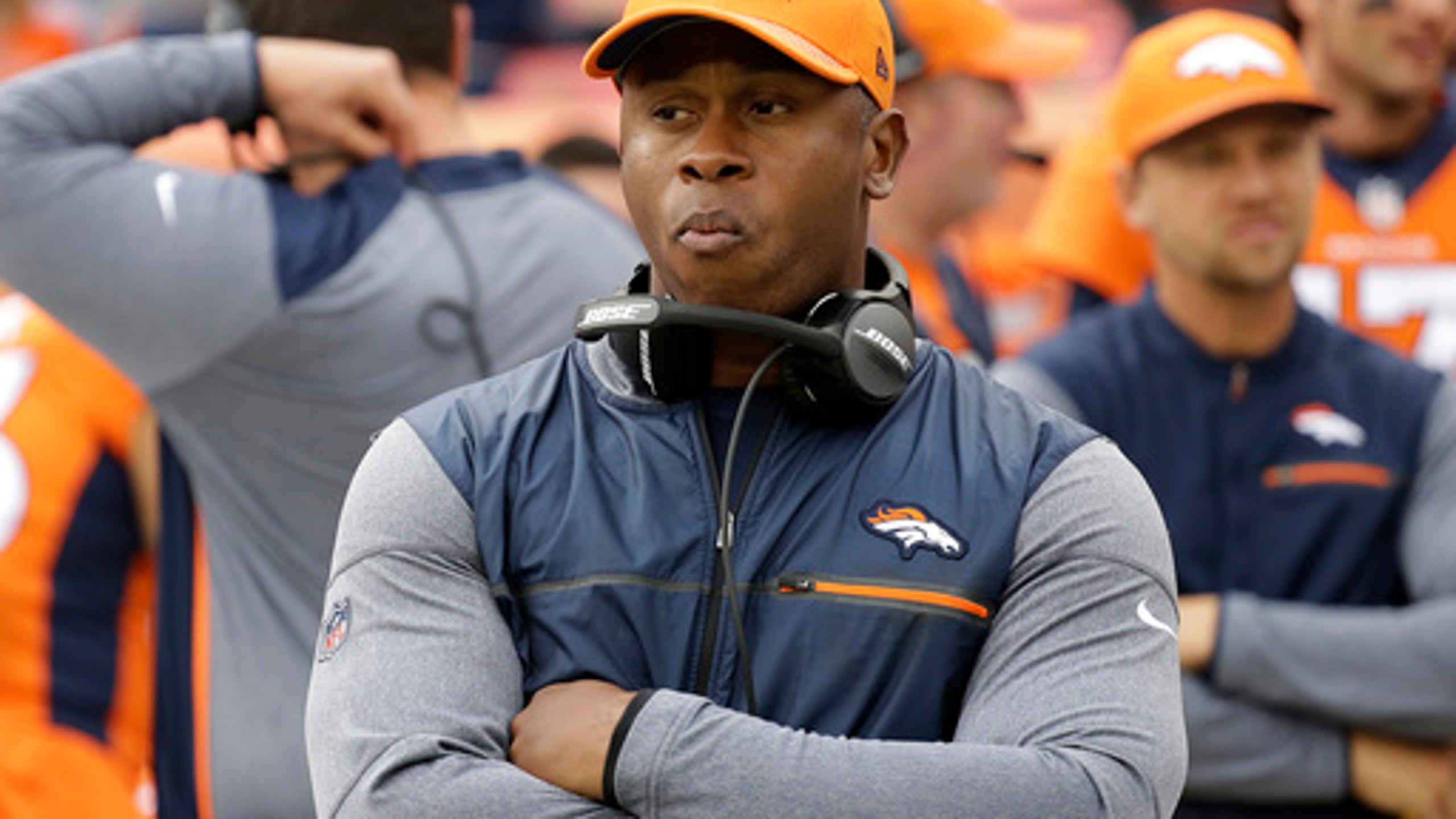 Broncos skid at 8, home underdogs vs. Jets
BY AP • December 7, 2017
ENGLEWOOD, Colo. (AP) Vance Joseph just may get doused on the sideline should the Denver Broncos finally win again Sunday.
It would be out of relief, with the team mired in an eight-game slide - the longest the franchise has endured in 50 years.
''Going to feel like a playoff win,'' running back C.J. Anderson said of what a victory would feel like. ''So we might just dump the Gatorade on V.J. We ain't won in two months. ... We all are sick and tired of losing.''
The Broncos (3-9) head into their game against the New York Jets (5-7) in an unusual position - underdogs at home by 1+ points. That's how far the Super Bowl champions from two years ago have tumbled.
The Broncos' QB carousel has rotated through Trevor Siemian, Brock Osweiler, Paxton Lynch and back to Siemian, who gets his second straight start.
''We're playing like we're at the bottom of the NFL and we have way too much talent on the team to be playing like that,'' linebacker Shaquil Barrett said. ''We just have to figure it out and get it together.''
Many prognosticators predicted doom and gloom for the Jets this season. But here they are on the fringe of the playoff race behind the play of quarterback Josh McCown, who's having the best season of his 15-year NFL career.
The 38-year-old was recently selected the offensive player of the week after he threw for 331 yards and a touchdown, and ran for two scores in New York's 38-31 win over Kansas City. He joined Brett Favre and Ryan Fitzpatrick as the only quarterbacks to win the award with three teams in the past 15 years.
Even more, McCown became just the third player in NFL history to score on two runs in a single game at the age of 38 or older, joining Doug Flutie (41, 2003) and Jim Thorpe (38, 1926).
That's some prestigious company.
''I'm just like, whatever works,'' McCown said. ''Whatever gets us in the end zone. That's all that matters.''
With four games left, the Broncos are in job-saving mode. General manager John Elway recently said on a local radio station that he's embarrassed by the current downfall. He added the coaching staff would finish out the season.
Jets coach Todd Bowles had some advice for his head coaching counterpart.
''Just keep your head down and work, get the guys better and go from there,'' Bowles said. ''That's all we can do as coaches.''
DYNAMIC DUO
Robby Anderson and Jermaine Kearse are the first pair of wide receivers in Jets history to each post consecutive games of 100 yards receiving since Don Maynard and George Sauer in 1967.
There have been only seven games in the NFL this season in which two wide receivers both had 100 yards receiving or more, and Anderson and Kearse are the only ones to accomplish it twice.
Anderson had his five-game touchdown streak stopped last Sunday against Kansas City, but the second-year receiver has seven this season.
Combined with Kearse, who has five TDs, they are tied for the third-most in the NFL by a receiving duo - behind only Houston's DeAndre Hopkins and Will Fuller (16) and Pittsburgh's Antonio Brown and JuJu Smith-Schuster (15).
''We try to push each other, whether he's trying to push me or I'm trying to push him,'' Kearse said. ''We're real competitive out there.''
DEFENSIVE DEBACLE
Despite the victory against the Chiefs, the Jets had some serious flaws exposed in their defensive secondary. They gave up 474 yards, including 366 yards passing by Alex Smith.
The Kansas City quarterback threw four touchdown passes, two each to speedy wide receiver Tyreek Hill and tight end Travis Kelce. Smith also had a 70-yard run.
''We had a lot of issues, but that was the first time we didn't play well in a while,'' Bowles said of his secondary. ''We'll get back at it and get to work and try to fix that next week (against Denver).''
THIRD DOWN SUCCESS
The Jets are second in the league in third down yards with 1,043, trailing only Philadelphia (1,229). What's more, the Jets have converted at a 40.2 percent rate and have scored nine TDs on third down.
GRAND SCHEME
Anderson has rushed for 652 yards this season and has his eye on a 1,000-yard season. He needs to average 87 yards over the last four games to reach the plateau.
''Trying to go do that,'' Anderson said. ''I need some things to run my way.''
He had 15 carries in a 35-9 loss at Miami last weekend, while Jamaal Charles and Devontae Booker combined for five.
ERRANT SIEMIAN
Siemian has 13 interceptions this season, including three against the Dolphins.
''You want to make sure you don't miss a play and that's when bad things happen,'' Siemian said. ''For me, I just go back to feeling the flow of the game and not trying to do too much.''
---
AP Sports Writer Dennis Waszak Jr. contributed to this report.
---
For more NFL coverage: http://www.pro32.ap.org and http://www.twitter.com/AP-NFL
---
---