Broncos, Seahawks, Packers Colts no longer elite
November 16, 2015

This isn't at all what the Broncos, Seahawks, Packers and Colts had in mind.
Before the season kicked off in September, these were considered elite teams, and rightly so. Denver had built a monster of a defense to complement Peyton Manning's offense.
Seattle was coming off a last-minute Super Bowl loss and had added brilliant tight end Jimmy Graham.
Indianapolis had taken incremental steps in the playoffs that seemed to place it on the verge of a trip to the big game, with Andrew Luck threatening to win league MVP honors. Green Bay already had the league's Most Valuable Player, Aaron Rodgers, and no NFC team appeared as balanced.
Nine weeks later, all four are searching for answers, even as they remain in playoff position.
''This isn't easy,'' Packers coach Mike McCarthy said of his team's three-game slide after winning its first six, then going on its bye week. ''And frankly, if we spoiled you in the past, that's great. We're looking forward to spoiling you again in the future.''
What has spoiled at Lambeau and in the Mile High City, in Naptown and the Pacific Northwest? And can the problems be fixed in the next seven games?
Read on:
BRONCOS (7-2) - Denver started the season with seven victories as its defense more than made up for the inconsistencies of Manning, who suddenly has turned a very old 39. His health issues, including the latest, a partially torn plantar fascia that makes every step painful, are really holding back the Broncos.
Coach Gary Kubiak knows it, and now regrets starting Manning in Sunday's awful loss to Kansas City.
''Guys want to play,'' Kubiak said. ''That's why he's a great player. But as a football coach, sometimes you have to say, `No, I don't think this is the right thing today.'''
The time to say ''No,'' for at least a week or two, has come. Denver has a three-game lead in the AFC West and neither Kansas City nor Oakland seems capable of making a major run. So the five-time MVP will rest next weekend against Chicago while the Broncos see what Brock Osweiler can do, and rely on that defense, although it is banged-up, to carry the team.
PACKERS (6-3) - This slide is totally confounding, and losing to the Lions at Lambeau for the first time since Barry Sanders was toting the football is shocking.
While the defense has taken a step or two back from its strong opening performances, it's Rodgers and the offense that has fallen flat. Yes, he misses top target Jordy Nelson, but the receiver hasn't been around all season and Green Bay was doing fine without him.
Blame in large part an offensive line that has regressed the past few weeks. That's damaged the running game, but most distressingly, it's put Rodgers in a bulls-eye.
''Aaron's been hit way too much three weeks in a row,'' McCarthy said. ''No one feels good about it. I'm sure he doesn't feel very good.''
He'll feel better if the Packers can turn it back around, and they will get the opportunity; they have two games remaining with NFC North leader Minnesota, including Sunday in the Twin Cities. Of the four struggling teams, Green Bay has the best chance of reversing the current trend.
SEAHAWKS (4-5) - Yep, 4-5. With two losses at home that, save for an officiating miscue, could be three.
Seattle was outplayed for much of Sunday night's meeting with NFC West leader Arizona. Only two huge turnovers by Carson Palmer when the defense at last resembled the fierce unit Seahawks fans expect kept Pete Carroll's guys in the game. When that defense isn't making big plays, the two-time defending conference champs are mediocre.
The offense can't bail them out, either, because the line has been a sieve, forcing Russell Wilson to scramble for safety, not creativity. Graham, who many thought would be the most impactful player transaction of the offseason, has not been a huge difference maker.
''The margin of error is really small,'' Seahawks tackle Russell Okung said, ''and you only get a certain amount of times to do what you really need to do.''
Seattle's time is running out, and it needs an immediate change in fortune to get in the wild-card mix. Remember, though, that the Seahawks have been in such situations before and rallied. Beginning next week against San Francisco, they must show they are capable of doing so again.
INDIANAPOLIS (4-5) - It's embarrassing, even depressing, that despite a wretched first half of the season, the Colts are in control of the AFC South. Because they regularly beat everyone in the NFL's weakest division, their path to the playoffs is clear.
A season-saving win over Denver before going on their bye brought everyone in Indy off the ledge. Then, of course, it was revealed that Luck will be sidelined by an assortment of ailments, turning the reins to Matt Hasselbeck.
That's far less of a problem than the Colts' defense; Hasselbeck won two earlier starts this season and might be the most capable backup QB in the league.
For Indy to become a valid player down the stretch and possibly into January, it must figure out how to stop people. With three division games remaining, reaching the eight wins that figures to take the AFC South crown seems reasonable.
Beyond that, the Colts might be out of, uh, luck.
---
AP NFL website: www.pro32.ap.org and www.twitter.com/AP-NFL
---
---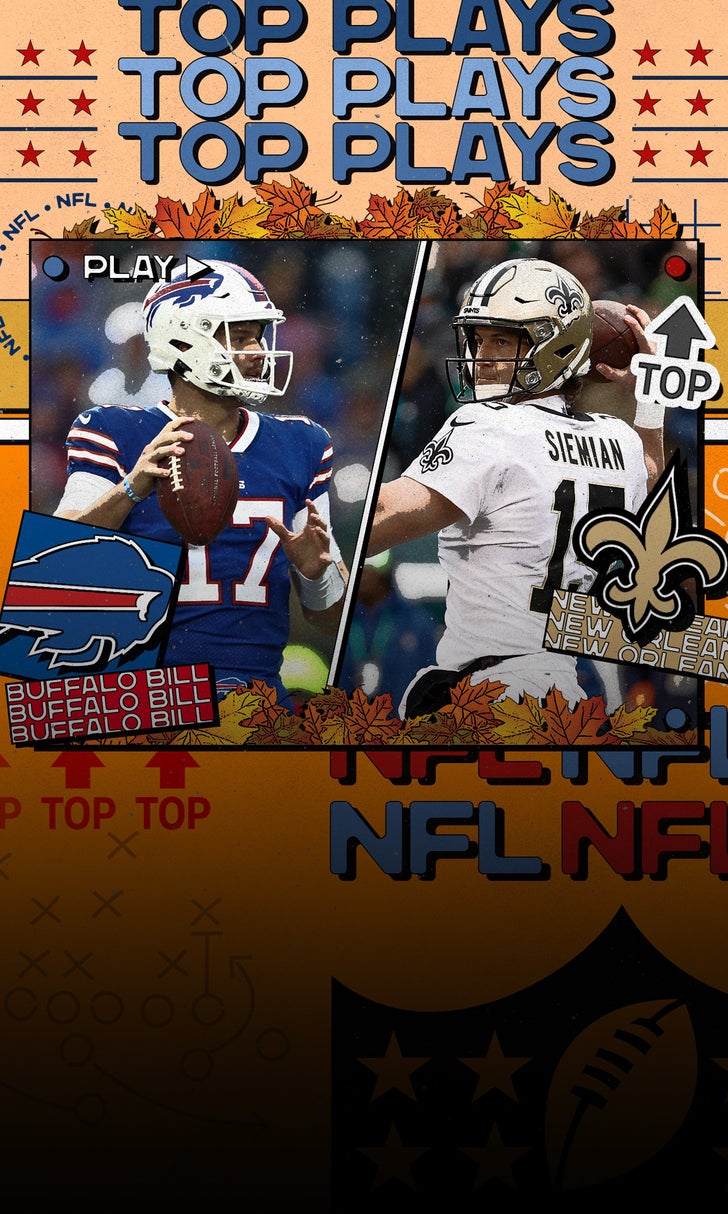 Thanksgiving Thursday top plays: Bills smash Saints, Raiders top Cowboys, Bears edge Lions