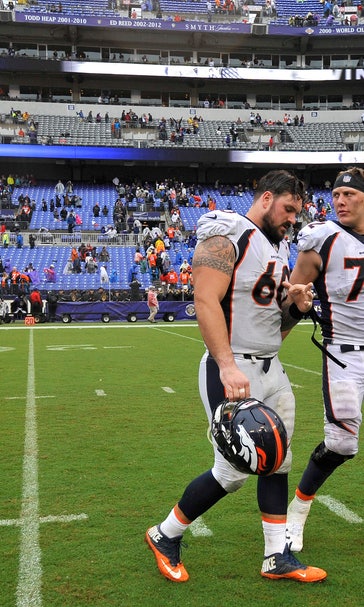 Broncos make too many mistakes in 27-14 loss to Ravens
September 23, 2018
BALTIMORE (AP) — The Denver Broncos had a lot of things stacked against them in their quest to open the season 3-0.
They were coming across the country to play a tough Baltimore Ravens team bent on making amends for a blowout loss in Cincinnati last week. To make the task even more challenging, the Broncos were short-handed in the defensive backfield, even before losing cornerback Tremaine Brock to a groin injury in the first quarter on Sunday.
Then, another setback: With Denver down 17-14 in the second quarter, rookie running back Phillip Lindsay was ejected for throwing a punch in a scrum following a fumble.
All that, along with a boatload of penalties, were too much to handle in a 27-14 defeat.
"We just got to play better," linebacker Von Miller said. "They got a great team, but there were moments in there where we could have had the game. When you go on the road and play a great team, you got to capitalize. You've got to put the ball in, you've got to get off the field on third down, you've got to do all of those things just to have a chance to win.
"We didn't do any of that stuff and we still had a shot to win until late in the game."
Denver (2-1) took a 14-7 lead in the first quarter. Then, it all fell apart.
The Broncos failed to score over the final 52 minutes, Miller went the entire afternoon without a sack and Denver racked up 13 penalties for 120 yards.
"We hurt ourselves with penalties," Broncos running back Devontae Booker said. "We can't do that when we come into a hostile environment. It's something we need to learn from."
Case Keenum went 22 for 34 for 192 yards, but he threw an interception and was sacked three times.
Twice in the fourth quarter, he moved the Broncos into the red zone. An interception ended the first foray, and a fourth-down incompletion from the Baltimore 11 with three minutes left was his final pass.
"I've got to do a better job at getting the ball out at the correct time and to the correct receivers," Keenum said. "It was a lot of things for us today. I missed some guys when they were open, and it seems to me we had a lot of tipped balls."
Well, seems as if both sides of the ball have a lot to work on this week before the Kansas City Chiefs come to Denver next Monday night for an AFC West showdown.
"We made too many mistakes and had too many penalties," Miller lamented. "When we practice, we don't have all those penalties. We have to clean that up."
---
---