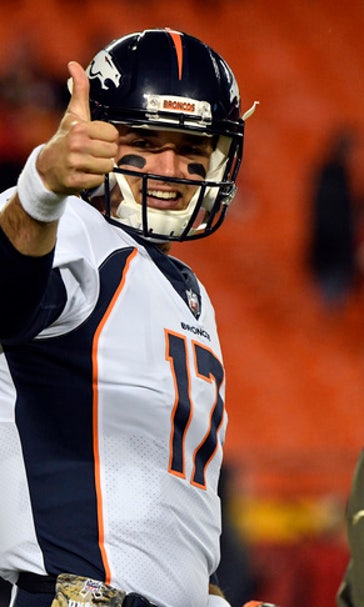 Broncos know QB switch isn't the only fix
November 2, 2017

ENGLEWOOD, Colo. (AP) The Denver Broncos' locker room is abuzz over Brock Osweiler 's promotion after Trevor Siemian's dozen turnovers cost him his starting job this week.
They know Siemian's poor play wasn't the only reason for their 1-4 tailspin that's threatening to waste another elite Denver defense. They have plenty of corrections to make if they're going to avoid their first four-game losing streak since 2010 when they visit Philadelphia on Sunday.
''Absolutely, football isn't an individual sport, it's a team sport,'' tight end Virgil Green said Thursday. ''Yeah, we're bringing Brock up to do things, but we all know that Trevor is totally capable. We just need a little more from everybody. Not just one position, every position.''
Coach Vance Joseph lamented this week how Siemian's three ugly interceptions nullified another outstanding defensive performance in a tough loss at Kansas City on Monday night despite better blocking and a 177-yard rushing effort.
''The run game was fine but I played terrible,'' said C.J. Anderson, who had 78 yards on 15 carries. ''I didn't score and missed some opportunities. That's on me. I just have to get better. The scouting report says I'm not a home run threat. Let's prove them wrong.''
That task will be daunting when the Broncos (3-4) visit the NFL-leading Eagles (7-1), who sport the only run defense in the league that's better than Denver's.
Joseph noted that Osweiler brings experience, especially in Mike McCoy's offense, and ''our veteran players trust him because they've been here with him before. That's why he was the perfect fit to be our backup.''
And now, their starter.
''On offense, everyone's got to play better,'' McCoy said. ''We've got to coach better. We're all in this together.''
One player who isn't thrilled with the move, of course, is Siemian.
''This was going to be a big year for him,'' Joseph said. ''He thought he was going to take off this year, but it hasn't happened that way. I've said this 10 times, it wasn't all Trevor's issues that made this happen. We could have coached better. We could have played better around Trevor.''
Siemian was sacked 25 times and some of his dozen turnovers were the result of his discomfort in the pocket either because of poor protection or the Broncos' heavy use of three-receiver sets with empty backfields.
''We just have to trust in each other and we have to do better protecting our quarterback,'' rookie left tackle Garett Bolles said. ''That's one thing we need to focus on as a group just going out there and doing the things we need to so that Brock feels comfortable back there and we can get back on the winning side of things.''
Joseph stuck with Siemian longer than some fans wanted but the Broncos kept hoping he'd cut down on his mistakes and Denver would ride its dominant defense to victories.
''We've out-gained our opponents in the four losses,'' Joseph said. ''Our numbers and stats for Monday night, it's silly. We won the yardage. We won third downs. We won the red zone. We lost one battle, and that's turnovers. That's all about managing the game better and picking our moments better to make big plays versus making things bad to worse.''
So, now they're pinning their hopes on Osweiler, whose career stats are remarkably similar to Siemian's but include seven starts and five wins with a Super Bowl team in 2015.
Osweiler has 26 career TDs and 22 interceptions. Siemian has 27 TDs and 20 interceptions.
Osweiler is 14-9 as a starter, Siemian 11-10. Osweiler's career passer rating is 77.3 and Siemian's is 81.9.
The Broncos brought back Osweiler in September, capping the quarterback's 18-month odyssey that included a big contract with the Texans, a benching, a playoff win, a trade and a release from the Browns.
''He's been in this system before so he picked it up quickly,'' center Matt Paradis said.
Osweiler kept the Broncos afloat when Peyton Manning missed seven games with a foot injury two years ago and general manager John Elway said they wouldn't have won Super Bowl 50 without him.
Receiver Emmanuel Sanders said Osweiler brings a new energy to the offense .
''Peyton groomed him well, for sure,'' Sanders said. ''In breaking down film, he was telling us exactly what he's seeing and we were able to get on the same page. Just that energy he brings, that leadership mentality he brings, the guy knows and thinks that he's a franchise quarterback. I'm happy for him.''
Von Miller sees Osweiler leading Denver on another nice run.
''It kind of feels like 2015 again,'' Miller said. ''We've won with Brock. We've done a lot of great things with Brock. I'm totally confident in Brock and what he'll be able to do for us going forward.''
Notes: Sanders said Demaryius Thomas shows no frustration over his 13-game streak without a touchdown. ''Nah, Demaryius doesn't get frustrated. At least he doesn't show it. He might be mad but he'll still smile at you and walk away.''
---
For more NFL coverage: http://www.pro32.ap.org and http://www.twitter.com/AP-NFL
---
Follow Arnie Melendrez Stapleton on Twitter: http://twitter.com/arniestapleton
---
---