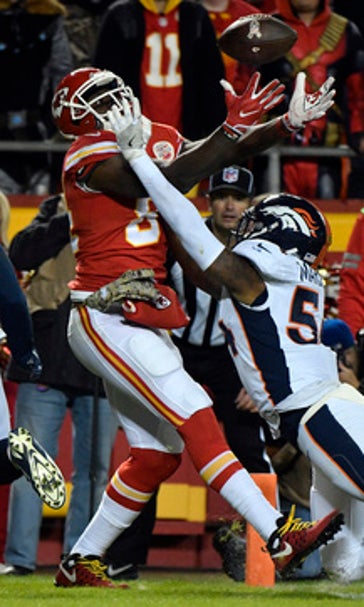 Broncos defense keeps Chiefs in check in another tough loss
October 31, 2017

KANSAS CITY, Mo. (AP) Denver's defense could be forgiven for harboring animosity toward its offense these days.
The league's best unit did just about everything it could to keep the Kansas City Chiefs' dynamic offense in check Monday night, and the result was a tight game into the fourth quarter. But it could not overcome the sheer ineptitude of the Broncos' offense in a 29-19 defeat - their third straight.
Five turnovers. Three sacks. A whole bunch of ugly plays.
''Our defense played winning football,'' Broncos coach Vance Joseph said. ''Our offensive line blocked. We ran the ball for 177 and the pass protection was better, but it all falls back to turning the ball over five times. That's insane. You can't win when you turn the ball over five times.''
The Broncos (3-4) only surrendered 276 yards to the NFL's third-rated offense. They held rookie sensation Kareem Hunt, the league's rushing leader, to 46 yards on 22 carries. They even managed to force a pair of turnovers against a team that hadn't turned it over since its first offensive play of the season.
That was just the start of it, too.
They held the Chiefs (6-2) to two third-down conversions. They held Alex Smith, in the midst of a breakout season, to 14 of 31 for 202 yards and a touchdown. They even held speedster Tyreek Hill, who burned them so often last year, to two catches for 38 yards on Monday night.
''It's the Broncos, so we knew it was going to be a physically demanding game all the way to the end of the fourth quarter,'' Chiefs tight end Travis Kelce said. ''That's what it was, sure enough.''
Again, thanks to the defense. They held the Chiefs to three first downs, 77 yards of total offense and a barrage of field goals over the final two quarters.
''They're a good unit. A really good unit,'' Smith said.
Just not good enough to make up for the offense.
Trevor Siemian tossed three interceptions, completing 19 of 36 passes for 198 yards and a late, almost meaningless score. At one point he had completed more passes to the Chiefs than his own players, and he was sacked three times to add injury - or at least some aches and pains - to insult.
''Turn it over five times and you're still in the game with a team like Kansas City. I mean, that's kind of unbelievable,'' Siemian said. ''It's just tough when you're playing two teams. You can't play the Denver Broncos and play another team. Too many mistakes by me.''
Joseph said he didn't consider going to backup Brock Osweiler at halftime, insisting Siemian had earned the right to run the show. But the first-year coach also sidestepped a question about whether a quarterback change is necessary going forward, especially with Paxton Lynch practicing again.
''I'm going to watch the film tonight and tomorrow,'' Joseph said.
Siemian wasn't the only one making mistakes, though.
The run game, which was so good during the Broncos' hot start, mostly floundered until C.J. Anderson got loose for some big gains down the stretch. And longtime Chiefs star Jamaal Charles, back at Arrowhead Stadium for the first time as a visitor, coughed the ball up in the first quarter.
The Chiefs' Marcus Peters picked it up and ran 45 yards for the game's opening score.
''Every game looks the same if you give the football away,'' Joseph said. ''We have a good football team. We have a great defense. If we don't give the ball away, we can beat anybody in the league.''
''But right now,'' he added, ''we're giving games away. All four losses are the same.''
---
For more NFL coverage: http://www.pro32.ap.org and http://www.twitter.com/AP-NFL
---
---