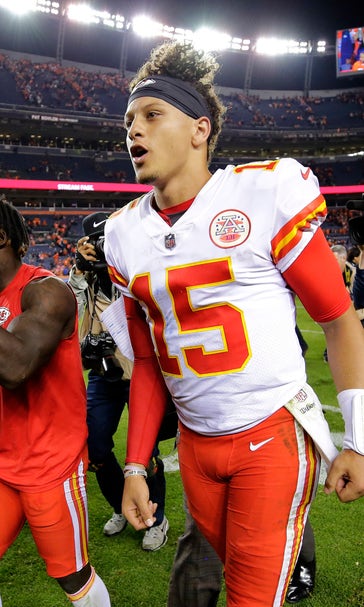 Broncos 'D' had solid script, until Mahomes goes off-script
October 2, 2018
DENVER (AP) — The Denver Broncos' defensive scheme went perfectly according to script for 3 ½ quarters as they put the brakes on Patrick Mahomes .
Then, the Kansas City QB went off-script. All the Broncos could do was chase.
"He escaped us probably seven or eight times. He's in the grasp and he escaped," Vance Joseph said Tuesday, a day after a 27-23 loss. "Kudos to him. He made a lot of big plays for them."
Still, Denver may have just uncovered some semblance of a blueprint for containing Mahomes, who's been a magician at times in leading the Chiefs to a 4-0 start.
Well, as much as a plan can exist for a QB who's become an escape artist. The Broncos kept him contained in the pocket, limiting him to 65 of his 304 yards passing in the first half, before he busted out with an assortment of unconventional plays. Chief among them, a left-handed pass late in the fourth quarter to Tyreek Hill that resulted in a first down. Mahomes even had Von Miller closing in on him during the play.
It was a quick-thinking move to go all ambidextrous to complete a pass.
"Everyone should get used to him making good plays like that," said Broncos linebacker Shane Ray, whose team fell to 2-2. "Unfortunately, it was one on us.
"It's very frustrating because we felt like we outplayed this team, out-schemed this team, and it came down really to three plays defensively at the very end that cost us. It is very frustrating. I don't like to lose, no one does, obviously. When it's a game like this where we definitely should have won, it doesn't feel good."
Denver led by as many as 10 points in the fourth quarter before things unraveled.
"The bottom line, in this league, in tough games, we have to be at our best as coaches when it matters," Joseph said. "You can call a great game for 3 1/2 quarters, but for half a quarter, when the game is on the line, we have to be at our best. That's my job, to help our players pull these games out. We can do a better job of making better and cleaner calls for our guys to be successful during those tough moments of the games."
Now it's on to rookie Sam Darnold and the New York Jets next weekend. Joseph doesn't think the close loss will result in any sort of hangover effect.
"We're all disappointed we didn't win that football game. They played their hearts out," Joseph said. "This league is about playing your best football late and I think we're headed that way. We have to make more plays and be more detailed and coach better."
One positive: The running game. Phillip Lindsay gained 69 yards and Royce Freeman rushed for 67. As a team, they averaged 7.2 yards per carry.
But on a pivotal fourth-quarter series — after the Chiefs finished off a 12-play drive with a score — the Broncos went three-and-out. Two of them were pass plays, including Case Keenum being sacked on third down. Punter Marquette King compounded things with a 35-yard punt.
A worn-out Denver defense had to go back on the field to stop Mahomes. It wasn't a good recipe.
"We went three-and-out. Not good. We didn't burn any clock. Not good," Joseph said. "We can look back and say, 'We could've handed the ball off two more times that drive and made some yards and burned some clock.' That's hindsight. If you get a first down, you're not saying that today."
NOTES: OT Jared Veldheer is being evaluated for a knee. ... A play on Kansas City's final scoring drive was run despite the play clock appearing to expire before the snap. The Chiefs picked up a first down on the play. Asked if he got more explanation on the delay of game that wasn't called by the officials, Joseph said: "I did, but it was the same explanation. That's their operation. His eyes go from the clock right to the snap. If he deems a snap is in progress, he doesn't make the call. If it's not in progress, he makes the call. That's one play that obviously hurt us, but that doesn't win or lose the game. But that was a huge play for us."
---
---