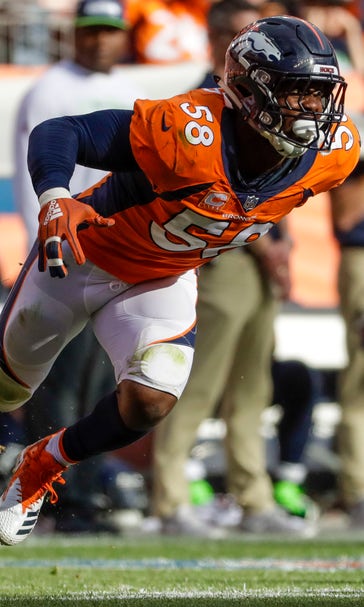 Broncos changed travel schedule after 1-7 road record
September 20, 2018
ENGLEWOOD, Colo. (AP) — The Denver Broncos have adjusted their travel itinerary in hopes of changing their fortunes on the road.
They're no longer flying out on Friday for trips to the East like this weekend's game at Baltimore .
"We're not going to worry about how far we're traveling, what time the game starts — we don't care," coach Vance Joseph said. "It's going to probably rain on Sunday. We don't care. I think pushing it back and just going on Saturday is all about our mindset and not worrying about going east, who we're playing or where we're playing.
"It's worrying about the Broncos playing the best we can play," Joseph added. "Our motto this year is, 'We don't care about where we go or who we play or when we travel or where we travel.' We're just going to go play."
The Broncos (2-0) went 1-7 away from home last year and have only won one of their last 10 road games.
That's a reversal of their road success during Peyton Manning's four seasons in Denver, when the Broncos were 22-10 away from home.
Von Miller, for one, doesn't mind the change in plans: "It's all good," he said. "We're able to get a great night's sleep before, so that's all that really matters."
The formula for ending their road woes, Miller suggested, was, "starting fast, getting off on third downs, being able to (force turnovers) and scoring touchdowns."
Come to think of it, he said, "that'll work for you anywhere."
It'll be imperative against the Ravens (1-1), who have scored touchdowns on all nine of their trips inside the 20-yard line so far.
"It's the first team in 20 years to be that way in the first two games, that's amazing," Joseph said. "They're running the football, they're passing the football. So, it's going to be a challenge."
The Ravens have four TD runs and five TD passes inside the 20-yard line, and Denver defensive coordinator Joe Woods credits their veteran quarterback, Joe Flacco.
"I mean, they obviously have a good scheme. But he's a smart quarterback. He understands what he's looking at. He gets rid of the ball on time," Woods said. "But I think the big thing is just him. Execution."
Miller spread the accolades a little bit more than Woods, attributing Baltimore's 9-for-9 mark to "a great corps of receivers" in addition to "a great quarterback."
Ravens coach John Harbaugh would add running back and offensive linemen to that list, although somewhat reluctantly because it's only Week 3 and he doesn't want to get carried away.
"What I'm seeing is good players," Harbaugh said. "I think we have guys making plays and we ran the ball in a few times, and that's big to our running backs and offensive line. But, man, you don't want to start patting yourself on the back. This league is too tough."
The advantage of playing their second game on a Thursday night, Harbaugh said, was that the Ravens got to kick back last weekend and watch the rest of the league, including the Broncos, who rallied past the Raiders 20-19 behind Case Keenum's second straight fourth-quarter comeback .
"It gives you good perspective. You see it's a crazy league. You see how tough it is. You see how tough it is to score in the red zone, how tough it is to stop somebody in the red zone," Harbaugh said.
Denver's defense leads the league in third-down efficiency. The Broncos have allowed only five third-down conversions in 22 tries for a 22.7 percentage.
"I just think it's great execution," Miller said, noting "the Ravens are pretty good on third down."
Baltimore is sixth in the league with a 43 percent conversion rate.
"So, third down will be pretty tough for both sides," Miller said.
Notes: Keenum returned to practice after missing one day with a sore knee . ... RT Jared Veldheer (concussion) was cleared for activity but not any action. The Broncos were pleased with how well his backup, Billy Turner, played last week. ... CB-PR Adam Jones (thigh) missed a second straight day of practice as did ILB Brandon Marshall (knee).
---
---