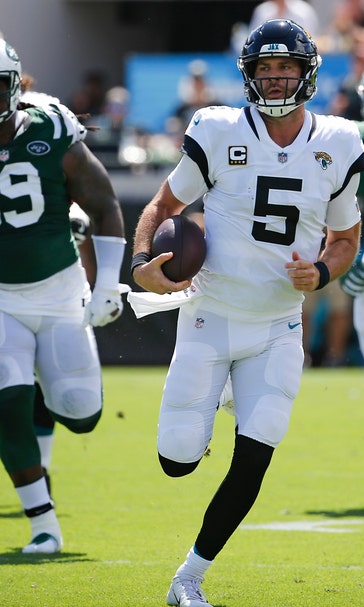 Bortles tosses 2 TD passes Jags handle Darnold, Jets 31-12
September 30, 2018
JACKSONVILLE, Fla. (AP) — Blake Bortles felt as though Jacksonville's offense wasted a dominant defensive performance last week.
He refused to let it happen again.
Bortles threw two touchdown passes, including a 67-yarder to Donte Moncrief, and the Jaguars offense gave the defense plenty of help in a 31-12 victory over the New York Jets on Sunday. Bortles ended up with a career-high 388 yards passing, topping 375 yards for the second time in three games.
"(The defense) played incredible again today," Bortles said. "There were some sloppy parts of the game that we've got to clean up, but to give them some points to go play with the lead was good."
It was a much different story a week ago, when the Jaguars (3-1) managed just two field goals in a 9-6 loss to Tennessee.
Bortles was clearly off in that one. He was much sharper against the Jets (1-3), who have dropped three straight.
He found T.J. Yeldon wide open for a 31-yard score in the second quarter and then beat a blitz with the deep pass to Moncrief down the sideline.
The pass to Moncrief was Jacksonville's lone offensive highlight in an ugly second half. The Jaguars had three turnovers that led to nine points for the Jets.
"It's just growth. That's the easiest way to say it," Jaguars defensive tackle Malik Jackson said. "We've got to be consistent like this all time. Offense dropped the ball last week, so to speak, but this week they picked it up and put 500 yards on the board.
"That's the best measure of a man and a football player — to put that turmoil behind you and move on and show your growth, and we did that."
Jets rookie Sam Darnold was harassed early and often, getting sacked three times and nearly throwing three interceptions. Tashaun Gipson's pick was overturned by a holding penalty on the other side of the field, and Pro Bowl cornerbacks A.J. Bouye and Jalen Ramsey each dropped INTs that would have ended New York's first two scoring drives.
Regardless, the Jaguars allowed 178 yards, allowed 10 first downs and recorded its first safety since 2014. It was the team's best defensive output since holding Cincinnati to 148 yards last November.
The Jets scored their lone touchdown following Yeldon's fourth-quarter fumble, a 2-yard pass from Darnold to Jordan Leggett. It was hardly the "identity game" the Jets had wanted.
"I felt we took a step back today," Jets coach Todd Bowles said. "Nobody played well. We gave up a bunch of yards. We usually fight to be in ballgames. We're usually in every ballgame. But we shot ourselves in the foot too much in the first half today. It's back to the drawing board in every phase — offense, defense, special teams. It's back to the drawing board.
"The other three games, we lost on silly things but we were in ballgames. Today, I don't think we were in the ballgame. We didn't give ourselves a chance."
It was about what the confident Jaguars expected. They improved to 6-1 following losses in coach Doug Marrone's two seasons.
Jacksonville's biggest concern coming out of the victory was the health of running back Leonard Fournette, who re-injured his strained right hamstring. Fournette missed the last two games while trying to get back to full speed, but tweaked it during his return.
Fournette ran 11 times for 30 yards before leaving the game for good. Marrone said he's worried about the relapse.
"I'd be (lying) if I said no," Marrone said. 'Anytime you come back and you're ready to go and then all of a sudden you get injured again, it's not a good sign."
QB STATS
Bortles completed 29 of 38 passes, with an interception on a ball tipped at the line of scrimmage.
Darnold was 17 of 34 passing for 167 yards. The 1-2 punch of Bilal Powell and Isaiah Crowell combined for 26 yards rushing.
"We've got to make plays that were there," Darnold said. "I've got to make throws that are there and not think too much, take what they give me and we'll start to find completions and get into a rhythm."
FIRST SACKS
Jets defensive lineman Leonard Williams and Jaguars defensive end Yannick Ngakoue recorded their first sacks of the season. Williams took down Bortles in the second quarter. Ngakoue sacked Darnold on the last play of the first half.
KEY INJURIES
Jaguars center Brandon Linder was ruled out at halftime with a back injury. ... Jets cornerback Morris Claiborne left game with a stomach illness, and linebacker Josh Martin was ruled out with concussion-like symptoms.
UP NEXT
Jets: Host Denver next Sunday.
Jaguars: Play at Kansas City next Sunday.
---
---