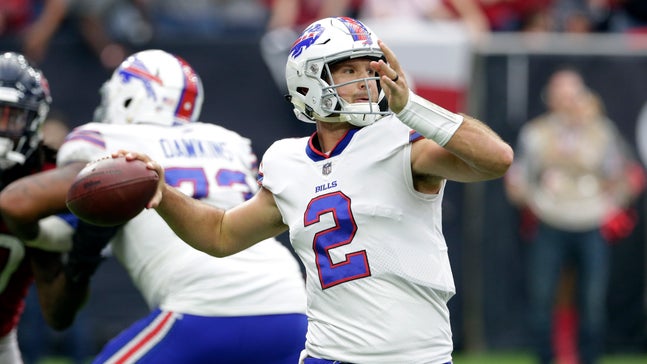 Bills QB Peterman seeks to put turnover-prone past behind
Updated
Mar. 4, 2020 2:44 p.m. ET
ORCHARD PARK, N.Y. (AP) — Just because he's not active on social media doesn't mean Nathan Peterman is oblivious to the punchlines made at the Buffalo Bills' turnover-prone quarterback's expense.
"Yeah, I know," Peterman said with a laugh Wednesday, upon being advised to not search out his name on the internet.
The second-year player doesn't need any reminders of his throwing nine interceptions on just 81 career passing attempts over seven regular-season appearances, none lasting more than three quarters. All Peterman knows is so long as the Bills allow him to keep pulling on a jersey each week, he's going to keep believing better things are just around the corner.
"I'm still here," Peterman said. "And every time you're here, every time you step on the field, and you're in this building, I'm always ready. I was ready last week. And I'm going to be ready again this week."
He had better be, in what could be his latest — and perhaps last — chance to prove himself on Sunday, when the injury-depleted Bills (2-6) host the Chicago Bears (4-3).
Buffalo could be left with little choice but to start Peterman.
Rookie Josh Allen will miss his third straight game, having already been ruled out due to a sprained elbow on his right throwing arm. And veteran backup Derek Anderson is in the NFL's concussion protocol after he was hurt in the final minutes of a 25-6 loss against New England on Monday.
Though coach Sean McDermott has yet to rule out Anderson entirely, the Bills did take the precautionary step of signing free-agent journeyman Matt Barkley on Wednesday in the event they need a backup to Peterman.
McDermott said he maintains confidence in Peterman, while at the same time acknowledging the second-year player's rash of struggles.
"Yeah, I understand where you're coming from on that," McDermott said when asked if he has any concerns over Peterman's self-confidence. He then segued into explaining how the team has resources to assist players and coaches with their confidence levels.
Peterman's two-year tenure has been a rocky one since the Bills used a fifth-round pick to draft him out of Pittsburgh. He's best remembered for throwing five interceptions in the first half of a 54-24 loss at the Los Angeles Chargers in what was Peterman's first start.
His second season in Buffalo hasn't gone much better.
Chosen the season-opening starter, ahead of Allen and after AJ McCarron was traded to Oakland, Peterman went 5 of 18 for 24 yards passing and threw two interceptions before being yanked two series into the third quarter of a 47-3 loss at Baltimore.
He hardly fared better in his next appearance, a 20-13 loss at Houston in which Peterman took over after Allen was hurt. After throwing a go-ahead touchdown pass to Zay Jones, Peterman melted down by throwing interceptions on Buffalo's final two series, including one returned for the decisive score.
"Mistakes are in the past. I've learned from them. I've taken them to heart. I'll never forget them," Peterman said. "But at the same time, I'll learn from them and move on."
Peterman's unwavering approach has earned the respect of his teammates.
"He doesn't show a lot of emotion where things get to him. I know he's heard all the outside stuff," Jones said. "Hopefully, this is the week for him. And I whole-heartedly believe in him."
Buffalo's issues on offense go beyond quarterback no matter who's started this season. It's a patchwork unit that has scored 87 points overall, and only two touchdowns in its past five games.
The Bears are tied for second in the NFL with 11 interceptions and 17 takeaways.
Newly signed Bills receiver Terrelle Pryor said it's on the entire offense to work as a unit rather than place the burden on Peterman.
"We're going to help him be very successful," said Pryor, who signed with Buffalo on Tuesday. "We're going to make him look good this weekend. Period."
No one, Peterman said, is perfect.
"Stuff happens in life, whether good or bad. How you react to it really is what makes you who you are," Peterman said. "Everything I've been through in the past, that's who I am standing in front of you today."
---
---