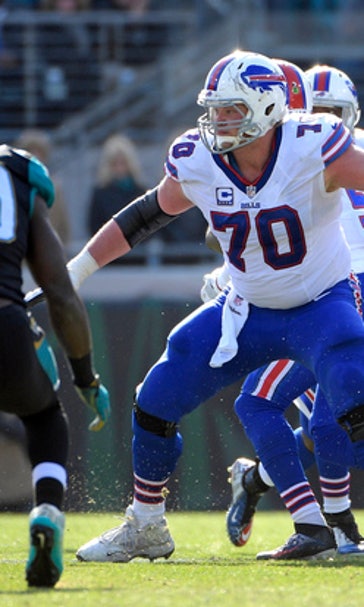 Bills center Eric Wood still adjusting to retirement
June 4, 2018
BATAVIA, N.Y. (AP) Though Eric Wood can finally say he's retired, the now-former Buffalo Bills center is unaccustomed to discussing his career in the past tense.
On Monday, for example, Wood was still referring to this spring as ''the offseason,'' while attending Hall of Fame quarterback Jim Kelly's charitable foundation golf tournament outside of Buffalo.
''It's so funny. I find myself referring to it as the offseason and we're making travel plans that aren't slotted for just the five weeks off in the summer,'' Wood said, referring to the break players traditionally get between the final spring practice and the start of training camp.
''It's different for sure,'' he added, while discussing his retirement for the first time since being diagnosed with a career-ending neck injury in January.
''I feel great,'' Wood said, noting he's already dropped about 55 pounds from his 310-pound playing weight.
''The body feels good. Can't play ball, which stinks. And I miss it,'' he added. ''There's been a lot of times this spring where I've seen pictures posted and you think, `Well, that's my team.'
"But, it's all good.''
Wood never envisioned his playing days would end so abruptly nine seasons into his NFL career, and after signing a two-year contract extension last summer.
Instead, team doctors ruled he would never be allowed to play again after end-of-season tests revealed Wood had two disks being dangerously close to his spinal cord. Wood received the news while he was in the delivery room with his wife, and about an hour before the birth of his second child, a son.
''It was shocking,'' he said, noting his first reaction was to seek a second opinion. ''But ultimately there was no scenario for return to play.''
Wood revealed the severity of the injury during a news conference in January. He was not, however, allowed to say he was officially retiring due to contractual issues that could have prevented Wood from retaining his bonus money until the Bills finally released the 32-year-old on Thursday.
He hasn't yet laid out any future plans, though Wood will always be a Bills fan after being selected by Buffalo in the first round of the 2009 draft out of Louisville.
Wood is following the team online and in social media. He laughed over the uproar on Twitter amid reports rookie first-round draft pick Josh Allen threw an interception during practice last week.
A respected team leader, one thing Wood will miss is mentoring younger players.
He also expressed concern regarding good friend and former teammate Richie Incognito, who has had a tumultuous offseason. Incognito abruptly retired by posting a note on Twitter before the Bills granted his request to be released to potentially sign with another team weeks later.
Then, Incognito spent three days in a Florida mental hospital after he allegedly threw weights and tennis balls at gym employees and another patron and told police officers the government was spying on him two weeks ago.
''He's going through a tough time right now,'' Wood said. ''We're praying for him, and I know he'll come out of this a good man.''
On the bright side, Wood has come to terms with how his career ended and the consolation that it happened after a season in which the Bills snapped a 17-year playoff drought. His final game was a 10-3 loss to Jacksonville in an AFC wild-card playoff on Jan. 7.
''Yeah, that playoff berth was very sweet,'' Wood said. ''It would've been very tough my career ending and not ever making the playoffs up here.''
---
More AP NFL: http://pro32.ap.org and http://twitter.com/AP-NFL
---
---