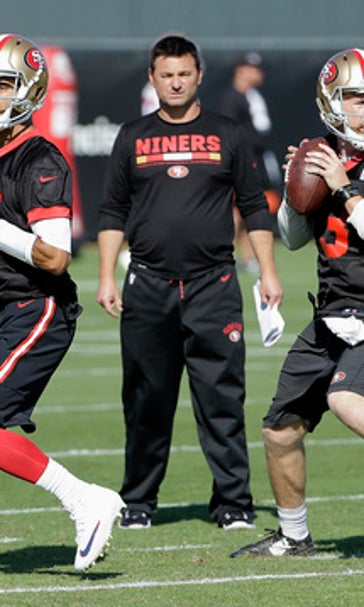 Beathard takes placeholder role after 49ers add Garoppolo
November 1, 2017

SANTA CLARA, Calif. (AP) Rookie C.J. Beathard has gotten a quick lesson on how fleeting life can be in the NFL.
Just two weeks after being given the chance to show whether he could be the quarterback of the future in San Francisco, Beathard has been relegated to placeholder status after the 49ers made a big trade for Jimmy Garoppolo.
''Obviously I was a little shocked,'' Beathard said Wednesday. ''It's my first time, I'm a rookie in this business. It's my first big encounter with a big move being made. But, it's awesome. Jimmy is a good guy. It's been nice getting to know him already.''
Beathard remains in the starting role for now as Garoppolo tries to get up to speed with a new offense after arriving Tuesday from New England following a trade for a 2018 second-round pick.
Beathard will start Sunday when the Niners (0-8) try to snap the longest season-opening losing streak in franchise history when they host Arizona (3-4), while Garoppolo is doing his best to learn the offense well enough to be the backup. Coach Kyle Shanahan has given no timetable for when Garoppolo will take over but it could come after a Week 11 bye for San Francisco's home game against Seattle on Nov. 26.
''I can't promise you guys that he won't play this week. I can't promise you guys that he'll play this year,'' Shanahan said. ''I know that we have a guy that we're excited about and I know has the ability to really help us and help this team in the future.''
Garoppolo is getting a crash course in Shanahan's offense, which has completely different terminology from what Garoppolo used in New England. Shanahan likened learning this offense to learning a foreign language and Garoppolo is spending extra time in the film room and classroom with Shanahan and quarterbacks coach Rich Scangarello to get up to speed.
Beathard is also doing what he can to help Garoppolo while also preparing for his third start. Beathard immediately became the experienced player in the quarterback room when Brian Hoyer was released following the trade with more career passes than Garoppolo and better knowledge of the offense.
''I think the biggest thing is learning the playbook. It's wordy,'' Beathard said. ''It's kind of funny because a few weeks ago it was me asking Brian, and now the role has changed. Now he's asking me about the playbook because I know it better than he does. Definitely the biggest thing is learning that, learning the verbiage, and everything like that.''
Beathard was hoping to prove he could be the long-term starter in San Francisco when he took over the role from Hoyer two weeks ago. The Niners had traded up to take Beathard in the third round and Shanahan had said that Beathard was the one quarterback he targeted in that draft class.
Beathard has completed just 52.7 percent of his passes in his limited time, averaging 5.9 yards per attempt with two touchdowns, three interceptions and a 65.2 passer rating.
He has been sacked 11 times on his 110 pass attempts and hit on several others, with the Niners' injury-riddled line giving him little time to succeed.
Shanahan said he made a point to tell Beathard as soon as the trade was made that the decision was not a reflection of how the organization felt about him.
''This move has nothing to do with C.J. This move has to do with a responsibility to the organization,'' Shanahan said. ''When things come around, opportunities come around that can help the organization, you don't hesitate on it. I have a lot of confidence in C.J. By no means has everything been perfect these last two and a half weeks that he's played, but I've been excited about a lot of things that he has done. He has had some bumps in the road like first-time players will have and like a lot of veterans have, but I think C.J. has shown a lot of things that we're excited about.''
NOTES: WR Pierre Garcon (neck) did not practice but RT Trent Brown was a full participant after missing last week's game with a concussion. ... The 49ers placed DB Jimmie Ward on IR with a broken arm. ... San Francisco signed OL Bryce Harris to a one-year deal and promoted CB Greg Mabin to the active roster from the practice squad. ... The Niners also signed DB Tyvis Powell to the practice squad.
---
More AP NFL: www.pro32.ap.org and www.twitter.com/AP-NFL
---
---