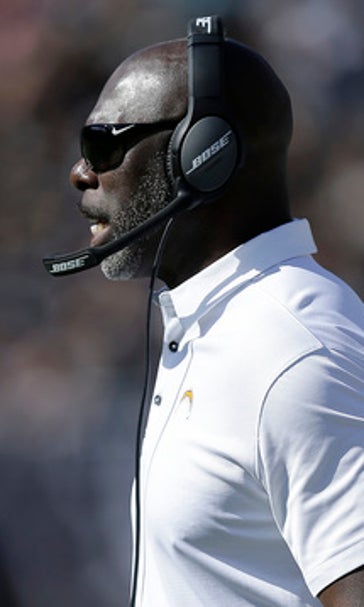 At bye week, Lynn's Chargers learning how to win close game
November 2, 2017

COSTA MESA, Calif. (AP) Anthony Lynn thought he had already seen just about everything in the NFL during his lengthy career as a running back and an assistant coach.
After his first eight games as the Los Angeles Chargers' head coach, he has a painful new perspective on the close calls and week-to-week heartache that seems to hit this franchise harder than many others.
''I was prepared when I took this, so there's nothing that's really surprised me,'' Lynn said. ''But going through it for the first time is different. It's different than hearing about it, preparing for it, when you're actually going through it.''
Another roller-coaster year hits its halfway point this week for the Chargers (3-5), whose first campaign after relocation has resembled their last two seasons in San Diego in many ways. They've had stretches of strong play and a string of solid victories with an undeniable collection of veteran talent. But narrow losses due to poor late-game execution and bad breaks have kept them down in the standings as they hit their bye week.
Those last two San Diego teams lost 17 games by eight points or fewer. The current LA version has already lost four more games by that same one-score margin.
''It's tough, because you've been in every single game, and you think about what could have been,'' Lynn said. ''But you can't do that. Our record is what it is. We're 3-5, and we've got the second half of our season to look at. (We're) going into our third quarter, and we've got to figure out ways to win that third and fourth quarter.''
New city, same problems - yet there's more optimism surrounding the Chargers than in the past two years. And not just because of the upbeat new coaching staff led by Lynn and defensive coordinator Gus Bradley.
After an 0-4 start to Lynn's first season, the Chargers managed to win two close games over the Giants and Raiders during their three-game winning streak last month. The remaining players say they're showing more tenacity than the past two clubs, with pass-rushing duo Melvin Ingram and Joey Bosa leading a defense that has been largely outstanding in big moments.
The Chargers are hoping they're on a path toward playoff contention, and that they've got enough games left in the season to figure it out.
''I like the direction we're headed,'' said quarterback Philip Rivers, who has passed for 2,028 yards with 13 touchdowns and six interceptions. ''We've got a lot of work to do and some obstacles to overcome, but you feel like this team is putting it together if we can get over some of the inconsistency.''
Lynn attributes part of the Chargers' optimism to their relative health. All but five of their opening-week starters have played in all eight games, and key linebacker Denzel Perryman is expected to rejoin the starting lineup next week after getting hurt in training camp.
Injuries decimated the Chargers last season, sending 18 players to injured reserve. Los Angeles has lost starting cornerback Jason Verrett and offensive linemen Forrest Lamp and Matt Slauson this season, but is otherwise keeping together its solid group of talent.
Lynn and general manager Tom Telesco attribute part of that success to a re-evaluation of the team's training methodology. In a related development, Lynn gave his players an entire week off during the bye, declining to hold any practices.
''We have guys doing a different kind of cardio, getting them off the grass in the training room and getting their heart rates up so they can stay in shape and maintain their stamina,'' Lynn said. ''We brought in recovery days. We brought in flexibility coaches, injury prevention coaches. We've made an effort to get better with soft tissue injuries and just keeping guys off the IR.''
Ingram and Bosa are putting together a memorable season on defense for Bradley, who has used their talents splendidly. The secondary is also performing well while the Chargers rank eighth in the league with just 201.9 yards passing allowed per game.
''The issues we've faced in our defense show up week to week, that's how teams try to attack you,'' Bradley said. ''Once they understand the issues, and how they have to play them and adjust to them, you'll see a team that plays faster.''
But Lynn expects more close games and difficult matchups in the second half of the season, which includes two East Coast road trips and a visit to Dallas. He plans to keep the Chargers focused on steady improvement that will benefit them this season and beyond.
''The season we've had so far - it's been a grind,'' Lynn said.
---
More AP NFL: www.pro32.ap.org and www.twitter.com/AP-NFL
---
---