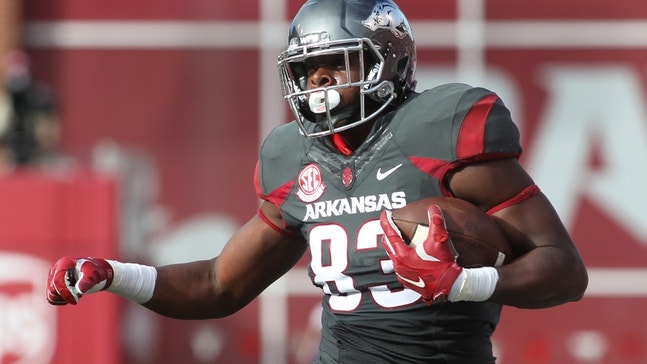 Arkansas TE Suspended from Belk Bowl After Shoplifting from Belk Store
Updated
Mar. 4, 2020 9:09 p.m. ET

Fansided, George Stockburger/FanSided via NFL Mocks
The Razorbacks are without one of their top receivers after he allegedly shoplifted the store sponsoring his bowl game
Just when you thought you have seen it all, something like this rolls across the wire.
Arkansas has suspended tight end Jeremy Sprinkle from the Belk Bowl after the senior was caught allegedly shoplifting from a Belk department store.
The news of Sprinkle's suspension came out two hours before the start of the Belk Bowl against #22 Virginia Tech, and was formally announced in a statement from coach Brett Bielema .
"Jeremy's suspension has been known by our staff and players for several days so we've had a chance to prepare our game plan accordingly. Throughout his career and this season as a graduate student-athlete, Jeremy has displayed numerous times the qualities we want to represent our program. We have standards within our family that must be upheld on a daily basis and unfortunately he failed to do that in the last week. Jeremy's suspension isn't drug, alcohol or violence related but one that will cause him to miss his final game as a Razorback."
Jason Kersey of SEC Country explained the situation, and noted that there was no police involvement at the store during the team event in Charlotte.
Sprinkle was accused of attempting to shoplift items at the Belk department store at the SouthPark Mall in Charlotte on Wednesday, sources said. The Arkansas team was there as part of a function for the bowl.

Each player on both teams had 90 minutes to spend a $450 gift card at Belk on anything in the store. The players also each received a Fossil watch. Sources said Sprinkle attempted to take items worth more than the allotted cost available.
Depending on the bowl game, each player is typically given a selection of gifts approved by the NCAA. Typically players receive clothing, watches, shoes, backpacks, and other memorabilia.
Here's the list of reported gifts players will receive for attending the bowl game.
Sprinkle was a borderline NFL prospect prior to this situation, and now is almost certain to go undrafted. He caught four touchdowns this year for Arkansas, and had 921 receiving yards during his four-year career with the Razorbacks.
More from NFL Mocks
This article originally appeared on
---
---