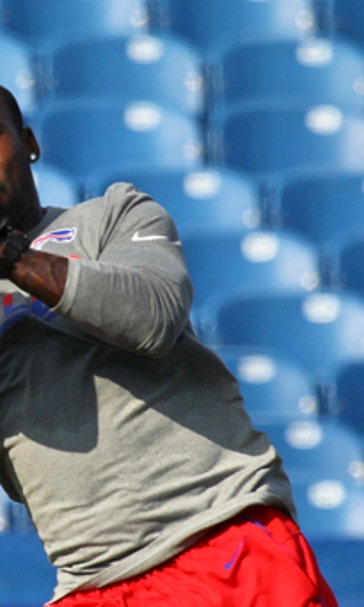 AP source: Bills grant Boldin permission to pursue trade
October 26, 2017

ORCHARD PARK, N.Y. (AP) Turns out receiver Anquan Boldin might not be done playing.
A person with direct knowledge of the decision confirmed to The Associated Press on Thursday that the Buffalo Bills granted Boldin permission to explore the possibility of being traded to another team.
The person spoke on the condition of anonymity because the Bills and Boldin have not announced it. ESPN.com first reported the development and posted a copy of the letter of permission the Bills issued to Boldin.
The Bills hold the rights to Boldin after they signed him to a one-year contract on Aug. 7. The 37-year-old player abruptly retired two weeks later by saying he wanted to focus on his charitable causes and social justice issues.
The timing of Boldin's decision to considering continuing to play comes with the NFL trading deadline set for Tuesday.
Though Boldin has permission to speak to teams, the Bills would have to approve any trade offer.
Messages left with Boldin's representatives were not returned.
This is a considerable change of heart for Boldin, who dismissed the possibility he might reconsider retiring and choose to play for a contender later in the season.
''Do I feel like I can still play? Of course,'' Boldin told Sirius XM NFL Radio a day after he retired. ''My passion for the advocacy work that I do outweighs football at this point, so I'm not coming back to play for a contender or to do anything else. I'm done with the game of football.''
Boldin said he didn't make his decision to retire overnight and noted it was spurred by the deadly and racially charged protests that occurred in Charlottesville, Virginia.
''I think anybody with any sense can see how divided we are as a country, and Charlottesville only magnified what we were already seeing,'' Boldin told The AP .
He said he was disturbed by the hateful messages directed at African-Americans, Jewish people and the LGBT community during a rally involving neo-Nazis and other right-wing groups in which a counter-protester was killed and two Virginia state police officers died on Aug. 13.
''There's not enough money in this world for me to continue to allow the things that are going on to continue to spread,'' said Boldin, who has two boys. ''I will not feel safe leaving this earth and having my kids have to live in the America that we have today.''
Boldin has been actively involved in numerous causes over the past two months.
On Oct. 18, he attended a meeting between NFL players and owners at the league's headquarters during which the topics discussed included enhancing players' platforms for speaking out on social issues.
Two days ago, Boldin posted a picture on his Twitter account of him attending a meeting in Detroit on the issue of juveniles being sentenced to life without the possibility parole. He has also lobbied state officials in Pennsylvania to pass what's called the ''Clean Slate Act,'' which would allow criminal records for low-level offenses be automatically sealed.
The NFL's 2015 Walter Payton Man of the Year, Boldin is no stranger to activism and humanitarian causes. He oversees the South Florida-based Q81 Foundation, which offers educational support for underprivileged children.
Boldin was out of football before signing with Buffalo. He spent last season with Detroit, where he had 67 catches for 584 yards and eight touchdowns in 16 games.
Overall, he ranks in the top four among active receivers with 1,076 catches, 13,779 yards receiving and 82 touchdowns receiving.
Boldin's decision to retire was considered curious as it happened a little over a week after Buffalo made two separate trades in dealing starting receiver Sammy Watkins to the Los Angeles Rams and starting cornerback Ronald Darby to Philadelphia. In return, the Bills acquired receiver Jordan Matthews and cornerback E.J. Gaines, plus a second- and third-round draft pick.
Though surprised by the moves, Boldin insisted at the time that Watkins' presence had little to do with him signing with Buffalo.
The Bills (4-2) are off to a better than expected start and host Oakland (3-4) on Sunday.
---
More AP NFL: www.pro32.ap.org and www.twitter.com/AP-NFL
---
---