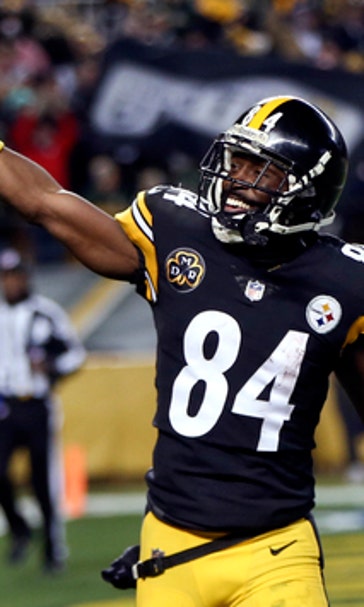 Antonio Brown, AJ Green bring gracefulness to edgy rivalry
BY AP • December 3, 2017
CINCINNATI (AP) A.J. Green's tiptoe catch along the sideline was so remarkable that his former offensive coordinator couldn't believe he'd done it.
Browns coach Hue Jackson threw the challenge flag after the Bengals receiver somehow came down with the ball for a tumbling, 13-yard gain during Cincinnati's 30-16 win last Sunday. The replay videos showed that Green had indeed managed to pull in the ball while getting his toes down inside the white line.
The 51,710 fans did a collective ''ooooh'' in admiration as the play was shown on the video board.
Green? Didn't even bother to watch the replay. He knew what he'd done.
''We work on that every day - front foot down, drag the back,'' Green said matter-of-factly. ''If you can get the front foot down, you can get your back one. You practice something enough, it becomes second nature.''
Later Sunday in Pittsburgh, Antonio Brown made a similarly astounding sideline catch for a 23-yard gain that helped the Steelers get in range for their winning field goal on the final play against Green Bay. Just like A.J., AB made it look oh-so-easy.
''He's awesome,'' Steelers linebacker Vince Williams said. ''We use that word too loosely. But compared to like professionals, they're not awesome. They're good. He's awesome.''
Green and Brown could bring their graceful flair to one of the NFL's nastiest rivalries on Monday night when the Bengals (5-6) host the Steelers (9-2) at Paul Brown Stadium; Brown is questionable with a toe issue. There figures to be a lot of trash talking and after-the-whistle pushing - there always is.
And Green and Brown could be trying to decide it with moves that leave everyone wondering: How do they do that?
''Yeah, absolutely,'' Bengals quarterback Andy Dalton said, referring to his top receiver's fancy footwork. ''There's a lot of stuff that A.J. does and it's like, `Man, there's not many people on this Earth who can do that.''
The same goes for Pittsburgh, which is so accustomed to watching Brown work his magic. Brown has made so many incredible catches that it's impossible to rank them.
''It's hard because I see them all the time, but it's still pretty special,'' quarterback Ben Roethlisberger said.
The Steelers can move one step closer to another AFC North title with a victory Monday, which would be their sixth straight victory in the series. The Bengals have to win to maintain any thought of a playoff berth. The two receivers could have a lot to do with the outcome, even if they don't have huge games.
Brown leads the league with 80 catches and 1,195 yards receiving. Green is tied for 20th with 53 catches and ranks seventh with 809 yards. It's not the numbers that define them as much as their artistry and their impact on every game in some form.
Both command so much attention from defenses that their offenses get plenty of openings elsewhere.
During the Steelers' 29-14 win at Heinz Field on Oct. 22, Green had three catches for 41 yards while Brown had four for 65 - not bad, not great. Green had two catches for 38 yards in his only game against the Steelers last season, when a hamstring injury sidelined him for the rematch. Brown had a total of seven catches for 97 yards in the two games.
Both receivers face familiar defenses that know how to contain them most of the time.
''When you look at (other) games, obviously he's not getting challenged at the line,'' Bengals cornerback Dre Kirkpatrick said. ''He's running freely. When you press him, that's when he seems to have a problem, and that's what I've had success at. He knows I'm going to be hands on.''
Even so, it's likely that at least one of them will make a play that leaves everyone wondering: Did he really do that?
''God-given talent, I guess,'' Green said. ''Just blessed to have it.''
---
AP Sports Writer Will Graves in Pittsburgh contributed to this report.
---
For more NFL coverage: http://www.pro32.ap.org and http://www.twitter.com/AP-NFL
---
---