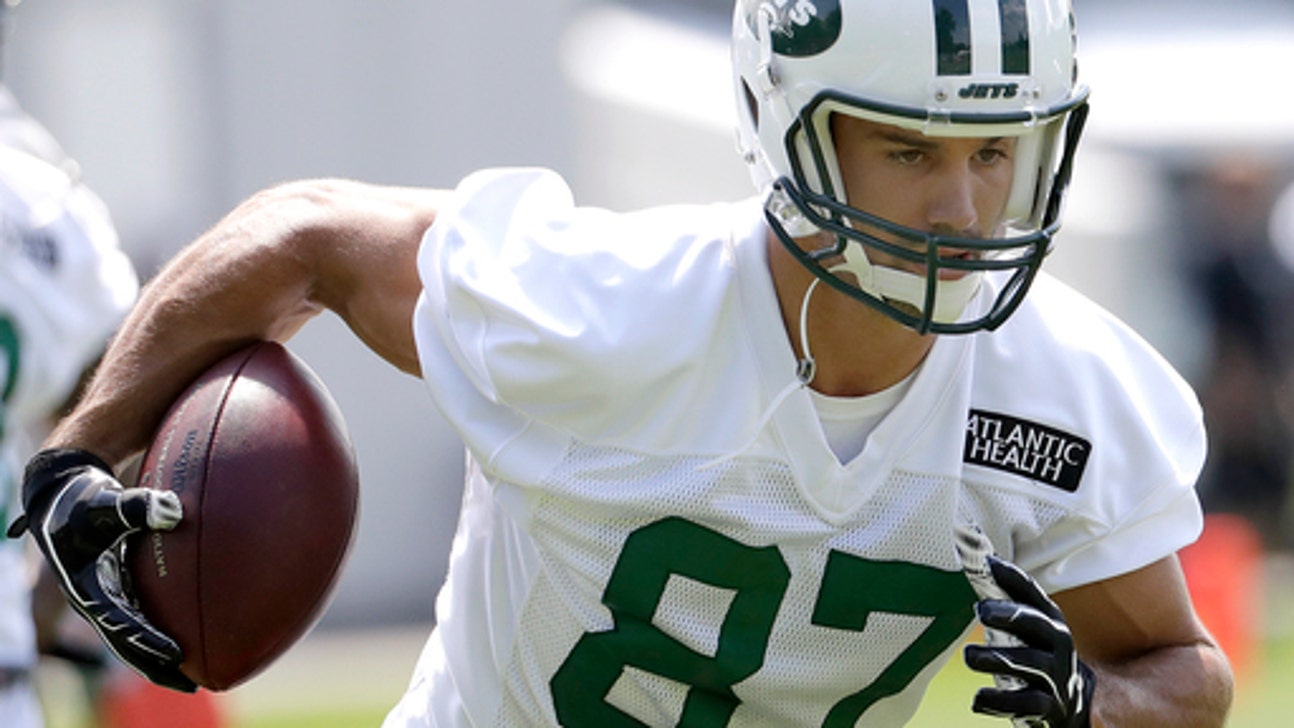 Another step in Jets purge: WR Decker released
Updated
Mar. 5, 2020 1:58 a.m. ET

NEW YORK (AP) Now, it's official: Eric Decker's days with the New York Jets are done.
The team released the veteran wide receiver Monday, six days after saying it would do so if it couldn't work out a trade.
While it appeared Decker drew some interest from teams in the trade market, the 30-year-old receiver is now a free agent.
It's the latest in a series of offseason moves by the Jets to cut high-priced veterans. New York cut linebacker David Harris last Tuesday after 10 seasons, and general manager Mike Maccagnan also announced that the Jets would be parting ways with Decker.
''We think very highly of Eric, and our focus right now is seeing our young players, how they do,'' Maccagnan said that day. ''We wish Eric, going forward, a lot of success, but again if we can't facilitate a trade we will move on from Eric.''
Decker's departure will save the Jets $7.25 million in salary. The receiver had 163 catches for 2,183 yards and 19 touchdowns in three seasons with New York.
In a statement issued by the team Monday night, owner Woody Johnson thanked Decker for his contributions with the Jets.
''While with us, he was a competitive, productive and dependable receiver who represented the team well both on and off the field,'' Johnson said. ''On behalf of the organization, I wish him the best as he continues his career.''
Decker and Harris have joined Darrelle Revis, Nick Mangold, Nick Folk and Brandon Marshall as veterans who have been released by the team this offseason.
''I think there's a lot of things that go into these decisions,'' Maccagnan said. ''I think we've been focused on trying to create opportunities for a lot of players on this roster. We have some very competitive positions and we'll see how it unfolds going forward.''
Decker was limited to nine receptions for 194 yards and two TDs in three games last year because of a shoulder injury. He had his torn rotator cuff repaired last November, just over a month after having surgery on his hip, which had also been ailing him.
His recovery appeared to be going well this offseason as he participated in organized team activities the past few weeks. Decker had said he expected to be ready for the season opener in September.
''Thank you (at)nyjets for the opportunity the last 3 years! I truly made some great memories and friendships that will last forever!'' Decker wrote on Twitter on Wednesday. ''To all the diehard fans-I wish we would of accomplished more for you but I sincerely appreciate the support through all the ups and downs!''
Decker spent his first four NFL seasons in Denver after the Broncos drafted him in the third round in 2010 out of the University of Minnesota. The Jets signed him to a five-year, $36.25 million in March 2014.
Decker has 385 receptions for 5,253 yards and 52 touchdowns in seven seasons.
---
For more NFL coverage: http://www.pro32.ap.org and http://www.twitter.com/AP-NFL
---
---