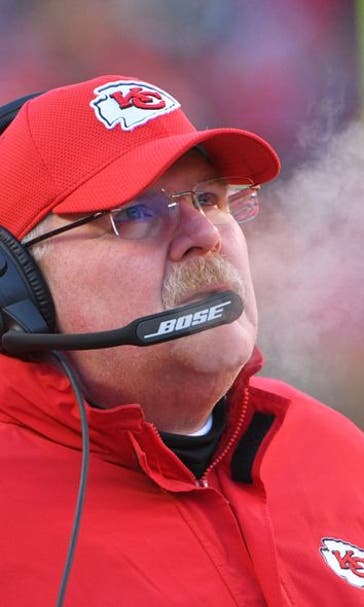 Andy Reid dilemma: Fixing the offense
December 27, 2016

Fansided, Lucas Hampton/FanSided via Arrowhead Addict
Ask any Chiefs fan what the biggest flaw with the team now is and you will get one of two likely answers: Alex Smith and Andy Reid.
More appropriately, Andy's play calling decisions. Andy Reid's play calling is lacking, but occasionally brilliant. The Kansas City Chiefs offensive play choices are way too inconsistent. This is the dilemma.
In the aftermath of the mess that was the Titans game, many fans were calling for Reid to get fired. Don't get me wrong, it was justifiable to be upset over that outcome. It is certainly understandable, feeling angry towards Big Red. The play calling quality has been lackluster to say the least. But, should Andy Reid get fired over this? No.
The offense clearly has a few glaring issues. Firing Andy will not solve the play calling problem. In fact, it would only set the team back at least two years. That prospect does not sound all that fun to me, especially given the success that we have enjoyed thanks largely to Andy. Coming into this season, Andy had a win loss average of 10-6. Remember back to a time when 10-6 was a huge deal to get to?
Before Andy Reid…
Yeah I know, I'm dredging up memories of a dark age for the Chiefs. But, let's go back there for a bit. I first discovered the NFL and the Kansas City Chiefs at the tail end of the 2009 season, deciding to indulge my parents and watch the game on that fateful night. I watched Derrick Johnson just knife his way through the Broncos play after play. It was a thing of beauty. I knew I had found my team.
In the off-season, I grabbed all the magazines that I could. I poured over every bit of online news I could find, catching myself up on everything that had happened in the Kingdom up to this point. Sitting down to watch the draft with my high school buddy, then the regular season started. I watched my new team go 10-6 and make the playoffs. That playoff loss was a bit of a pill to swallow but I pressed on. I even visited the training camp after that season.
Dec 11, 2016; Los Angeles, CA, USA; Atlanta Falcons assistant general manager Scott Pioli attends the game against the Los Angeles Rams at Los Angeles Memorial Coliseum. Mandatory Credit: Kirby Lee-USA TODAY Sports
We all know what happened next. It all fell apart. All the weaknesses that Scott Pioli created with his questionable people choices came to a head. The scandals and secrets came out. It only got worse from there.
That same 2-14 record that spurned that hiring of Pioli and the changes he brought came full circle. In the midst of the dark ages, Clark Hunt stepped forward to save the team. He fired Romeo Crennel, bless that man's soul, he was a good guy but not a great head coach. Hunt then wasted no time in aggressively courting Andy Reid.
Clark Hunt: A hero to the people!
Not all that long after Andy Reid was hired on, Pioli and Hunt agreed to mutually part ways. The changes that followed thanks to Reid and new general manager John Dorsey paid off almost right away. Victory after victory, streak after streak came rolling in and Chiefs Kingdom had cause to celebrate. The players took a liking to Big Red very quickly. Chiefs Kingdom hailed him as our hero.
Prior to Reid, the last time the Chiefs won a playoff game, I wasn't even alive yet!
Then came a day that the Kingdom had long been denied. A playoff win. It happened, the moment that we had long-awaited finally came. A beat down of the Houston Texans broke that dry spell. Andy Reid saw this team to the snapping of its playoff losing streak, averaging 10-6 every season for three years, and we want this guy fired? The worst he would've done when I began writing this as another 10-6 season. Prior to Reid, the last time the Chiefs won a playoff game, I wasn't even alive yet!
Nov 27, 2016; Denver, CO, USA; Kansas City Chiefs head coach Andy Reid speaks to an official in a overtime period against the Denver Broncos at Sports Authority Field at Mile High. The Chiefs defeated the Broncos 30-27 in overtime. Mandatory Credit: Ron Chenoy-USA TODAY Sports
Firing Andy will get us nowhere. However, if he hands off his play calling powers to a proven, veteran play caller, we may see thing start to turn around. I appreciate that Andy brings in new guys who don't have much experience under his wing to help develop them, it is backfiring on us however. This has killed too many drives and robbed way too many scoring opportunities.
The constant choice of screen passes. The useless hand offs up the middle in situations that they do not belong in. Pass plays with routes that do not even go to halfway to the first down marker. It's a serious problem. Alex Smith does best in the plays that don't give him a chance to think about it.
It seriously is a Jekyll and Hyde situation with this. That 2.5 second or less release is good for fastest in the NFL, and when Smith is put into that kind of offense, it pays off big time.
Pro Football Focus gave us a glimpse of this point in the Christmas night game comparing Alex Smith's numbers when he releases the ball within 2.5 seconds and a release at 2.6 or more. It seriously is a Jekyll and Hyde situation with this. That 2.5 second or less release is good for fastest in the NFL, and when Smith is put into that kind of offense, it pays off big time.
Dec 25, 2016; Kansas City, MO, USA; Denver Broncos running back Devontae Booker (23) fumbles as he is tackled by Kansas City Chiefs strong safety Daniel Sorensen (49) during the second half at Arrowhead Stadium. The Chiefs won 33-10. Mandatory Credit: Jay Biggerstaff-USA TODAY Sports
Good job Andy, making me eat crow before my writings are concluded; as I gripe about Andy making a ton of bad play choices, he goes and throws out some great ones. Reid has put his team into a quick hit, just play and don't think about it situation. Another cool thing, but adding another layer to the dilemma, Andy Reid is officially in the elite tier. He is among the top 10 winningest coaches of all time. Also, how about that Dontari Poe jump shot touchdown?
This is the dilemma created by Andy having play calling powers. By and large it is underwhelming, but sometimes he pulls out the good ones that work spectacularly. Would it fix the offense for Big Red to hand that responsibility? Would it set us back a bit? This all plays a huge role in the other glaring weak spot on this team, the quarterback position.
But that is a conversation for another time. Let me know Chiefs fans, do you trust Andy to keep calling the shots? Do you trust Childress instead? Any other guys you would trust to do it? Let me know in the comments! I look forward to chatting with everyone! Stay loud Chiefs Kingdom.
Thanks for reading and go Chiefs!
More from Arrowhead Addict
This article originally appeared on
---
---