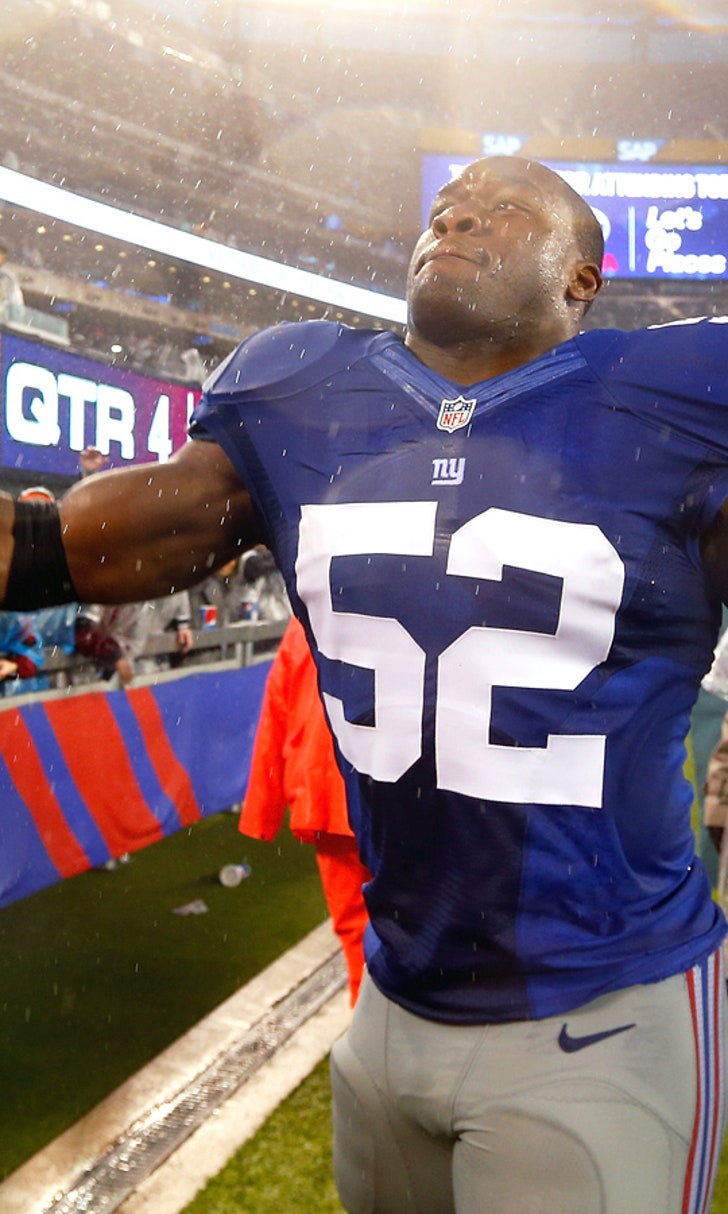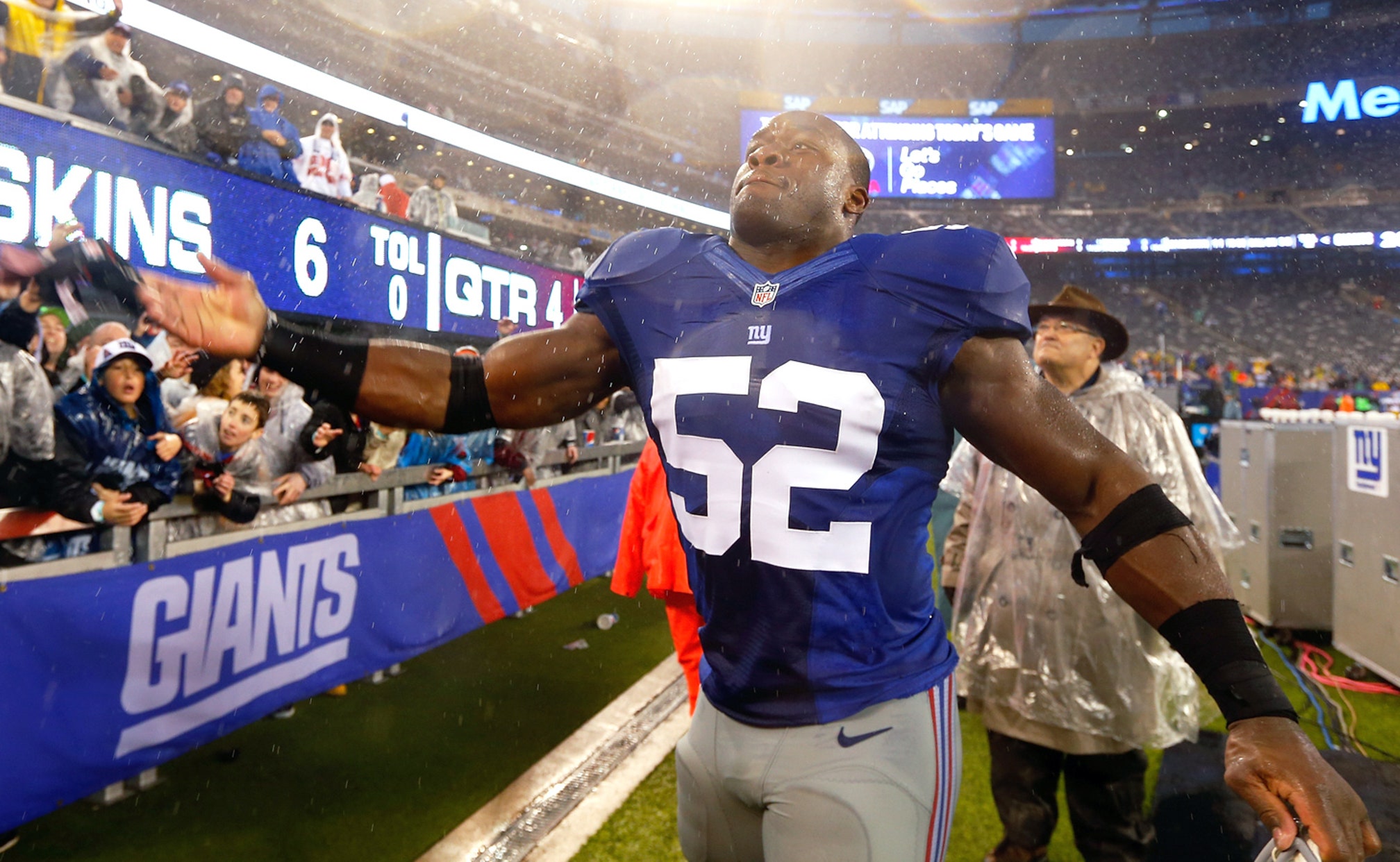 7 players the Giants must move on from in 2016
BY foxsports • January 20, 2016
New York Giants new head coach Ben McAdoo has made it clear that he believes the Giants don't need to rebuild, but instead they just need to reload. They will have an excellent opportunity to kickstart the reloading process with over $43 million in estimated cap space. That number will slightly change as the NFL announces a new cap for 2016, but there's no doubt about the Giants being big players in free agency this offseason.
Over the past two weeks, we took a look at the Giants' team needs and players that they can build around for the 2016 season. Today, we'll take a look at seven players who the Giants need to move on from in 2016.
1. Jon Beason
Giants general manager Jerry Reese went on a bit of a spending spree during the 2014 free-agency period. Signing cornerback Dominique Rodgers-Cromartie during this time turned out to one of Reese's best free-agent signings, but re-signing Beason turned out to be one of his worst. Beason was credited with turning around the Giants' defense in 2013 after being acquired in a midseason trade, but his checkered injury history was overlooked when Reese signed him to a three-year, $17 million contract with over $6 million in guaranteed money. That same offseason, Reese opted to pass on defensive tackle Linval Joseph -- who had just finished up his rookie contract -- for a similar annual investment.
Since signing the contract, Beason has played in just nine of 32 games, and often times he was ineffective as he played through injury. Over the last five seasons, Beason has played in five games or less in four of them. Beason accepted a major pay cut last March to stick around, but now is the time that Reese must make the decision to move on from the oft-injured linebacker at any cost. If the Giants release Beason, they will save $4.5 million on his $5,966,668 2016 salary-cap number. Reese's decision might be made easier for him -- Beason has hinted at retirement already this offseason.
2. Rueben Randle
After hitting on draft picks Hakeem Nicks and Mario Manningham -- before injuries -- there was a lot of excitement when the Giants selected Randle in the second round. When NFL Films guru Greg Cosell spoke glowingly of Randle's deceptive deep speed and ability to run the complete route tree before the draft, that excitement only grew. In his four-year run with the Giants, Randle failed to emerge as anything more than a complimentary wide receiver -- a title he couldn't even own on a consistent basis.
Although there have been whispers of injuries holding back Randle at different times throughout the past four seasons, they cannot be blamed for his poor play. Even after four seasons together, Randle was never able to get on the same page as Eli Manning --  the miscommunication between them often led to turnovers. There was some hope that Randle would be able to take a major leap forward in 2015 -- he finished 2014 on a roll and was expected to draw constant single coverage as defenses shifted attention to Odell Beckham. Instead, he struggled. Although he finished with eight touchdowns, Randle caught just 57 of 87 targets for 797 yards. He is an unrestricted free agent this offseason, and it's time for the Giants to find a new weapon for Manning.
[caption id="attachment_144564"]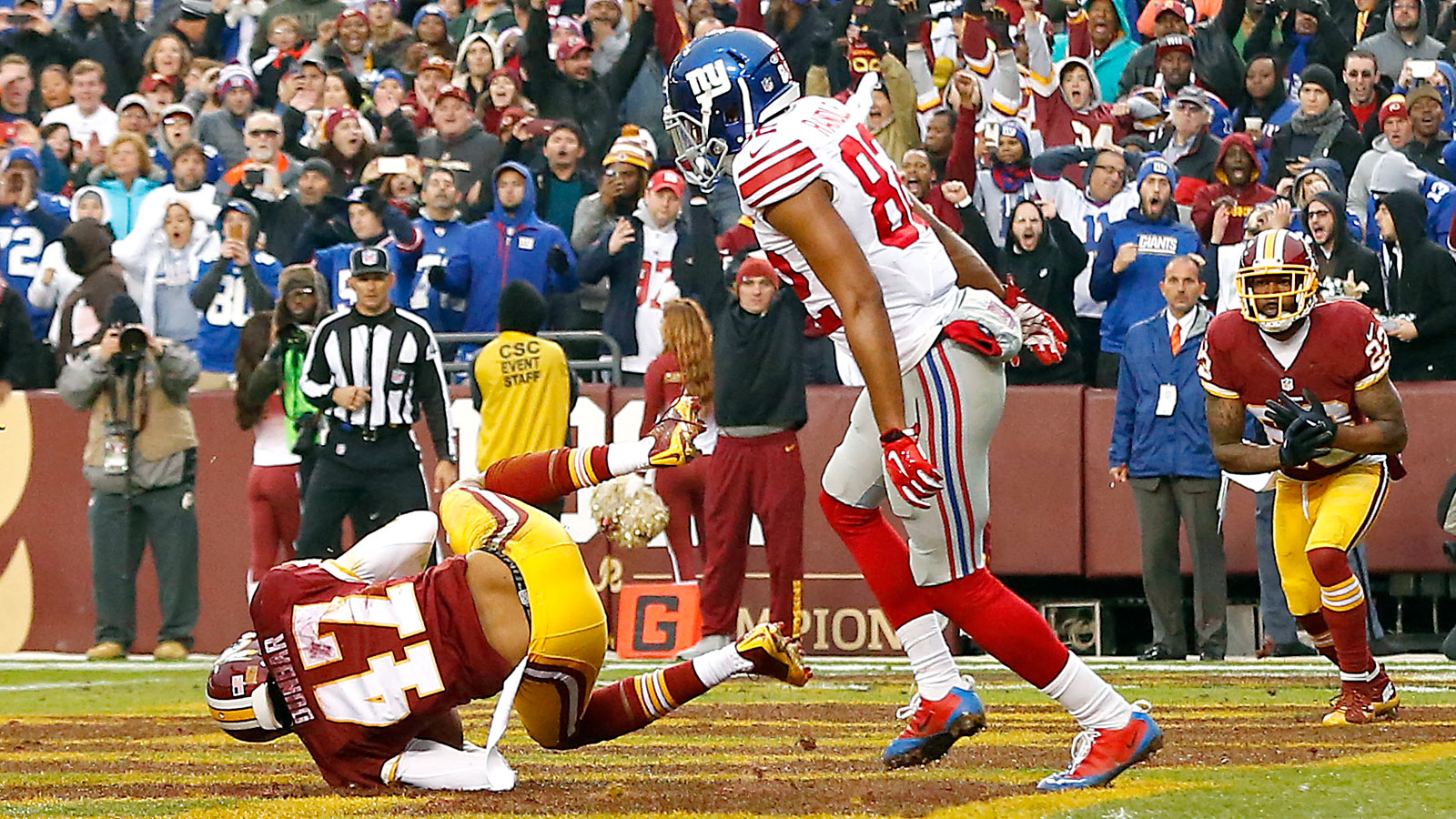 Eli Manning and Rueben Randle failed to establish a consistent chemistry in the passing game during their past four seasons together.
[/caption]
3. Prince Amukamara
After displaying excellent physicality and the ability to succeed in man coverage at the collegiate level, Amukamara was seen as a value pick when the Giants selected him at No. 19 overall in the 2011 NFL Draft. In four seasons with the Giants, Amukamara hasn't been elite, but he has consistently performed well in coverage when on the field. The issue for Amukamara has been injuries. He has played in one complete 16-game season since entering the NFL, and he has missed 25 games in five seasons.
Strong cover corners aren't easy to find, and based on the contracts handed out to players like Darrelle Revis and Chris Culliver last offseason, Amukamara may field some big offers on the open market. The Giants need to avoid investing a large multi-year contract on a player like Amukamara based on his injury history. Cornerback will immediately become another major need, but the Giants are best off targeting a free agent willing to sign a short-term deal or investing an early draft pick at the position.
4. Markus Kuhn
Based on his play, it's probably shocking to most fans that Kuhn made it all the way through his rookie contract with the Giants. Four seasons later, and it's safe to say that the North Carolina State project was a failure. Although Kuhn played a career-high 320 defensive snaps before a knee injury ended his 2015 season, the results were the same -- Kuhn was too often washed out in the run game and offered little to no disruption as a pass rusher. Kuhn was a Tom Coughlin favorite, but there was very little to get excited about when watching Kuhn these past four seasons. Now that Coughlin is gone, it seems unlikely that Kuhn will return in 2016.
5. Brandon Meriweather
After losing three safeties to season-ending injuries before the season started, the Giants were forced to scramble at the safety position. They brought in veteran Brandon Meriweather after a long look at an underwhelming group of safeties who were still free agents. Despite being released and re-signed during the season, Meriweather played 89.2 percent of the Giants' defensive snaps. He struggled in pass coverage -- as expected -- but he was also a liability in the run game. He had a career-high 16 missed tackles -- only four safeties had more in 2015. With Landon Collins fitting the profile of a younger and more athletic version of Meriweather, there is no room on the roster for him in 2016.
[caption id="attachment_1084814"]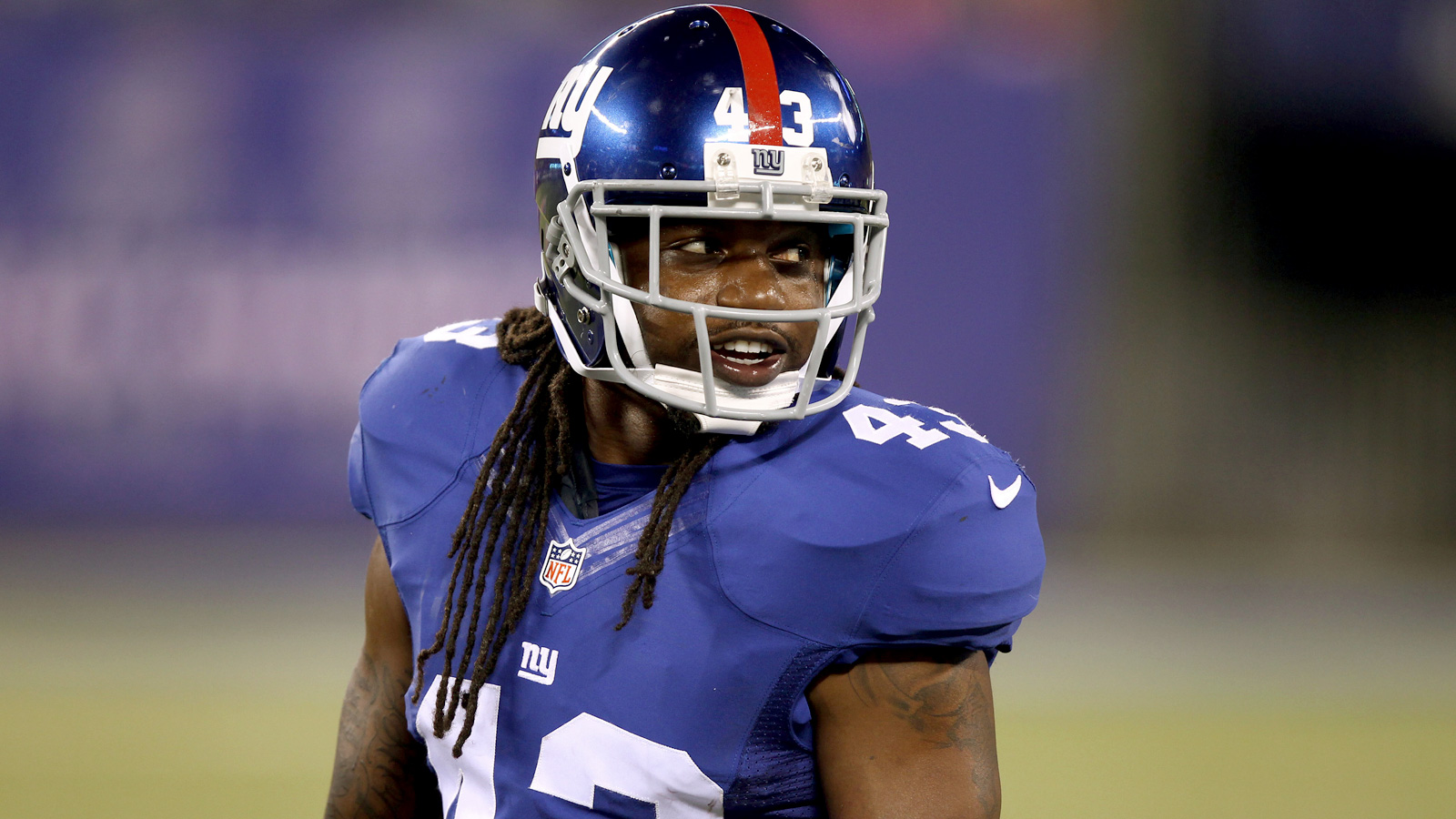 The Giants need to add speed to the safety position -- releasing Brandon Meriweather will be addition by subtraction.
[/caption]
6. Cullen Jenkins
When the Giants signed Jenkins as a free agent from the Philadelphia Eagles, the hope was the Jenkins' switch from a 3-4 base scheme to the Giants' 4-3 base would help revitalize his career. Jenkins has been a plus force as a pass rusher throughout his three seasons with the Giants, but he has struggled to stop the run. Those struggles were amplified in 2015 when the Giants lost Johnathan Hankins (pectoral) to a season-ending injury. What Jenkins offers a pass rusher and as a lineman with the ability to play outside and inside is valuable to any team, but entering his age-35 season, he stands to become an even greater liability in the run game. It's time to move on.
7. Craig Dahl
Dahl was brought in by the Giants in Week 2, but he didn't start logging meaningful snaps on defense until Week 4. Although Dahl has a strong familiarity with defensive coordinator Steve Spagnuolo and his scheme, he is a below-average talent that lacks the speed and quickness to play a major role at either safety spot. The Giants need to add speed and athleticism to their safety group this offseason, and with several safeties set to return from injury in 2016, there is simply no room for Dahl on the roster.
Missing from the list:
1. Victor Cruz - The Giants won't take Cruz back at his $9.9 million 2016 cap number -- they can save $6.1 by releasing him -- but a pay cut seems like the likeliest option for both sides.
2. Will Beatty - It's not easy to find a viable left tackle in the NFL, and it's even harder to find one for a $4,175,000 cap hit in 2016. That's the cap space the Giants would save by releasing Beatty, but they would also take on $5 million in dead money from his $9,175,000 2016 cap number.
3. Jason Pierre-Paul - The sack numbers don't show it, but Pierre-Paul was a very effective pass rusher upon returning to the Giants in 2015. In just eight games, he had 41 total quarterback sacks, hits and hurries combined. Pierre-Paul was not his dominant self as a run defender, but the hope is that he will improve in all aspects as he moves forward. He is set to hit unrestricted free agency.
*All salary cap information comes from OverTheCap.com.
*All stats on quarterback pressures, missed tackles, targets and snaps come from Pro Football Focus.
---
---