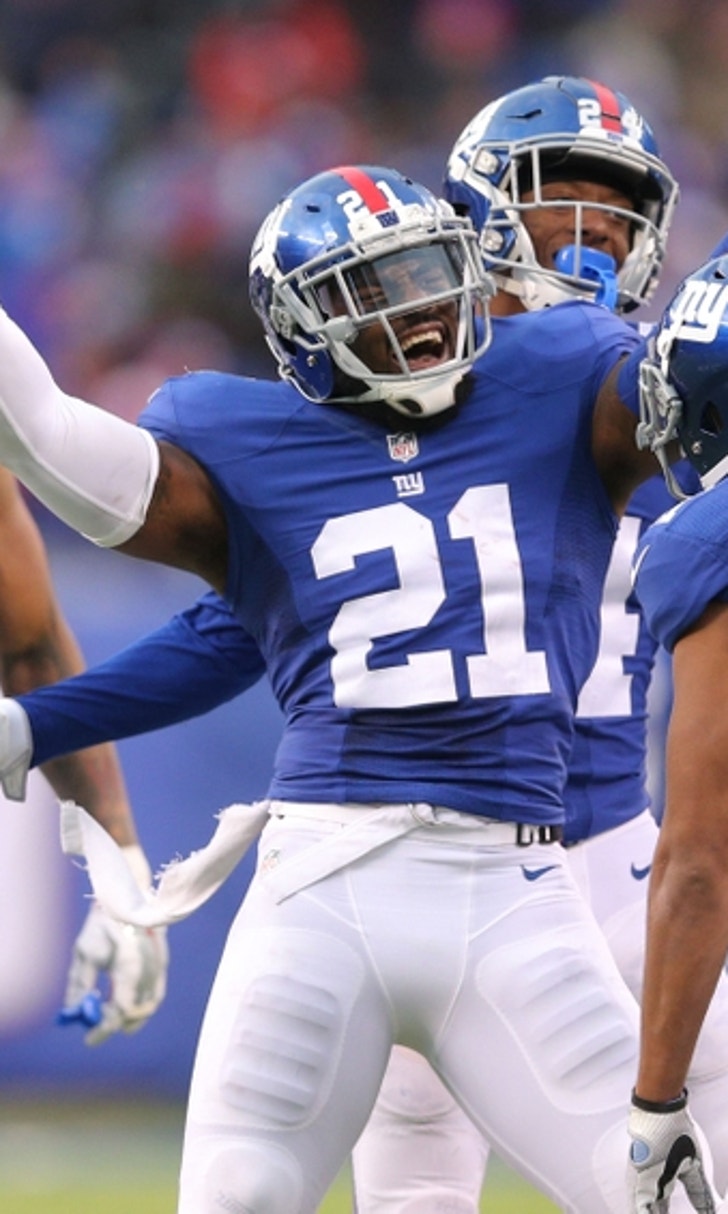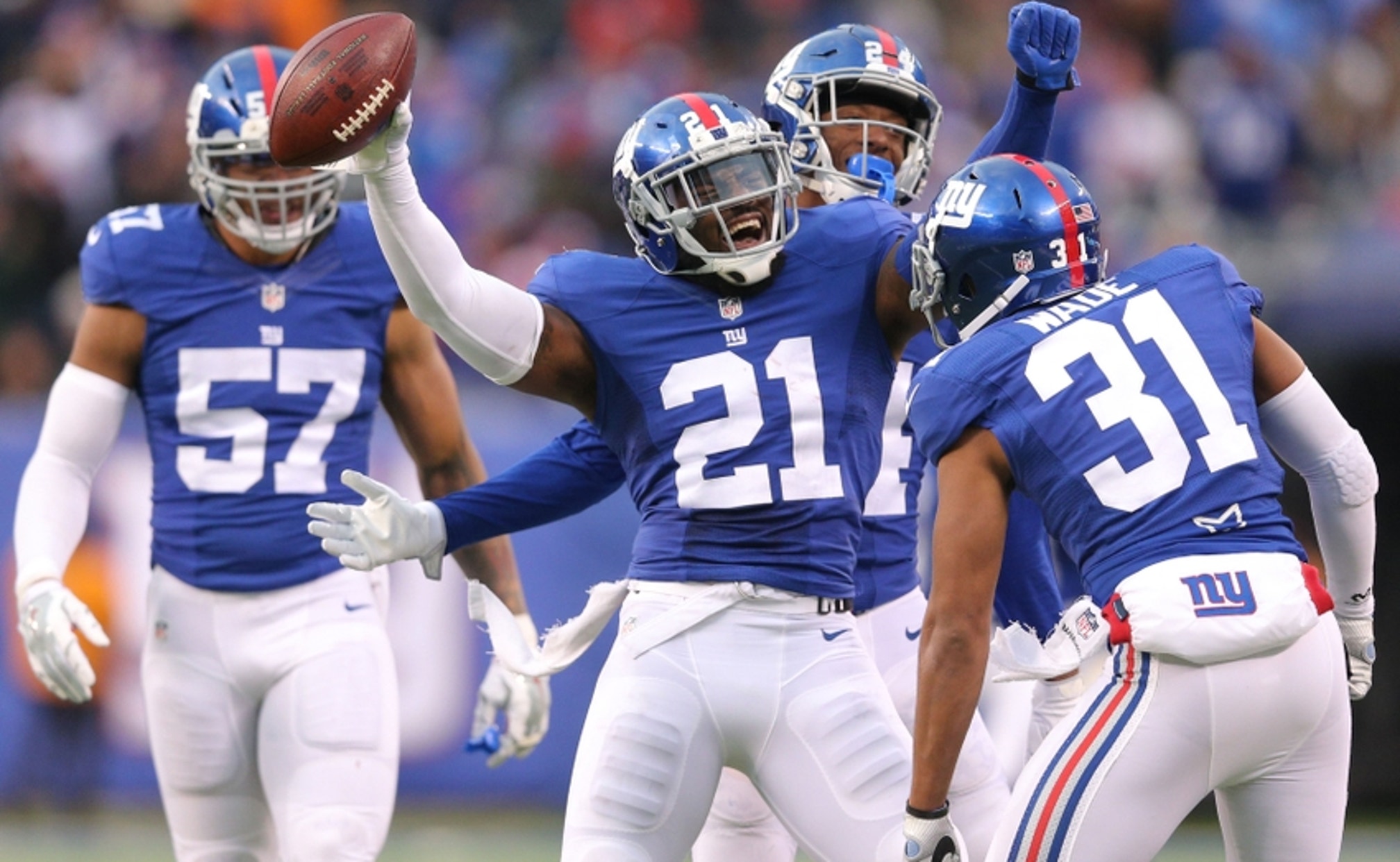 7 Bold Predictions For The New York Giants In 2017
BY Fansided and Curt Macysyn/FanSided via GMEN HQ • January 1, 2017
Happy New Year! The New York Giants begin 2017 by facing NFC East rival, the Washington Redskins. Big Blue has already punched its playoff ticket, while the 'Skins still have work to do. Calendar year 2016 saw the G-Men turn the page on the Tom Coughlin era, as well as Rueben Randle. We welcomed Janoris Jenkins, Damon Harrison and Olivier Vernon into the fold. And head coach Ben McAdoo moved into the corner office. What will 2017 bring? Here are seven bold predictions:
#1: G-Men Fall To Packers
After a New Year's Day of intrigue and predictions, the Giants get matched up with the Green Bay Packers in the NFL playoffs. The Packers remain hot and defeat Big Blue 31-21 at Lambeau Field. The G-Men spot the Pack 21 points and make a furious second half comeback.
With Green Bay ahead 24-21 in the 4th quarter, the G-Men are driving for the go-ahead score. Linebacker Clay Matthews beats Ereck Flowers, and he strip sacks Eli Manning. Julius Peppers picks up the loose ball and rambles 77-yards for the touchdown that salts the game away.
Oct 9, 2016; Green Bay, WI, USA; New York Giants offensive tackle Ereck Flowers (74) during the game against the Green Bay Packers at Lambeau Field. Green Bay won 23-16. Mandatory Credit: Jeff Hanisch-USA TODAY Sports
Want your voice heard? Join the GMEN HQ team!
#2: Reese Extended
At the year-end press conference, general manager does victory dance in front of the assembled media. "I told you so," Reese gushes. "No one in this room believed that $200 million would make such a big difference. With a few more bounces, we would have won the Super Bowl"
John Mara rewards Reese with a three-year extension.
When asked about Jason Pierre-Paul's contract, Reese deflects. "We have not had enough time to evaluate everyone. But we will hopefully reach out to his team some time before March to see if he wants to stay in New York. I can't control that."
JPP signs a four-year, $43 million contract to stay with Big Blue.
Jan 5, 2016; East Rutherford, NJ, USA; New York Giants general manager Jerry Reese addresses the media during a press conference at Quest Diagnostics Training Center. Mandatory Credit: Jim O
#3: Let Them Walk
In the offseason, the Giants won't make offers to unrestricted free agents: Larry Donnell, Leon Hall and Will Beatty. The team also decides to part ways with defensive tackle Johnathan Hankins, a move they will regret.
In addition, Jerry Reese and company also will decide to keep John Jerry and let Marshall Newhouse walk. The adjustment becomes Ereck Flowers moving to right tackle, and Jerry will compete with Bobby Hart for the right guard position.
Kelvin Sheppard will not be retained; making room for rookie B.J. Goodson. Meanwhile, Ryan Nassib's tenure with the team will end after four seasons, so the team will be on the lookout for a capable back-up. As Ralph Vacchiano then of the New York Daily News pointed out on March 1, 2016, "Well, I know the Giants don't see Ryan Nassib as a future starter for them."
With no shot at starting, Nassib opts for a new environment. A capable back-up will be sought in the draft.
Aug 12, 2016; East Rutherford, NJ, USA;New York Giants quarterback Ryan Nassib (12) and New York Giants center Weston Richburg (70) in the first half at MetLife Stadium. Mandatory Credit: William Hauser-USA TODAY Sports
#4: Trying To Reunite
There are several unrestricted free agents that make the "bring back" list. Among those are: Bobby Rainey, Zak DeOssie, Josh Johnson and Robbie Gould. In the case of Johnson, I can't imagine that the team would let Ryan Nassib go, and then not re-sign a back-up who knows the playbook. Competition will also be brought into the fold as well, including the possibility of drafting a quarterback early (bad move).
For Rainey and Gould, economics work in their favor, although Gould may want a raise. Rainey is a versatile back, and letting both Jennings and Vereen go will be less of a gamble with Rainey on board. Unless there is a better option at long snapper, DeOssie comes back.
Linebackers Keenan Robinson and Mark Herzlich should also receive a phone call inviting them back. Robinson may want a multi-year deal with a raise, so that bears watching. Herzlich remains a valuable back-up and special teams performer.
As far as restricted free agents, most will be back, including: Will Tye, Kerry Wynn, Trevin Wade and Orleans Darkwa. These predictions are predicated on a clean bill of health for each guy.
Oct 9, 2016; Green Bay, WI, USA; New York Giants quarterback Eli Manning (10) hands the football off to New York Giants running back Orleans Darkwa (26) during the first quarter against the Green Bay Packers at Lambeau Field. Mandatory Credit: Jeff Hanisch-USA TODAY Sports
#5: Victor Cruz Restructures, Again
According to OverTheCap.com, Victor Cruz's contact comes with a $9.4 million cap hit next season. Obviously that's far too much money for someone not named Odell Beckham. I would bet the farm that Cruz restructures his contract once again, which means he's taking a pay cut.
If the Giants were cold-hearted, they release Cruz and gain $7.5 million in valuable cap space. That won't happen either.
Look for a similar version to this season's contract with a $2.5 million base salary, and a $3 million roster bonus.  Then again, Cruz may have other plans.
"I want to play at least until I'm 37, 38. I mean, I look at Steve Smith Sr. That guy's still kicking around going strong at 37, man, so I feel like if he can do it, why can't I?" Cruz said on Dec. 24, 2016 to the New York Post.
Production-wise, Cruz has been a mixed bag this season. But lack of production has plagued the entire offense in 2016. In addition, playing a full season on his reconstructed knee and repaired calf accounts for something. And it is widely acknowledged that these injuries require a prolonged recovery period, more than simply getting onto the field.
The Giants and Cruz will kick the can down the sidewalk one more year. Both parties will want 2017 to be more than a feel-good story.
Oct 23, 2016; London, United Kingdom; New York Giants receiver Victor Cruz (80) carries the ball on a 25-yard reception against the Los Angeles Rams during game 16 of the NFL International Series at Twickenham Stadium. Mandatory Credit: Kirby Lee-USA TODAY Sports
#6: Saying Good-Bye Predictions
At this point, predictions for massive player cuts seem unlikely, a departure from previous years. There are some alterations that can and should be made on the offensive line and running back. With almost $32 million in existing cap space, Reese and company need to bolster production at a few positions.
There's nothing to complain about with running back Rashad Jennings, except his expensive $3 million cap hit in 2017. Quite frankly, a restructure does not make sense either, since Jennings averages 3.3 yards per carry. Cutting Jennings adds $2.5 million in cap space.
Ditto for Shane Vereen. His cap number turns into unsightly $5 million next season, and that does not match production. Cutting Vereen frees up $3.7 million in additional cap room.
The third candidate is linebacker J.T. Thomas. This signing became one of Jerry Reese's worst moves as GM. The G-Men have gotten little for their three-year, $10 million investment. Cutting Thomas adds a cool $3 million more to available cap room for 2017.
If my calculations are correct, the there would be at least $41.2 million available for 2017 upgrades.
Dec 22, 2016; Philadelphia, PA, USA; New York Giants running back Rashad Jennings (23) carries the ball in the third quarter as Philadelphia Eagles safety Jaylen Watkins (26) defends at Lincoln Financial Field. The Philadelphia Eagles defeated the New York Giants 24-19. Mandatory Credit: James Lang-USA TODAY Sports
#7: Predictions That Fill The Gap
Anyone not wanting to go through Year 3 of the "Flowers Apprenticeship" raise your hand. My hand is raised. Sorry, Flowers apologists, I don't see the skill set or temperament of a left tackle. If that isn't enough, there are still technique flaws to fix. Quite frankly, those repairs should have been done last season.
And pushing a reporter, and throwing your previous coach under the bus. I'm not amused.
Every team in the NFC East has a franchise left tackle, except the Giants. Now, folks complained about the salaries of both Joe Staley (San Francisco) and Joe Thomas (Cleveland) at the trade deadline.
Do you really think a left tackle comes cheaply?
By making the playoffs, the Giants could draft anywhere from 21 to 32. Not likely that a franchise tackle drops that far. Options will be limited, but then again, this team is not far away.
When discussing how Jerry Reese fixed the Giants, FanSided's Patricia Traina wrote about Joe Thomas. She said, "There was a huge outcry by the fan base for the Giants to make a trade for Cleveland Browns offensive tackle Joe Thomas in season this year. While on the surface it's easy to understand why people wanted a 10-time Pro Bowler and future Hall of Fame tackle, common sense has to kick in considering Thomas maybe has four more years left as an effective player where a premium draft pick that likely would have had to be given to the Browns for Thomas could give deliver double that amount of service."
Dec 18, 2016; Orchard Park, NY, USA; Cleveland Browns tackle Joe Thomas (73) against the Buffalo Bills at New Era Field. Buffalo beats Cleveland 33 to 13. Mandatory Credit: Timothy T. Ludwig-USA TODAY Sports
She could not be more wrong.
The Super Bowl is up for grabs this season, and acquiring Thomas may have buttressed weakest link. Traina doubles-down on her narrative by pointing out single-play flaws of Thomas. Judging performance is not a one-time endeavor, so her simplistic pointing at one-play or one-game sample sizes means nothing.
And it ignores the trained eye of Pro Football Focus, which ranks Thomas as the sixth best tackle in the NFL, with an 88.2 grade. By the way, he plays for the Cleveland Browns. The Giants can fit Thomas under the cap, especially with a year or two extension.
Is he worth next year's number 1 pick? Or a package of picks?
Utilizing Traina's philosophy, I wouldn't put it past Reese to draft Eli Manning's successor in the first-round next draft. Does DeShaun Watson get the Giants to the Super Bowl after next season?
With regard to the running back situation. Unless, you're the Dallas Cowboys, most teams employ a running back by committee approach. Paul Perkins will be part of the equation, and the Giants could certainly look to draft a running back.
Keep an eye on Oakland's Latavius Murray, a pending unrestricted free agent. Murray is only 25-years old, and Spotrac computes his free agency market value at four-years, $13,284,082 ($3,321,020 per year).
Overall, Murray's salary  calculates to less than what Shane Vereen's in 2017.
New York Giants
10-5
Last week: 10-4Last rank: 7th
After losing 24-19 to the Philadelphia Eagles on Thursday Night Football.
More from GMEN HQ
This article originally appeared on
---
---