Dak Prescott
Dak Prescott
5 reasons why Pats are perfect team to trade Dez Bryant to
Published
Oct. 21, 2016 9:50 p.m. ET

Dak Prescott vs. Tony Romo? Please. That argument is so Week 5. As Dallas Cowboys fans know, the new discussion is do you trade Romo or not?
Well, let's raise the stakes: Do you trade Dez Bryant as well?
Skip Bayless says yes, after watching the Dallas Cowboys come together behind young stars Prescott and Ezekiel Elliott. Shannon Sharpe agrees.
"I wanna get rid of Dez for one reason: I want his negative influence out of the locker room," Sharpe said on "Undisputed" on Friday. "This is a very, very young football team, and the two stars on offense do not need to have that guy in their presence. I'm trying to remove him at all costs."
There are a couple of other reasons to trade Bryant — and Romo as well.
"Tony Romo is 36," Sharpe said. "His history, he's not going to get healthier as he ages. Dez last two years, injuries. If you can find trading partners for these two guys, it would save you $41.7 million."
So who do you trade a troublesome talent like Bryant to? Colin Cowherd made a compelling case for the New England Patriots Friday on "The Herd."
The Pats have five key elements necessary to make a trade for a guy like Bryant:
1. A very stable front office: Check.
2. A veteran quarterback: Tom Brady.
3. A head coach with power: Bill Belichick.
4. Some draft picks to burn: The Pats have eight next year, counting compensatory picks.
5. A history of wide receiver acquisitions: The Pats have added troublesome receivers like Randy Moss and Chad Johnson and gotten them to buy into the system. Moss set a record with 23 TD catches in 2007.
"Randy Moss at the time he was acquired by New England, was the poster child of dysfunction in the NFL," Cowherd said. "New England went, rolled the dice, fourth-round pick, got him and made offensive history." 
Colin also has a perfect trade partner in mind for Romo: the Jets.
"Todd Bowles now has another disaster season, he gets one more year or he'll never be a head coach again and he's out of New York and he picks up his family [and moves] again," Cowherd said. "You don't think he's lobbying for Tony Romo?"
---
---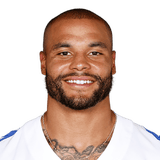 Get more from Dak Prescott
Follow your favorites to get information about games, news and more
---