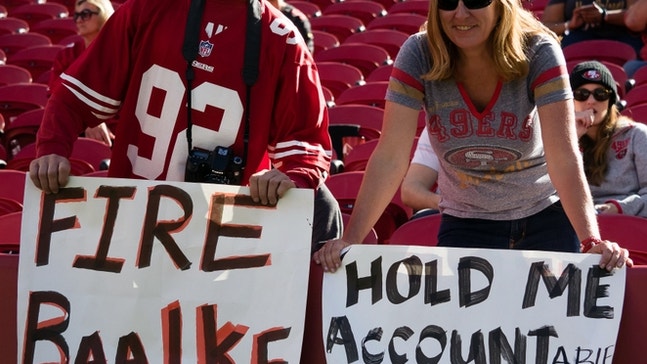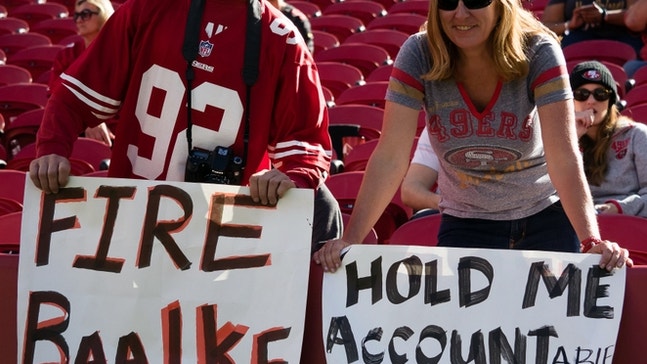 5 Moves the 49ers Need to Make this Offseason
Updated
Mar. 4, 2020 11:06 a.m. ET

Fansided, Robert Smith/FanSided via Niner Noise
With the forgettable 2016 season the San Francisco 49ers have had so far, it seems like a good time to take a look ahead to an offseason that may bring wholesale changes not only on the field with roster moves, but perhaps in the front office as well.
Nov 20, 2016; Santa Clara, CA, USA; San Francisco 49ers general manager Trent Baalke before the game against the New England Patriots at Levi's Stadium. Mandatory Credit: Kelley L Cox-USA TODAY Sports
With a potential top-two pick in the 2017 NFL Draft and nearly $100 million in combined salary cap space this offseason, there is plenty of opportunity to make major improvements to a San Francisco 49ers roster that has produced one of the worst seasons in franchise history.
With that said, let's take a look at five moves the 49ers should make to get this team back on track and headed in the right direction in 2017.
Nov 21, 2015; Columbus, OH, USA; Ohio State Buckeyes linebacker Raekwon McMillan (5) lines up against the Michigan State Spartans at Ohio Stadium. Mandatory Credit: Geoff Burke-USA TODAY Sports
No. 5: Find an Impact Inside Linebacker
With NaVorro Bowman rehabbing once again from a season-ending injury, it is imperative for the team to solidify a position that, just a few short seasons ago, was considered the heart of a championship-caliber defense.
There are plenty of options for the 49ers to address this position, whether in free agency or the draft.
One option in free agency could be to target the Buffalo Bills' Zack Brown.
Currently, Brown has totaled 130 tackles and four sacks on the season. These numbers most certainly will garner a huge contract for the 27 year old, and the 49ers most certainly can throw the kind of cash needed to sign him.
The real question will be if any big name free agents will want to sign with an organization that seems to be unsettled and chaotic.
If the team cannot lure a free-agent linebacker, the draft appears to have a few plug-and-play options, including Ohio State's Raekwon McMillan, Alabama's Reuben Foster or Zach Cunningham of Vanderbilt.
A lot of this will depend on what the team does with their first-round pick. Foster currently is viewed as a top-10 pick. So if the Niners pass on him early, there are still going to be a multitude of players left to choose in the middle rounds.
Picking a middle linebacker could also help clog up running lanes on a defense that has set records for rushing yards allowed in a season.
Dec 18, 2016; Orchard Park, NY, USA; Cleveland Browns wide receiver Terrelle Pryor (11) against the Buffalo Bills at New Era Field. Mandatory Credit: Timothy T. Ludwig-USA TODAY Sports
No. 4: Find a True No. 1 Wide Receiver
Even if the 49ers were somehow able to bring it in, or find, a franchise quarterback, they lack a true No. 1 wide out for him to throw to.
And while Alshon Jeffery was thought to be the No. 1 coveted free agent wide receiver, his four-game suspension for PEDs may put a hiccup in his plans.
He may also be looking for an opportunity to play for a contender, which the 49ers will not be going into the 2017 season. However, Cleveland Browns wide receiver Terrelle Pryor is an up-and-coming receiver who will be looking for a big pay increase and a chance to shine. His numbers are solid this season, as he has hauled in 70 passes for 913 yards and four touchdowns while dealing with a revolving door at the QB position.
The Niners could also look to the draft for a receiver, although in the current position with the second overall pick, using a first rounder on a receiver most likely will not happen.
The draft will provide plenty of options for the team to choose from, whether it be Western Michigan's Corey Davis, Washington's John Ross, USC's JuJu Smith-Schuster, Virgina Tech's Isaiah Ford or Dede Westbrook from Oklahoma. Clemson's Mike Williams is also on the list, although he almost certainly will be off the board before the second round.
However the team chooses to go, the receiver position, neglected the past few offseasons, needs to be a fairly high priority not only to solidify the position going forward, but also to help draw interest of free agent quarterbacks or aid in the transition of a rookie QB.
Oct 15, 2016; Miami Gardens, FL, USA; North Carolina Tar Heels quarterback Mitch Trubisky (10) attempts a pass against the Miami Hurricanes during the first half at Hard Rock Stadium. Mandatory Credit: Jasen Vinlove-USA TODAY Sports
No. 3: Find a Quarterback
In almost any other year, this would be the top priority. But with the potential changes in the front office, the need for a quarterback falls here on the list of necessary moves to make in the offseason.
49ers
Niner Noise 1 d49ers vs. Rams: The Good, Bad and Ugly from San Francisco in Week 16
More headlines around FanSided:
1 d - NFL Power Rankings: Final Regular-Season Look for Week 172d - Colin Kaepernick Helped Plenty of Fantasy Football Owners After Performance Against Rams2d - 49ers : 5 Options for San Francisco's First-Round Pick3d - Carlos Hyde tears MCL in 49ers Week 16 Victory3d - 49ers Briefly Hold First Overall PickMore News at Niner Noise

I believe the team moves on from Colin Kaepernick and Blaine Gabbert, as neither has shown to be a team's franchise QB.
Now the draft will provide the likes of North Carolina's Mitch Trubisky, Clemson's Deshaun Watson, Notre Dame's Deshone Kizer or Brad Kaaya from the University of Miami.  However, I do not believe any of these QBs are first-round worthy, much less worthy of the team's second overall pick.
Barring a trade that would land the team New England's Jimmy Garoppolo, perhaps the team signs Tampa's Mike Glennon or is able to get Kansas City's Nick Foles as a stop-gap option until the team can find their franchise guy.
Should the team decide to draft a QB, perhaps a second- or mid-round selection for Ole Miss' Chad Kelly or Oklahoma State's Mason Randolph could potentially fill the void under center.
The late Bill Walsh once stated a team should draft a QB every season regardless if there was a pressing need at the position. If you have paid any attention to the Patriots, they have followed that blueprint in bringing in the likes of Jacoby Brissett, Jimmy Garoppolo and Ryan Mallett over the last few seasons.
For the Niners, it seems to be a no-brainer to follow suit and bring in multiple options for the QB position.
Dec 18, 2016; Atlanta, GA, USA; San Francisco 49ers head coach Chip Kelly on the sideline in the fourth quarter of their game against the Atlanta Falcons at the Georgia Dome. The Falcons won 41-13. Mandatory Credit: Jason Getz-USA TODAY Sports
No. 2: Fire Chip Kelly
Let me start by saying head coach Chip Kelly was not handed a roster capable of winning more than five or six games. Former head coach Jim Tomsula won that many last season with a similarly stocked cupboard.
Therein lies the problem. Tomsula was coaching his first full season in the NFL with no prior head coaching experience, with the exception of a fill-in for a few games following Mike Singletary's firing back in 2010.
Kelly was brought in to jumpstart a pathetic offense and bring the Niners some structure and stability. But the truth is, Kelly is simply not an NFL-caliber coach.
His offensive philosophies are simple and easy to plan against, and this team seems to lack an identity on either side of the ball.
That said, I am not so sure the team will look to replace him after one season, a year removed from firing another coach after just one year. They also have financial considerations to take into account, as they are still playing Tomsula the $14 million they promised him.
However, if a change were to occur, New England's Josh McDaniels, Stanford's David Shaw, Carolina's Sean McDermott and/or Mike Shanahan and Kyle Shanahan are names that are rumored to be candidates for multiple franchises this offseason.
The thought should be to bring in a guy with structure and a pro-ready philosophy and pair him with a football-knowledgeable mind to oversee the franchise.
October 23, 2016; Santa Clara, CA, USA; San Francisco 49ers general manager Trent Baalke before the game against the Tampa Bay Buccaneers at Levi's Stadium. Mandatory Credit: Kyle Terada-USA TODAY Sports
No. 1: Fire Trent Baalke
I think this comes as a shock to no one, who pays any amount of attention to the team and it's current roster.
General manager Trent Baalke has failed to replenish a roster that has seen a major overhaul the past few seasons. In fact, most Niners fans would say that he has failed to solidify a multitude of positions of need that have been glaring weaknesses over the past few years.
Wide receiver and inside linebacker were both considered major needs going into the offseason last year. And yet the draft and free agency saw no real activity.
Not only that, but Baalke also had a tenuous situation at quarterback with the Colin Kaepernick contract drama and an inept Blaine Gabbert as your two options coming into training camp.
With his penchant for drafting ACL-injured players during the middle rounds of the team's draft (and if you ask most draft pundits, they will tell you this is the area of the draft where most teams find the majority of their roster), he used valuable commodities on players that, for the most part, are no longer in the league.
For a team that trumpeted the idea of building through the draft, it was a complete failure, and the main reason this team's roster is devoid of high level playmakers on either side of the ball.
It is clearly time for a fresh start. I suspect the team may look to move Tom Gamble into the GM position and pair him with Chip Kelly once again. The two have history going back to the Philadelphia Eagles just a few short seasons ago. And if the coach stays, it may make for a less complicated transition than hiring a GM that may want to choose his own head coach going forward.
More from Niner Noise
For the sake of rumor and conjecture, let's say the Niners look outside of the organization for a general manager.
Hot names include VP of Player Personnel Chris Ballard, Patriot's Director of Player Personnel Nick Caserio, Mike Lombardi or former 49er offensive coordinator Mike Shanahan.
Ballard has overseen the remaking of the Chiefs roster from a 4-12 team to a team with a winning record in each of the past two seasons.
Caserio has brought in players who are multi dimensional and fit the system that the Patriots run on both offense and defense.
Lombardi has been a general manager for the Cleveland Browns as well as a special assistant for the New England Patriots.
Mike Shanahan is well known to Niners fans, winning a Super Bowl as the offensive coordinator before winning two more as head coach of the Denver Broncos. Rumors are that he would run the team and allow his son, current Atlanta Falcons' offensive coordinator Kyle Shanahan, to coach the team.
Whatever direction the team decides to go as far as a new general manager, the fact remains CEO Jed York needs to find a football savvy person to oversee the football operations or this team will continue to struggle.
---
---