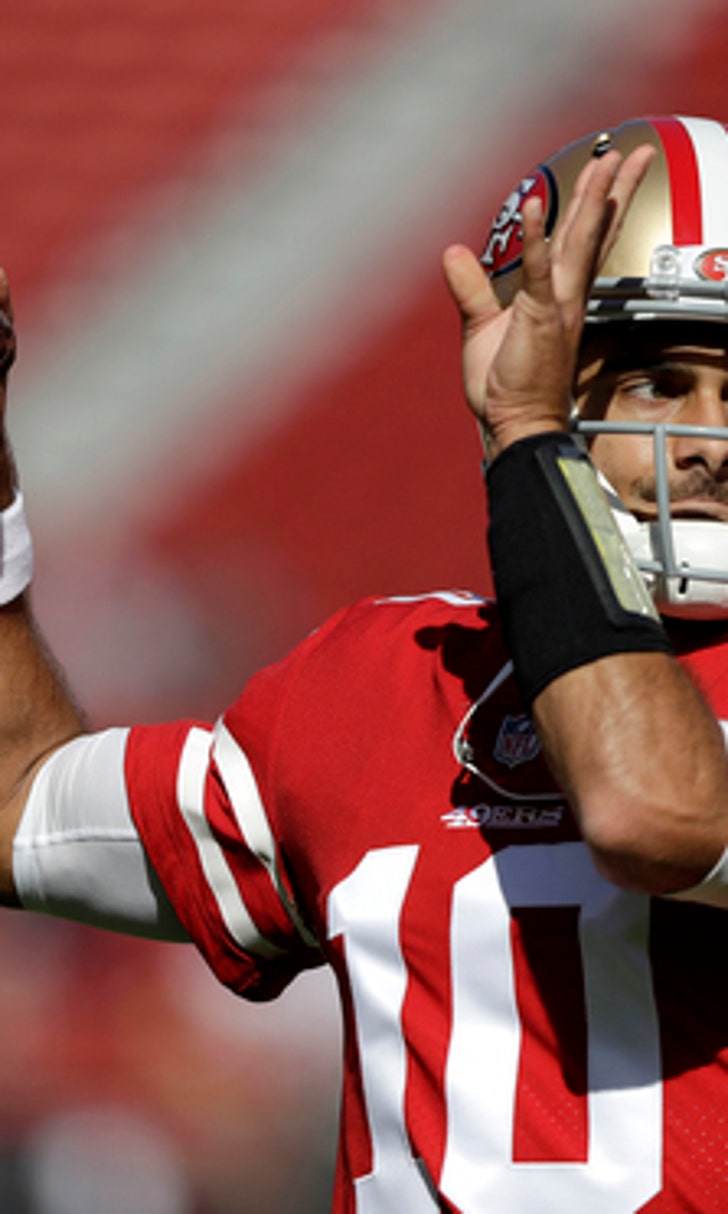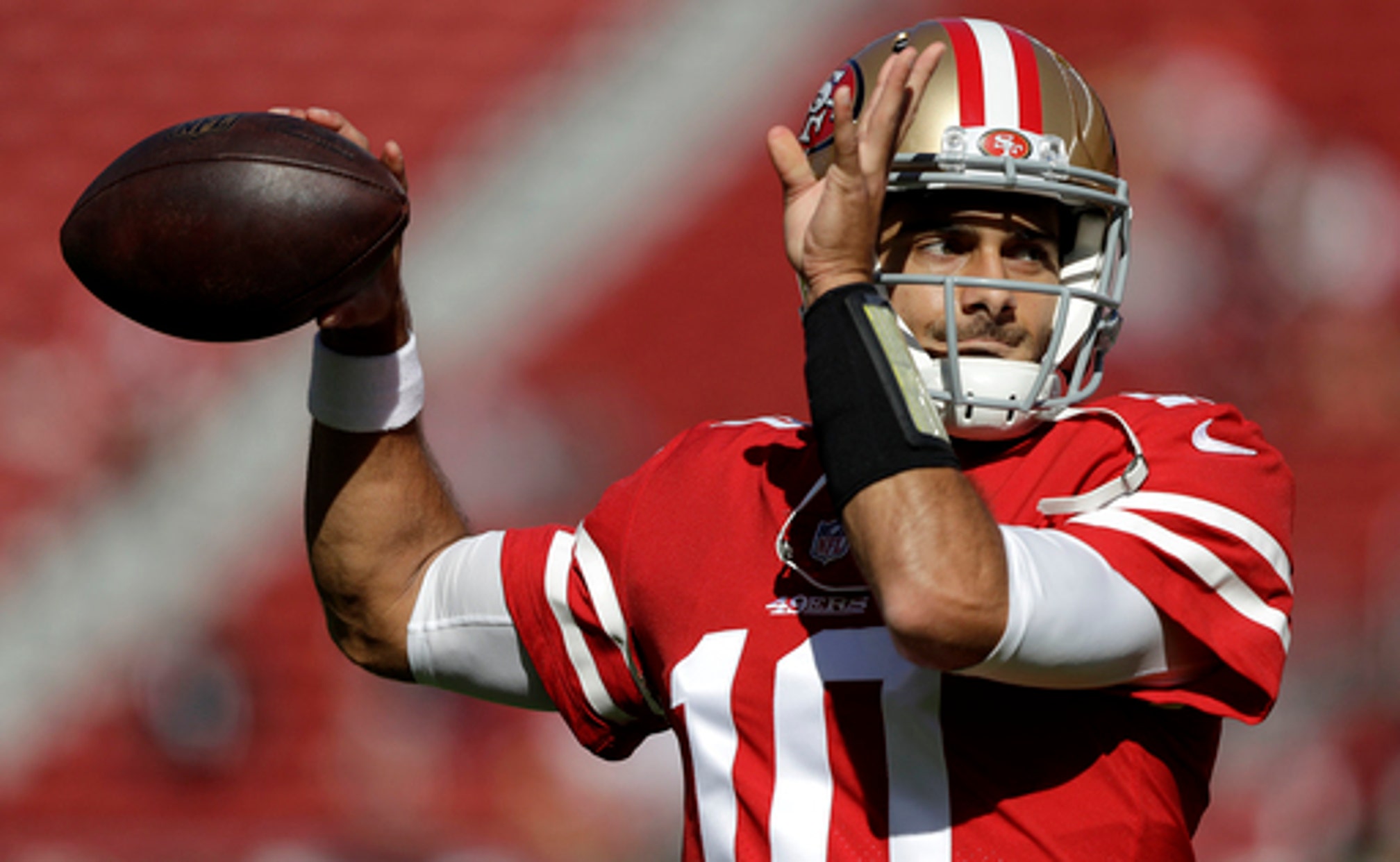 49ers remain in no rush to start Jimmy Garoppolo at QB
BY AP • November 21, 2017
SANTA CLARA, Calif. (AP) Jimmy Garoppolo's three weeks in the building after being acquired as the potential quarterback of the future for the San Francisco 49ers have only solidified general manager John Lynch's belief in the trade.
Lynch has watched Garoppolo spend extra time at the facility trying to learn the offense and getting to know his teammates and seen his strong arm in action on the practice field.
Lynch and the organization are still in no rush to see Garoppolo on the field as the starter in place of C.J. Beathard.
''With all our players, we want to set them up for success, probably none more so than a guy we think has the opportunity to be our franchise guy,'' Lynch said Tuesday. ''We're trying to accelerate the growth, but we don't want to rush it. But it gets a little better and gets a little more comfortable with each given day. He's working at it extremely hard.''
While most of his teammates got the bye week off last week, Garoppolo had extra tutoring time with quarterbacks coach Rich Scangarello and coach Kyle Shanahan to get up to speed after being acquired from New England for a 2018 second-round pick on Oct. 31.
Garoppolo learned enough plays that first week to be the emergency backup and had even more available before the bye when the 49ers (1-9) got their first win of the season by beating the New York Giants 31-21.
But it will still take more time for Garoppolo to completely grasp an offense that is so different from what he had for three-plus seasons in New England.
''It's no secret Jimmy hasn't played a lot in this league,'' Lynch said. ''When he has, it's been pretty darn good. But yes, it's a projection and it's also, just because he's been in the league, they have a very unique system that is conceptually, there are some things that are similar to the rest of the league. But they've created their own and Tom Brady's been doing it for 16 years. When he comes here, it's like starting all over.''
Garoppolo has little NFL game film to go on but his performance in two starts last year when Brady was suspended was impressive. He completed 42 of 59 passes for 496 yards, four touchdowns and no interceptions in wins against Arizona and Miami.
He got hurt in the second quarter of his second start and has thrown just four passes since then, but the Niners still believe he's the player to build around.
''We really, genuinely believe that this guy has got the makings of a guy who could be our guy for years to come,'' Lynch said. ''That's all got to come to fruition on the field and all that.''
In other topics:
- Lynch praised left tackle Joe Staley's impact on the team, especially when he played two weeks after suffering a broken eye socket and helped the Niners beat the Giants before the bye. Lynch said he envisions Staley and right tackle Trent Brown remaining in those roles for the foreseeable future,
''We feel like there's a lot of places where we need to improve, and you always are trying to improve, but those two guys are cornerstones for the next couple, few years,'' he said.
- Lynch said he's been pleased with the play of No. 3 overall pick Solomon Thomas, despite the fact he had only two sacks in eight games before hurting his knee.
''Some people are saying, `Hey your number three pick maybe perhaps should be a little more dynamic.' His play has been solid and we knew it would be a process,'' Lynch said.
- Lynch said he plans to take a deep dive into why the 49ers have had so many injuries. San Francisco has 16 players currently on injured reserve and has had several others miss significant time this season.
''Some of those things are freak but there have been an alarming amount so we're going to study everything,'' he said. ''That's a big part of success in this league, can you stay healthy.''
---
More AP NFL: www.pro32.ap.org and www.twitter.com/AP-NFL
---
---