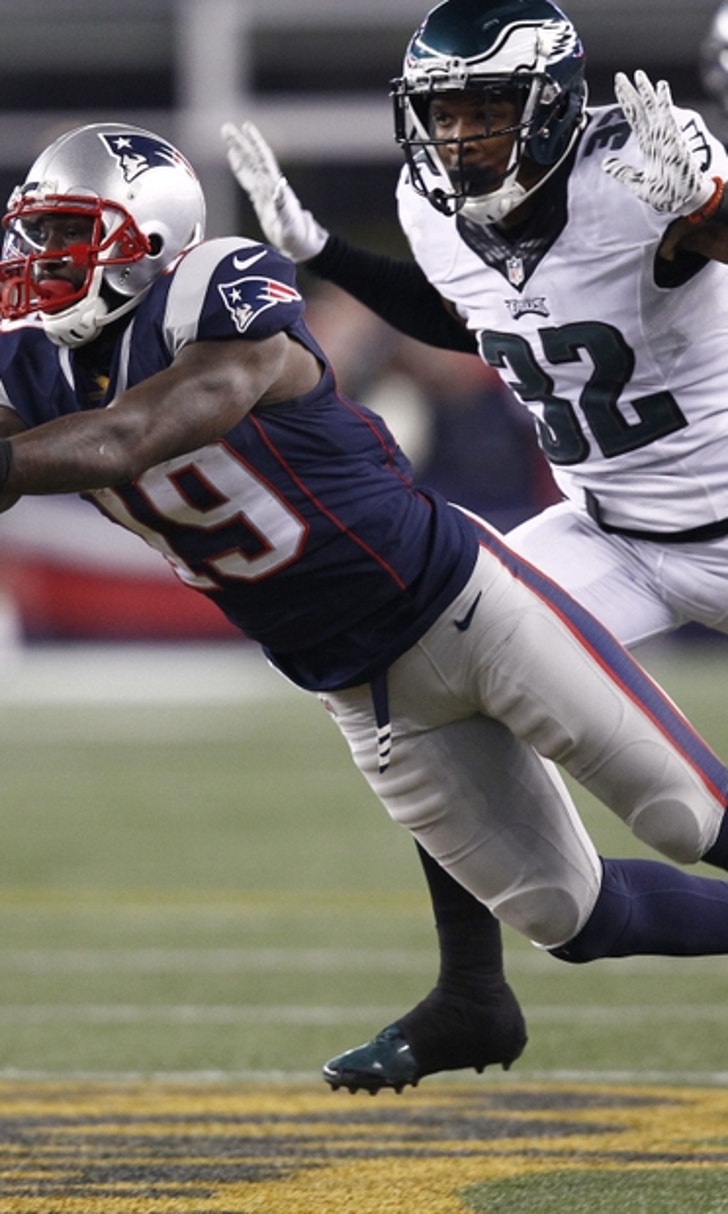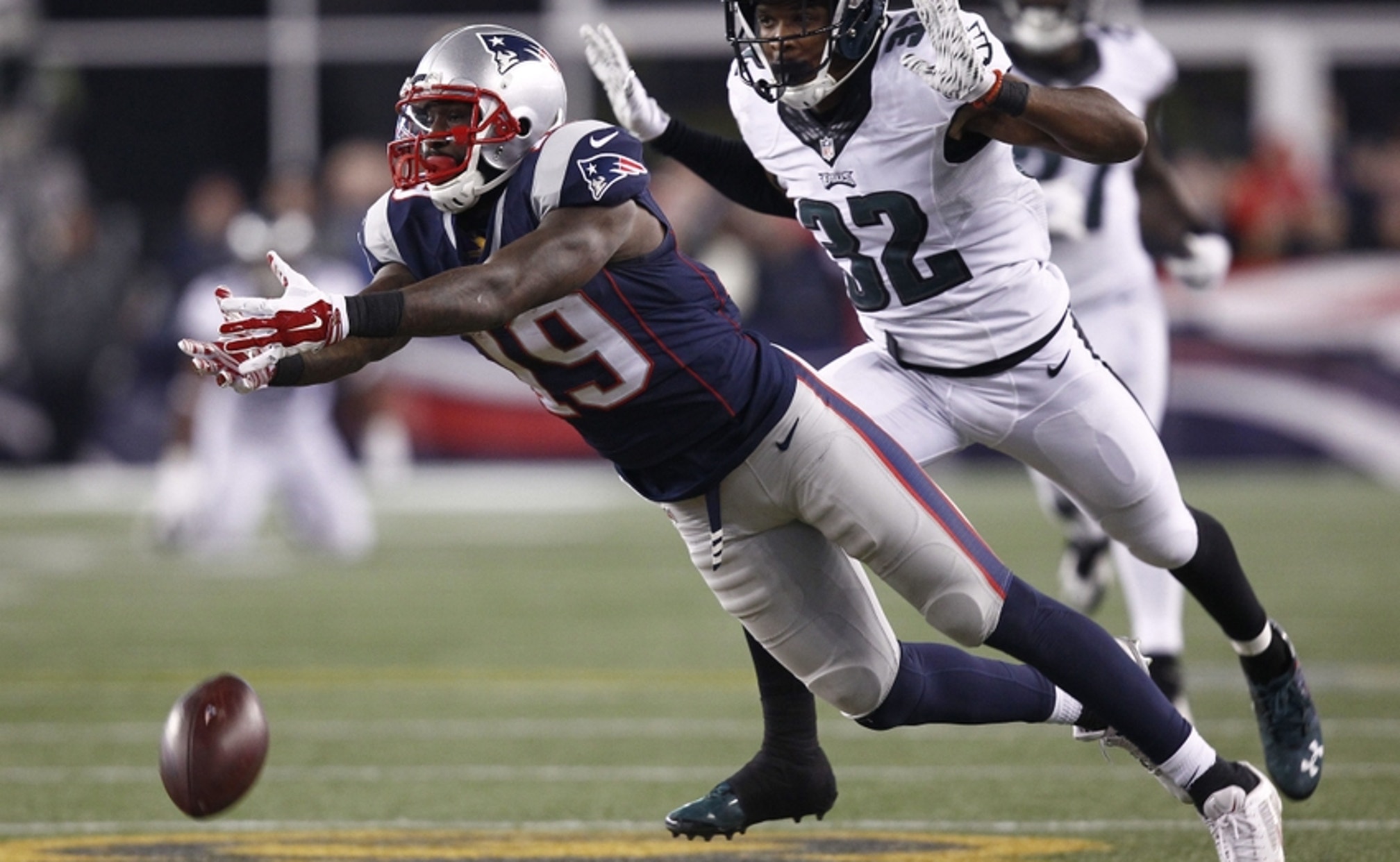 3 ripple effects of New England Patriots trading for Eric Rowe
BY foxsports • June 30, 2017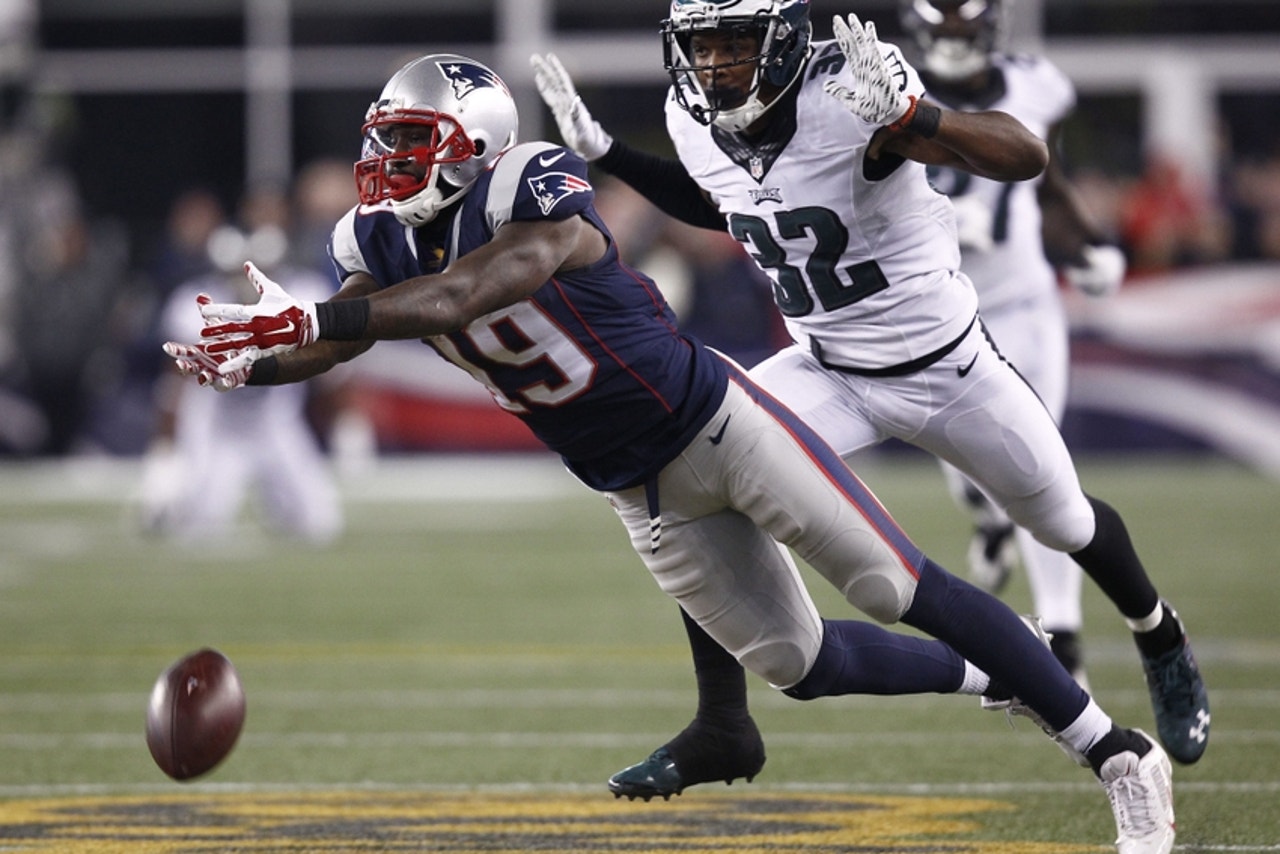 Dec 6, 2015; Foxborough, MA, USA; New England Patriots wide receiver Brandon LaFell (19) attempts to catch the ball in front of Philadelphia Eagles cornerback Eric Rowe (32) during the last minutes of a game at Gillette Stadium. Mandatory Credit: Mark L. Baer-USA TODAY Sports
On Tuesday afternoon, the New England Patriots acquired defensive back Eric Rowe by sending Josh Kline and a draft pick to the Philadelphia Eagles.
Adam Schefter was the first to break the news of the Patriots nabbing Eric Rowe.
Rowe had an up-and-down rookie year, at times looking shaky in the Eagles' defensive scheme at cornerback. That being said, he was impressive on the whole, and that's why the Eagles were able to demand a proven veteran guard in Kline as well as an undisclosed draft pick in return for Rowe.
5 bold predictions for Patriots regular season  
As a rookie, Rowe appeared in all 16 games for Philly, starting five. In that action, he racked up 31 tackles, an interception and five passes defended.
This was a sly move on the Patriots' part right before Week 1, another instance of Bill Belichick milking his roster for all its worth. Thanks to the offseason pickups of Joe Thuney and Jonathan Cooper to join Shaq Mason and Tre' Jackson at the guard position, the Patriots could afford to ship their longest-tenured guard for the rights to a promising young secondary fixture.
Now, let's look at three ripple effects of the trade.
Sep 1, 2016; Philadelphia, PA, USA; New York Jets wide receiver Robby Anderson (83) is defended by Philadelphia Eagles cornerback Eric Rowe (32) d4q at Lincoln Financial Field. The Eagles defeated the Jets, 14-6. Mandatory Credit: Eric Hartline-USA TODAY Sports
3. The Pats are deeper at cornerback.
Before this trade, the Patriots were looking good at cornerback with a depth chart of Malcolm Butler, Logan Ryan, Justin Coleman, Cyrus Jones and Jonathan Jones. Now that Rowe is in the fold, they are extremely deep at this position, and that's some great news. In today's NFL, you simply cannot have enough good cornerbacks, so the Patriots are being smart to stock up on the position with six capable cover men.
How hard it is to be a veteran newcomer in New England
Standing at 6-foot-1, Rowe is not only the newest addition to the Patriots' cornerback corps, but he is also the tallest. He stands above the existing group of 5-foot-10 and 5-foot-11 cornerbacks, potentially providing the Patriots with an answer to the NFL's taller receivers. This isn't to say that the Patriots will automatically slap Rowe on A.J. Green this year, but it surely doesn't hurt to have a taller corner on your depth chart.
Moving on, cornerback isn't the only position the Pats are now deeper at…
Aug 18, 2016; Pittsburgh, PA, USA; Pittsburgh Steelers wide receiver Sammie Coates (14) drops a pass under pressure from Philadelphia Eagles cornerback Eric Rowe (32) during the first half of their game at Heinz Field. Mandatory Credit: Jason Bridge-USA TODAY Sports
2. The Pats are deeper at safety.
What undoubtedly drew the interest of Bill Belichick about Rowe is his ability to play both cornerback and safety. Bill values versatility behind only dependability on his ranking of essential traits in his players, so that was certainly a reason to acquire the sophomore pro. You see, Rowe played safety during his college years at Utah, and in fact many NFL scouts projected him to play safety in the NFL as well. But Chip Kelly had other ideas when he drafted him in the second round back in 2015.
We're especially glad these 8 players made the final roster
So if injuries hit the safety position, namely Devin McCourty, Rowe may be called on to fill-in. Duron Harmon is a capable backup for McCourty as well, but it never hurts to keep a guy like Rowe around who could substitute any defensive back on the field. Depth, depth, depth. You gotta like it.
However, the Patriots sacrificed depth at one position to gain it in the secondary…
Aug 6, 2015; Foxborough, MA, USA; New England Patriots offensive guard Tre Jackson (63) with guard Josh Kline (67) and center Bryan Stork (66) during training camp at Gillette Stadium. Mandatory Credit: Winslow Townson-USA TODAY Sports
1. The Pats are thinner at guard.
There is no getting around the fact that after shipping Kline to Philly, the Patriots are now thinner at the guard position than they were at this time yesterday. And it should be remembered that poor depth on the interior of the offensive line got the Patriots into a ton of problems as the 2015 season wore on, so it is worth noting that Kline's departure thins the ranks at guard a bit.
3 key matchups to watch in Week 1
However, the loss of Kline is far from crippling. The Patriots did their due diligence over the offseason, acquiring Jonathan Cooper and drafting promising interior prospects Joe Thuney and Ted Karras. So while the Patriots are a tad bit weaker at guard today, they have much better backups in place than they did a year ago. You can't forget about sophomore pros Shaq Mason and Tre' Jackson, either.
All in all, the acquisition of Rowe has this writer pumped. You should be, too.
Go Pats.
More from Musket Fire
This article originally appeared on
---
---