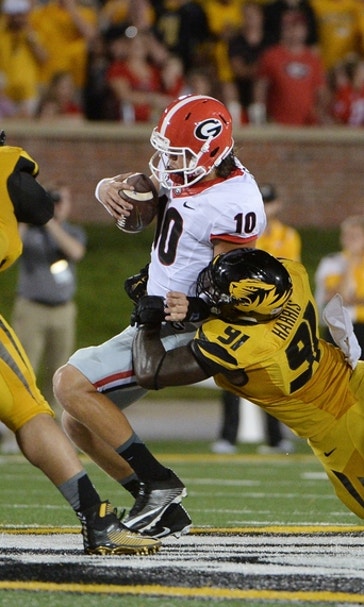 2017 NFL Draft: Dallas Cowboys 7-Round Mock Draft at Week 17
December 27, 2016

Fansided, Randy Gurzi/FanSided via NFL Spin Zone
The Dallas Cowboys have an NFC East title and home-field advantage throughout the playoffs, but we're looking ahead with a 7-round 2017 mock draft
Before they even took the field on Monday night, the Dallas Cowboys already had everything they needed locked up. The New York Giants slowed down their NFC East victory parade by beating Dallas for the second time this season, but then they turned around and lost to the Philadelphia Eagles and gave the Boys the division title.
Along with that divisional title came the first seed in the NFC which ensures home field advantage. It's more than what anyone expected for Dallas when the season began. Way back in September they were worried about how to tread water while quarterback Tony Romo recovered from a back injury.
Rather than tread water, they soared. They've done so well under the guidance of rookie quarterback Dak Prescott that he now is the unquestioned starter for America's Team.
Dak and fellow rookie, running back Ezekiel Elliott, are making things look easy this season for the 13-2 Cowboys. They're key pieced to the revival the team has had this season, but to keep this success sustainable the team will need to keep hitting on draft picks like they did in 2016.
Here we will try our hand at predicting the picks Dallas will make in 2017 as they try and fill holes while continuing the influx of talented youth with our 7-round NFL mock draft.
Sep 17, 2016; Columbia, MO, USA; Georgia Bulldogs quarterback Jacob Eason (10) is sacked by Missouri Tigers defensive end Charles Harris (91) in the first half at Faurot Field. Mandatory Credit: John Rieger-USA TODAY Sports
Round 1 Pick 31: Charles Harris, DE — Missouri
Dallas has gotten some great results from their unheralded defenders this season. In their most recent outing, they surrendered 21 points in the first half to the Detroit Lions. After that, they settled down and shut out the high powered offense, holding them to zero points for the final 30 minutes.
More from NFL Spin Zone
It was another explosive game from defensive ends David Irving and Benson Mayowa. There was also some more solid play from rookie Maliek Collins, who is excelling as a one-technique tackle in coordinator Rod Marinelli's defense. Dallas also had second-year defensive end Randy Gregory in action for the first time this season after being suspended for 14 games.
Even with all that, help is needed. That's why they use their first pick on Missouri defensive end Charles Harris. The underclassman has good size at 6-3, 260 pounds. He also had nice production with 12 tackles for a loss and nine sacks in 2016.
Harris would provide just one more pass rusher for Marinelli to employ. The excitable coach likes to come at offenses in waves, keeping the defense fresh as the game goes on. Should Dallas be able to keep Gregory next season (though rumor is he is facing another one-year suspension) they could then have Harris, Gregory, Mayowa, Irving, and Demarcus Lawrence available to take turns as edge rushers. Not a bad group at all.
Round 2 Pick 31: Tre'Davious White, CB — LSU
With their second pick the Cowboys continue to strengthen their defense. Here they take Tre'Davious White, a cornerback out of LSU. White is a four-year player that recorded 163 tackles, six interceptions and one touchdown for the Tigers. At 5-11, 190 pounds he has decent size to play against NFL receivers. He also has been a willing tackler in the run game, something Dallas likes to see out of their corners.
In 2016, the Boys have had better than expected production out of their defensive backs. Sixth-round rookie Anthony Brown has provided a spark for the team, especially considering the injury problems they have suffered. Starter Orlando Scandrick has been in and out of the lineup this season after missing last year with a serious knee injury. Another starter for them, Morris Claiborne has missed the past few games after looking like one of their best players on defense to start the season.
After the year ends, Dallas will have choices to make as well. Claiborne is playing on a one-year deal and they have to decide what they want to do there. He has shown considerable improvement, but has yet to stay healthy. There is also veteran Brandon Carr, who took a pay cut in the offseason to avoid being cut. Drafting someone like White allows them some flexibility in their offseason decisions about their veteran corners.
Oct 29, 2016; Greenville, NC, USA; East Carolina Pirates wide receiver Zay Jones (7) runs with the ball during the first quarter against Connecticut Huskies at Dowdy-Ficklen Stadium. Mandatory Credit: James Guillory-USA TODAY Sports
Round 3 Pick 31: Zay Jones, WR — East Carolina
In 2017, Dallas will most likely need another receiver. The often maligned Terrance Williams is a free agent and someone will be willing to give him a hefty contract. On Monday he reminded people that he is a pretty good receiver when he took over on a drive where Dallas was backed up against their own goal line. Williams caught three passes on the drive as he helped open the offense up en route to a blow out.
T-Will also has an amazing feel for the sidelines and is one of the best in the league at making catches while barely getting his toes down in bounds. He's a player who doesn't make a ton of noise, but is important when called upon. When/if he leaves, Dallas needs a good replacement.
That's where Zay Jones of East Carolina comes in. Jones would be a great candidate to start outside along with Dez Bryant. His arrival would also allow them to keep Cole Beasley in the slot and help them avoid overpaying a veteran player.
It would also be a homecoming for the 6-1 receiver who was born in Dallas and played for Stephen F. Austin High School in Texas. Jones has 399 career catches for 4,279 yards and 23 scores. Despite his production, he may slip to later rounds due to the perception that he benefited highly from the Pirates' scheme. This would play to Dallas' advantage here.
Nov 5, 2016; Baton Rouge, LA, USA; LSU Tigers linebacker Kendell Beckwith (52) tackles Alabama Crimson Tide running back Damien Harris (34) during the second half of a game at Tiger Stadium. Alabama defeated LSU 10-0. Mandatory Credit: Derick E. Hingle-USA TODAY Sports
Round 4 Pick 30: Kendell Beckwith, ILB — LSU
The Boys go back to the Bayou with their fourth round pick. In recent years they've received some great return on fourth-round linebackers. Anthony Hitchens in 2014 became a starter and has recorded 216 tackles in his three seasons. This year Hitch has taken down the ball carrier 74 times and has 1.5 sacks on the year.
In 2015 they selected Damien Wilson out of Minnesota. He didn't have the same immediate impact that Hitchens did, but has now developed into a starter. Wilson has notched five starts this season and has recorded 26 tackles and a half sack.
Here they go for another linebacker. But like 2015 second-round pick Jaylon Smith in 2016, they pick one coming off a knee injury. As of now however, it looks like the injury to LSU middle linebacker Kendell Beckwith isn't as serious.
Smith has issues with nerve damage following a January torn ACL. Beckwith also tore his ACL, but did so in November and is already beginning his rehab.
The 250-pound Beckwith is a tough player who recorded 91 tackles and a sack in ten games this season before suffering the injury. Should he come back to full strength, he would be a steal for the Cowboys in the fourth round as they keep bringing some fresh blood to this position.
Round 6 Pick 31: Danny O'Brien, DT — Tennessee
After not having their fifth-round selection, Dallas is back on the clock in Round 6 with the 31st pick. Again, they go defense and no one is surprised by this. Dallas has enough firepower on offense to score with anyone, but their defense still can improve. One area of weakness was exposed on Monday night, the defensive line.
While they entered the game as one of the better run stuffing lines in the league, they were outplayed by Detroit running back Zach Zenner. The relatively unknown running back had 12 carries for 67 yards and two touchdowns.
A huge part of why that happened was the absence of veteran defensive tackle Tyrone Crawford. The underrated Canadian lineman is a solid tackler and was sorely missed against Detroit, which means Dallas needs more depth there.
Here they take a gamble to find that depth. Tennessee defensive tackle Danny O'Brien saw his collegiate career end in a rough way. After being carted off the field he was later dismissed by the team for apparently failing a drug test. After the incident, O'Brien did show maturity in taking the blame for his mistakes and praising his team and coaches.
Still, it's hard to trust a player who has red flags (see Randy Gregory). However, a sixth-round pick on an SEC defender with 63 career tackles and a 300-pound frame is one worth taking.
Oct 22, 2016; Columbia, MO, USA; Middle Tennessee Blue Raiders cornerback Jeremy Cutrer (8) breaks up a pass intended for Missouri Tigers wide receiver J
Round 7 Pick 14: Jeremy Cutrer, CB — Middle Tennessee State University
Now it's officially a trend. This defense has been picked on a lot, but the Cowboys head into this draft intent on bringing some young players in to compete for some open spots. With this defensive pick, Dallas once again adds to the defensive backfield going after Middle Tennessee State's Jeremy Cutrer. The cornerback is a lengthy 6-2 and 170 pounds, but has some upside.
While playing for MTSU, Cutrer recorded six career interceptions (in just two seasons) and had 93 tackles. He also was credited with 22 pass break ups.
He can surely stand to work with some professional strength coaches to add to his frame, but he has incredible height for the position that would allow him to win in some jump ball situations. In Dallas, he would be a project player, but in the seventh round that's really the best you can expect.
Again, Dallas will have questions at this position thanks to the expiring deals of players like Claiborne and the recent health issues of Orlando Scandrick. Curtrer gives them a guy they can try and groom to provide depth while hopefully becoming something more once he starts going against better talent than what he saw each week at MTSU.
Sep 26, 2015; Chapel Hill, NC, USA; North Carolina Tar Heels quarterback Mitch Trubisky (10) celebrates in the end zone with wide receiver Jordan Fieulleteau (88) and offensive tackle Jon Heck (71) after throwing a touchdown pass to wide receiver Ryan Switzer (3) (not pictured) in the fourth quarter. The Tar Heels defeated the Delaware Fightin Blue Hens 41-14 at Kenan Memorial Stadium. Mandatory Credit: Bob Donnan-USA TODAY Sports
Round 7 Pick 32: Jon Heck, OT — North Carolina
For just the second time, Dallas goes to the offensive side of the ball. After not picking on that side since Zay Jones in Round 3, they select North Carolina offensive tackle Jon Heck with their final pick.
In 2015 the Dallas Cowboys used a third-round pick on Florida tackle Chaz Green. He started this season as the swing tackle after missing pretty much his whole rookie season due to injuries. Green started two games while appearing in four for Dallas this season and looked pretty good in relief of starter Tyron Smith.
The problem is Green once again was injured. A foot injury has sidelined him and then a back problem led to surgery and ended his season. While Green has shown promise, Dallas has to be concerned with the constant injuries.
Obviously as it stands now the concern wasn't enough to go too high for a potential replacement, but it is still somewhat addressed with Heck. The 6-6 Heck weighs 300-pounds and has stood up to some stellar pass rushers for the Tar Heels.
He played well against potential-NFL talent Dawuane Smoot in Week 2 of the 2016 season against Illinois. He's considered a solid pass protector and has enough traits that an NFL team can work with him as he looks for his role. He may not replace Green immediately, but gives them something if he's unable to finish a third season in a row in 2017.
---
---