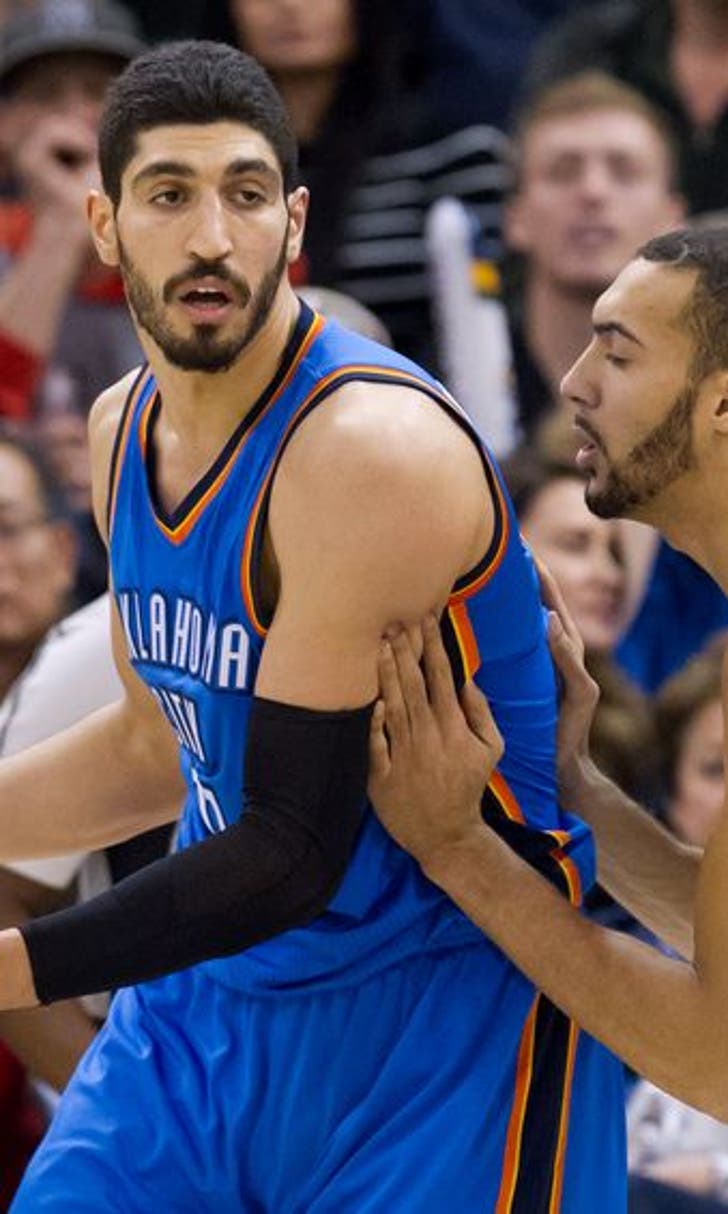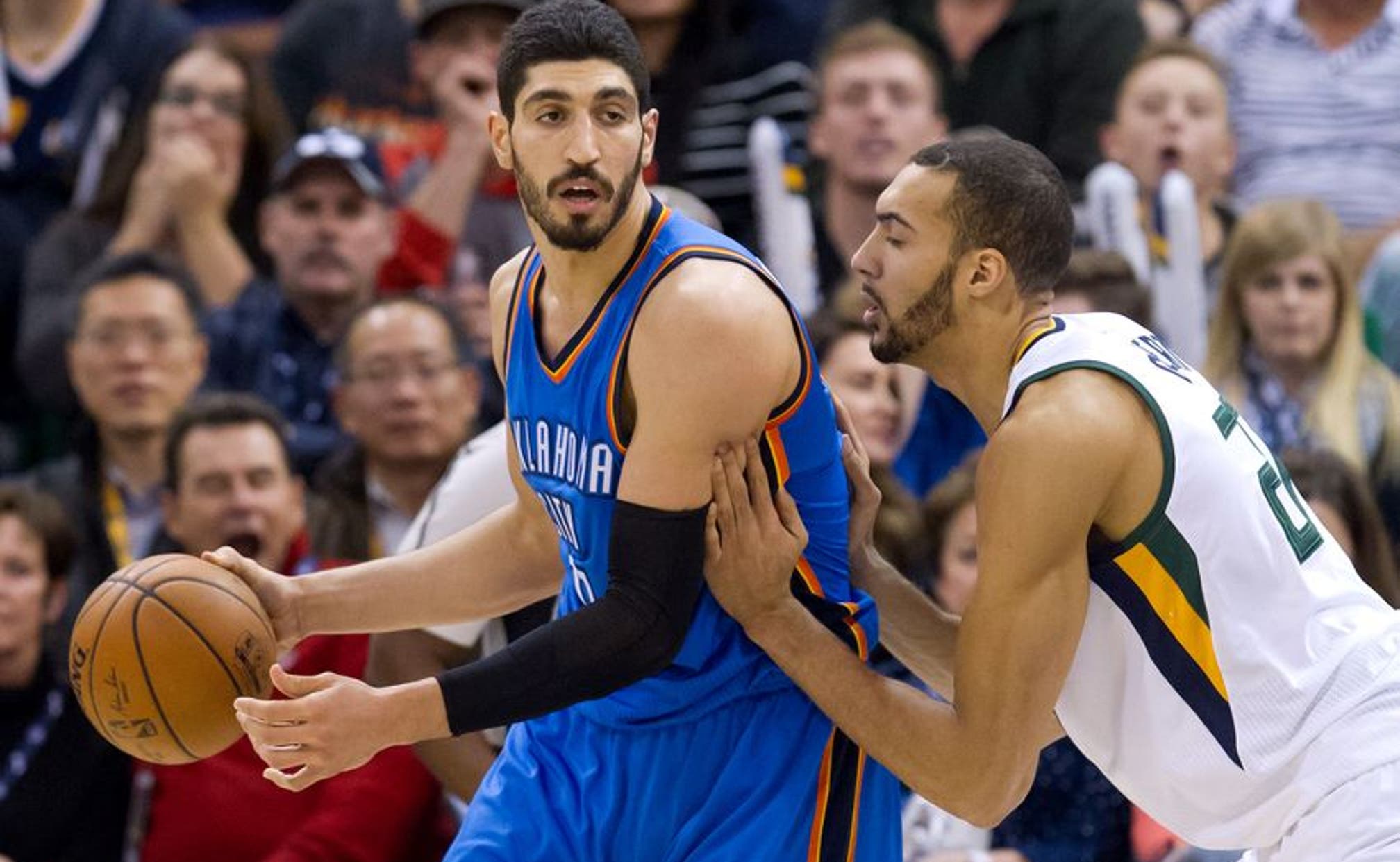 Utah Jazz: Northwest Division Comparison - January
BY Fansided and Jared Woodcox/FanSided via Purple and Blues • June 30, 2017
Dec 14, 2016; Salt Lake City, UT, USA; Utah Jazz center Rudy Gobert (27) defends against Oklahoma City Thunder center Steven Adams (12) during the second half at Vivint Smart Home Arena. The Jazz won 109-89. Mandatory Credit: Russ Isabella-USA TODAY Sports
The Utah Jazz currently sit atop the Northwest Division and, considering the play so far of their divisional foes, have a great chance of staying put.
The NBA season is nearing its halfway point and teams are slowly but surely showing where they stack up in the league. While the Northwest Division was still too close to call at the beginning of last month, we're beginning to get a much clearer picture of how the five teams stack up as well as what the Jazz's chances are of coming out atop the division.
With Portland stumbling last month, two teams have clearly stepped out as the division's leaders – the Utah Jazz and the Oklahoma City Thunder. While the Jazz are coming off a disappointing loss to the Celtics on Tuesday night, they still own a 22-14 record and maintain a narrow half-game lead over the Thunder for fifth in the conference and first in the division.
Just when it looked like things were going to start clicking for the Jazz, George Hill went down once again after taking a nasty elbow to the face in the game against Phoenix. His absence was a big reason why Utah was unable to contain Isaiah Thomas and the Celtics in their most recent game.
Nevertheless, things are still looking good for the Jazz and they are in a great position to maintain their top spot in the division. With the exception of the Timberwolves, who have seemingly gone from bad to worse on the season, especially after considering their poor showing in the loss to the 76ers last night, all of the teams in the Northwest Division either find themselves in the playoff mix or within close striking distance.
Thus, January will be an important month for each of these teams as they all seek to either prove themselves as a legitimate contender in the West, scrap and claw for a playoff spot or in the case of the Wolves, prove that all is not lost this season.
Nov 28, 2016; Minneapolis, MN, USA; Minnesota Timberwolves center Karl-Anthony Towns (32) backs towards the basket as Utah Jazz center Rudy Gobert (27) plays defense in the second half at Target Center. The Jazz won 112-103. Mandatory Credit: Jesse Johnson-USA TODAY Sports
Minnesota Timberwolves
Current Record: 11-24
Standings: 5th in Division, 14th in Conference
The Timberwolves continue to struggle this year despite being one of the most hyped up-and-coming squads of the offseason. They are benefiting largely from the phenomenal play of Andrew Wiggins, Karl-Anthony Towns and Zach LaVine who are all averaging over 20 points per game, but beyond those three, they don't have many reliable contributors.
They still have the lowest scoring bench in the league, but beyond their lack of depth the Timberwolves are extremely short on experience as well.
Minnesota did log a better win percentage in December than they did in November, going 6-9 in 15 games, so perhaps they are in store for slight improvement in 2017. However, the T-Wolves are already 0-2 in January and with how slow those improvements are coming, they're much too far behind to have any legitimate shot of qualifying for the playoffs or competing for a division title.
They are currently 4.5 games out of eighth place in the West and have yet to log a win against any of their divisional foes. As they continue to struggle to close out games and compete with even mediocre teams, it's looking like this Wolves team will have to hope for better luck next season.
Dec 3, 2016; Salt Lake City, UT, USA; Denver Nuggets guard Jamal Murray (27) tries to get past Utah Jazz forward Joe Ingles (2) and guard Dante Exum (11) in the second quarter at Vivint Smart Home Arena. Mandatory Credit: Jeff Swinger-USA TODAY Sports
Denver Nuggets
Current Record: 14-21
Standings: 4th in Division, 10th in Conference
Although the Nuggets are seven games under .500 with a 14-21 record, they are surprisingly just 1.5 games out of eighth place in the West. They've played in a lot of close games and have found a way to sneak past several good teams due to their relentless offensive attack and their roster that is stocked full of young athleticism.
The Nuggets are a well-rounded squad that features six players who average double figures and have one of the better young big men in the league in Nikola Jokic. They have a long ways to go before they're truly a threat in the West, but given the inconsistent play of the other teams fighting for the eighth spot in the conference – the Blazers, Kings and you could even throw in the Pelicans – the Nuggets have a legitimate chance of sneaking in.
To do so, however, they'll more than likely have to significantly step up their defense. They continue to allow their opponents to put up a ton of points on them as they're currently just 26th in the league in opponent points per game.
However, they rebound well, score a lot of points themselves and have a team full of energy guys that play with a lot of heart. From a pure demeanor standpoint, this Nuggets team has a winning attitude and while they may be too young and inexperienced to turn that into anything this season, it will certainly help them to have a winning formula in upcoming years.
Nevertheless, while Portland isn't having nearly the kind of successful season that they had last year, I'm confident that they're going to get things sorted out at least well enough to finish ahead of the Nuggets. Therefore, I'm going to predict that Denver stays put at fourth in the division to finish out the year.
Oct 25, 2016; Portland, OR, USA; Portland Trail Blazers guard Damian Lillard (0) shoots against the Utah Jazz in the second half at Moda Center at the Rose Quarter. Mandatory Credit: Jaime Valdez-USA TODAY Sports
Portland Trail Blazers
Current Record: 15-21
Standings: 3rd in Division, 9th in Conference
The Trail Blazers have been one of the most disappointing teams in the league up to this point in the season. Many people expected that last year they'd have a season similar to how they've started this year as it was their first go without LaMarcus Aldridge, but they ended up surprisingly good, finishing with a 44-38 record and the fifth seed in the West.
However, from the look of things in 2016-17, perhaps they set the bar for themselves a little too high. It seemed like the Blazers would be able to build off of their success from last season, but instead they're headed in the wrong direction.
With the exception of a three-game slate in October, the Trail Blazers have yet to post a winning record in a month this year and were terrible in December, going just 4-11. They're also just 3-7 in their last ten and for one reason or another aren't anywhere close to the team they were last season.
Damian Lillard and C.J. McCollum continue to produce at a high level, but Portland simply isn't getting enough production out of the rest of their players. Evan Turner, who the Blazers spent big money on this offseason, has been a huge disappointment, and with a severe lack of lockdown defenders, Portland's defense has struggled big time.
Their defense has been even worse than Denver's as they rank 28th in the league in opponent points per game. They also don't have much of a presence in the post and their rebounding numbers have suffered dramatically as a result.
Honestly, when looking up and down Portland's roster, it's not surprising to see them where they're at, but they were able to come together as a team so well last season that it's a bit shocking to see them falling apart in recent weeks this time around.
Nevertheless, Terry Stotts has proven himself in the past as a solid coach, Lillard and McCollum make up one of the best backcourt duos in the league and in a Western Conference that currently has the inconsistent Kings as its eighth seed, I have a hard time believing that Portland won't right the ship well enough to punch their way back in the playoffs.
However, given that they're currently 6.5 games behind the second-place Oklahoma City Thunder, I don't believe that Portland will move up any higher than third in the division.
Dec 14, 2016; Salt Lake City, UT, USA; Oklahoma City Thunder guard Russell Westbrook (0) reacts as Utah Jazz guard Shelvin Mack (8) looks on during the second half at Vivint Smart Home Arena. The Jazz won 109-89. Mandatory Credit: Russ Isabella-USA TODAY Sports
Oklahoma City Thunder
Current Record: 21-14
Standings: 2nd in Division, 6th in Conference
The Oklahoma City Thunder continue to be Utah's toughest competitor for first place in the division, thanks largely to the incredible efforts of Russell Westbrook. The MVP candidate continues to impress averaging 30.9 points, 10.4 rebounds and 10.5 assists per game.
His solid play has nearly single-handedly carried the Thunder to sixth in the conference and within striking distance to finish much better. Because Westbrook is so talented and versatile, the Thunder are capable of beating any team in the league. However, for the very same reason that OKC depends so heavily on him, they're also able to lose to just about anyone.
I've said it before, but unfortunately for the Thunder, while they'll almost surely be a playoff team, their reliance on one single guy is not a recipe for success. Still, they played relatively well in December, going 9-5 over the course of the month and if Westbrook can begin to more successfully utilize the likes of Victor Oladipo, Enes Kanter and Steven Adams they could find themselves surging to the top of the division.
Nevertheless, Utah looked extremely impressive in their December win over the Thunder as they were able to hold Westbrook to just 7-of-25 shooting and five turnovers. The Jazz and other elite defensive teams have been able to mostly contain the Thunder as Westbrook hasn't been able to get enough out of his teammates to win many of those games.
For that very reason, I'm feeling confident that Utah will edge out the Thunder for first in the division and Westbrook and Co. will have to settle for second-best.
Dec 21, 2016; Salt Lake City, UT, USA; Utah Jazz center Rudy Gobert (27) reacts after a foul in the fourth quarter against the Sacramento Kings at Vivint Smart Home Arena. The Sacramento Kings defeated the Utah Jazz 94-93. Mandatory Credit: Jeff Swinger-USA TODAY Sports
Utah Jazz
Current Record: 22-14
Standings: 1st in Division, 5th in Conference
Although the Jazz have been pretty disappointing of late, losing to the Celtics in a game that wasn't even as close as the score indicated, struggling against four lottery teams in their previous four wins and not logging a win against a team with a winning record since December 18th, I'm optimistic that they'll still be able to come out at the top of the division.
Utah's struggles with injuries have been an incredible thorn in their side and until George Hill gets back and is healthy and Derrick Favors (hopefully) returns to playing like his old self, this team will not even be scratching the surface of their potential.
However, given the fact that even with all the issues they've had, they're still in first place in the division through 36 games, there's no reason why Utah can't maintain and build on that division lead in the upcoming month and to close out the season.
When you look at their roster up and down, while Portland and OKC both boast superior players in Damian Lillard and Russell Westbrook, the Jazz have the most talent overall. As they continue to find the way to best utilize that talent and build a little more consistency as the entire squad gets healthy, they should have the firepower to remain atop the Northwest Division.
More from Purple and Blues
After games like the one last night against the Celtics, sometimes pulling for this Jazz team can get a little discouraging. Nevertheless, fans have to remember that they're still in first place in the division, and very much within striking distance of retaking that fourth place spot in the conference from the Los Angeles Clippers while keeping the likes of the Thunder and Grizzlies behind them.
There's still three and a half months left in the season, meaning that a lot could change but also that the Jazz have a lot of time to get even better than they've played so far.
And given that they're in first place in the division as things stand right now, if they do manage to improve even further, it's not likely that any of their divisional foes, even OKC, will be able to catch them.
All stats courtesy of NBA.com
---
---