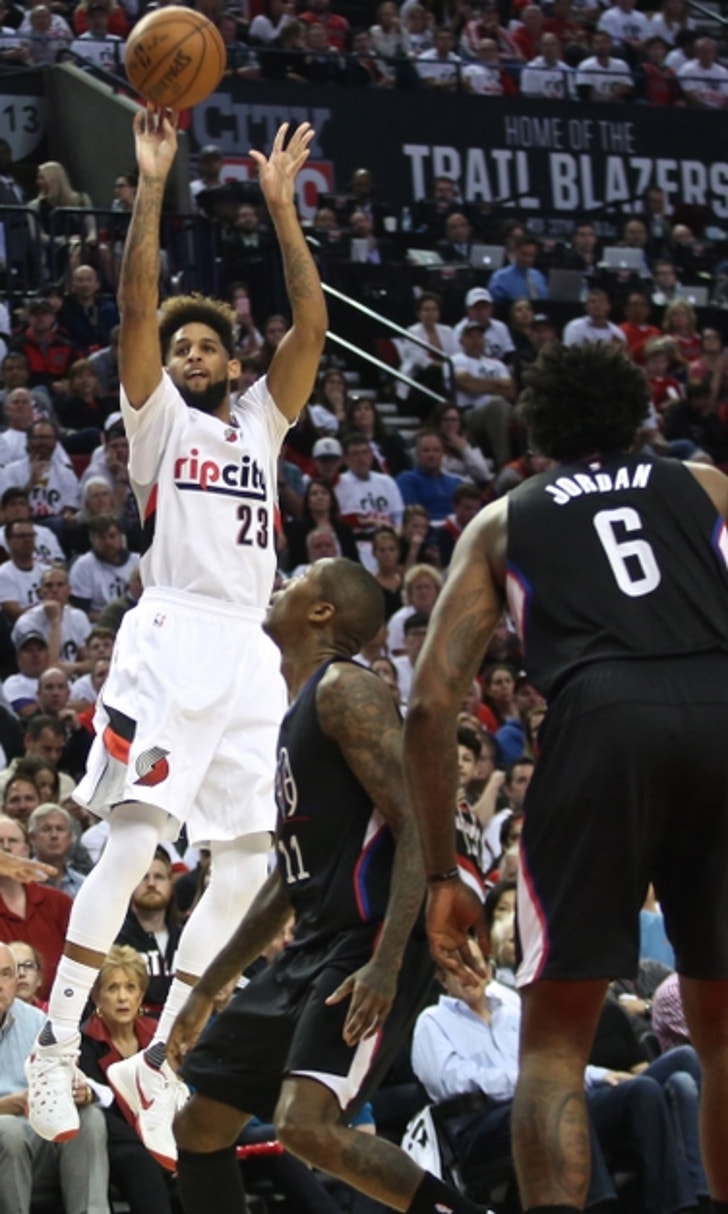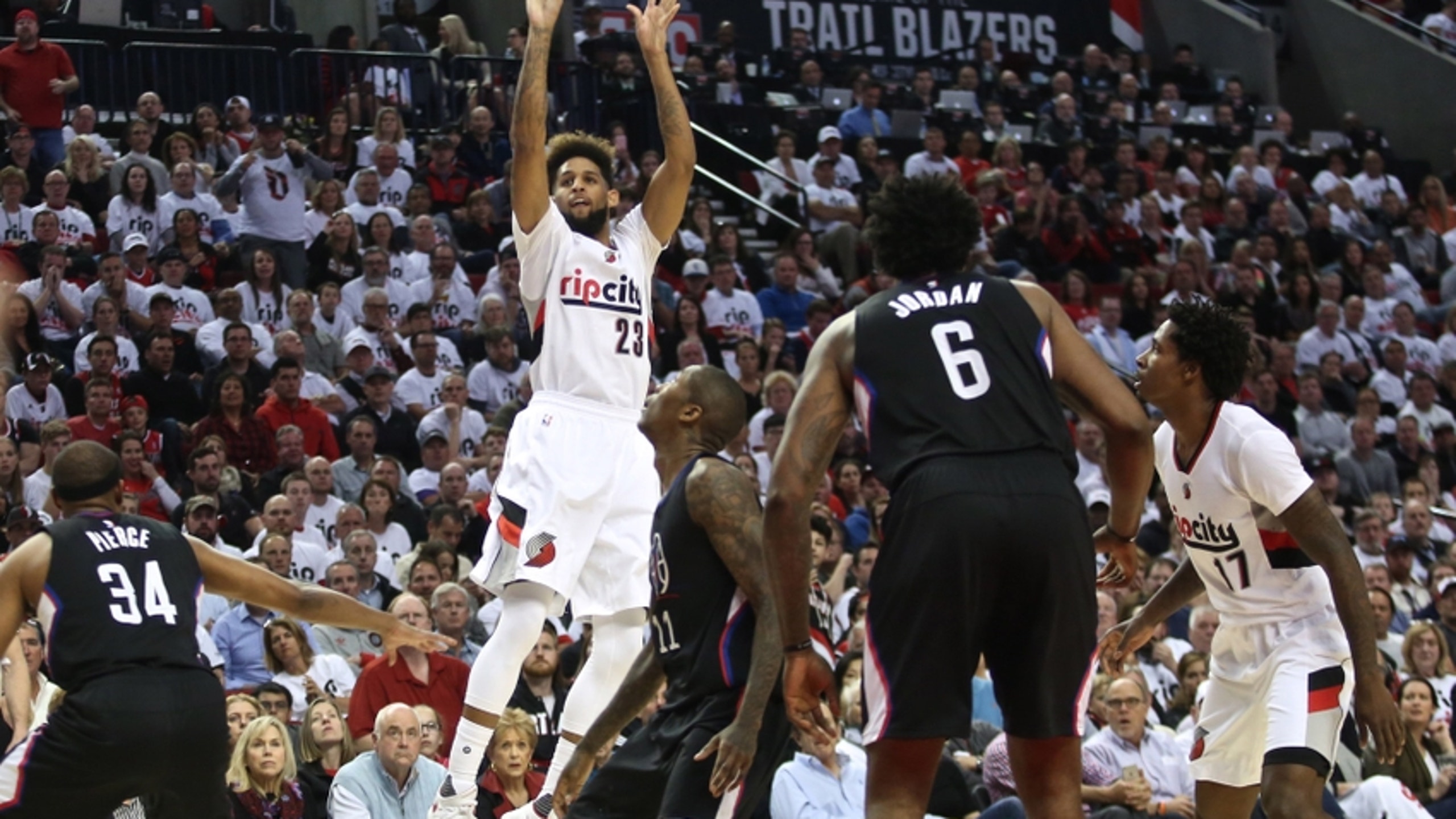 Trade Rumors: Trail Blazers Deal is Harder Than Most Think
BY Fansided and Jeff Luten/FanSided via Rip City Project • December 15, 2016
Apr 25, 2016; Portland, OR, USA; Portland Trail Blazers guard Allen Crabbe (23) shoots over Los Angeles Clippers in game four of the first round of the NBA Playoffs at Moda Center at the Rose Quarter. Mandatory Credit: Jaime Valdez-USA TODAY Sports
Portland Trail Blazers are a popular team for trade rumors. However, a trade that helps this team is harder to find than most think.
As we all know, the trade rumors surrounding the Portland Trail Blazers have been numerous as of late. With Portland trying to avoid going into the luxury tax, and how poorly the team has been on defense lately, a trade seems like an obvious route to go.
blazers
Rip City Project 1 dTrimester Awards: Trail Blazers Edition
More headlines around FanSided:
1 d - Oklahoma City Thunder Trashed By Portland Trailblazers2d - Preview: Thunder @ Trail Blazers2d - NBA: 5 Most Disappointing Teams So Far In 2016-172d - Race for Eighth: The West and the Last Playoff Spot2d - Three Things We Learned: Blazers Vs. ClippersMore News at Rip City Project

In theory a trade seems almost inevitable, however in reality, a trade that makes sense will be very difficult to come by. Damian Lillard and CJ McCollum are not available for trade, plain and simple. It doesn't make sense to trade Lillard and Portland GM Neil Olshey has made it clear that he is a big fan of McCollum, and that he intends to keep him in Portland.
Maurice Harkless and Al-Farouq Aminu are proving too valuable to the Blazers to trade. Both on very team-friendly deals, and both contributing at a level higher than their contract might suggest. While these two may not be entirely untouchable the way Lillard and McCollum are, it would likely take a mega-deal, obviously in the Blazers favor, for them to be considered trade pieces, and frankly, these types of deals don't exist.
Mason Plumlee is in a contract year, making him difficult to move for that reason alone. It doesn't make much sense for a team to give something up to a player who can leave at the end of the current season, especially when he has said his preference is to remain in Portland.
December 12, 2016; Los Angeles, CA, USA; Portland Trail Blazers guard Evan Turner (1) moves to the basket as forward Ed Davis (17) covers against Los Angeles Clippers center Marreese Speights (5) during the first half at Staples Center. Mandatory Credit: Gary A. Vasquez-USA TODAY Sports
Trail Blazers bench as assets?
This essentially leaves the bench, and draft picks as available trade assets. Evan Turner and Allen Crabbe are names at the center of many of the rumors going around. They might be the most tradable players Neil Olshey has to work with, but I still do not see a trade happening.
Turner started the year slow… painfully slow. Lately, Turner has shown flashes of effectiveness. Because of the contract that he was given, and the slow progression of his play, I doubt Portland moves him before he really gets a chance to fit in. These things take time. The Blazers gave Turner an expensive contract and I have a hard time seeing them giving up on that experiment without giving him a chance to play a full season.
Trading Crabbe may give the Blazers a chance to get something in return while clearing cap space, but it might be difficult to find him a home. Crabbe was a large part of the Blazers success last season, and his scoring off of the bench is extremely valuable. However the reality is that Crabbe is a catch-and-shoot specialist, not much more. His defense is just okay, and his ability to create offense for himself and others still requires work.
On one hand, Crabbe is only 24 years old, and has time to work on these skills, but there are absolutely no guarantees. The reality is that the contract that Portland gave Crabbe will severely limit potential trade partners for the fourth-year wing. On top of that, it has to be a team willing to pay $18.5M/year for a 3-point catch-and-shoot specialist.
Ed Davis is another name that is often tossed around in trade-talks, but Davis is a limited player with a specific skill set. While his contract is cheap, and has another year on it after this one, Davis is likely more valuable to the Blazers on the court than he is as a trade piece.
As far as draft picks go, Portland has their own first round pick in each of the next two years, and the Cleveland Cavaliers 2018 pick should if fall between 11-30, which it almost definitely will. With that in mind the best trade package Portland could muster might be Crabbe and a first round pick or two.
Nov 6, 2016; Memphis, TN, USA; Memphis Grizzlies guard Vince Carter (15) handles the ball against Portland Trail Blazers guard Allen Crabbe (23) during the first half at FedExForum. Mandatory Credit: Justin Ford-USA TODAY Sports
Realistic Scenario
The unfortunate situation Portland finds themselves in is that a potential trade partner will need to have the cap space to take on a large contract in order for the Blazers to cut enough to remain under the luxury tax heading in to next season. In addition, Portland will want the player they receive in return to make sense and potentially make the team better. This leaves Portland with very few options as far as trades go. Perhaps Allen Crabbe and some picks for Nerlens Noel might be the Blazers best option, that is if Portland wants to give up valuable assets to gamble on a high potential, but thus far, prone to injury player.
All of this said, I'm not saying that the Blazers will not make some kind of trade, but I just don't think it will be the kind of trade that people are hoping for. It will not be the kind that will significantly impact the win-loss column or make Portland an actual contender. The more I look at the situation, the more I realize that the Blazers don't have that many options, and may be best off waiting until the season is over before addressing their cap space, and defensive personnel issues.
More from Rip City Project
This article originally appeared on
---
---