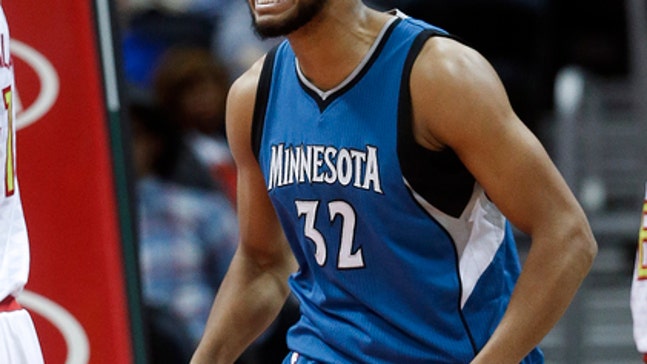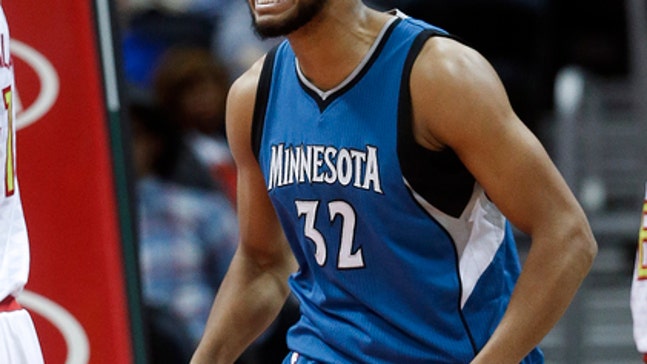 Towns, Timberwolves roll past Hawks, 104-90 (Dec 26, 2016)
Updated
Mar. 4, 2020 9:35 p.m. ET

MINNEAPOLIS (AP) With so much young talent, the future is bright for the Minnesota Timberwolves. The present has been painful while the pups go through their growing pains, but then there are nights like Monday when everything just clicks.
Karl-Anthony Towns had 22 points and 11 rebounds, and Zach LaVine hit six 3-pointers to lead the Timberwolves to a 104-90 victory over the Atlanta Hawks.
LaVine scored 21 points, Andrew Wiggins had 21 and was 4 for 6 on 3-pointers, and Towns was 8 for 8 from the field, including 3 for 3 from 3-point range. Minnesota hit a season-high 15 3s and led by as many as 29.
''We can all go out there and have the kind of nights where we light up the NBA,'' Towns said.
Dwight Howard had 20 points on 9-for-9 shooting and 12 rebounds for the Hawks in his return from a back injury. But Paul Millsap was just 2 for 13 from the field, and Atlanta's 19 turnovers led to 22 points by the Timberwolves.
After hanging on to beat a Hawks team minus Howard in Atlanta last week, there was no such suspense for the Wolves this time around. A 14-0 run in the third quarter included 3s by Wiggins, LaVine and Shabazz Muhammad for an 86-58 lead, and Minnesota never looked back.
The Timberwolves' overused starters got a much-needed light night on the second night of a back-to-back. Gorgui Dieng added 14 points and seven rebounds and was the only Minnesota starter to play more than 30 minutes.
Millsap missed 12 of his first 13 shots and also left the game briefly after being poked in the eye. He scored seven points.
The Hawks have wins over Houston, Cleveland, Toronto and Milwaukee (twice), but have lost to the Wolves and Lakers twice and the Suns and Magic as well.
''It's for sure frustrating, but we've got to find a way,'' Hawks point guard Dennis Schroder said. ''It's still early, but we need to figure it out now. We can't keep talking about it. We've got to change something and we don't. So, we've got to be on the same page and try to get more wins.''
TIP-INS
Hawks: Tim Hardaway Jr. was a late scratch because of a groin injury after being listed as probable for the game. Hardaway warmed up before the game and felt it tighten up, so the Hawks played it safe. ... Kyle Korver returned after missing the previous game with an illness. He scored six points on 2-for-7 shooting.
Timberwolves: LaVine had his 12th career game with at least five 3s, second only to Kevin Love's 16 in franchise history. ... Cole Aldrich did not play for the second straight game.
RUBIO'S RUNS
Ricky Rubio had 10 assists and zero turnovers for Minnesota and has played 67 minutes, 40 seconds since he last had a turnover. He has 22 assists in that span.
''I'm controlling the tempo of the game and I'm not making mistakes on offense,'' Rubio said. ''I'm feeling good.''
HOWARD RETURNS
The Hawks' big man missed the previous three games with tightness in his back, but made his presence felt early and often. He was so effective in the first quarter that coach Mike Budenholzer left him in the game even after picking up two quick fouls. Howard threw down a dunk off the glass on a pass from Schroder and scored the Hawks' first six points of the third, all on putbacks off the offensive glass.
It was his 19th double-double of the season.
''Some positives, him on the offensive boards, him finishing around the basket,'' Budenholzer said. ''I think there are some positives. I think his activity and reactions, some other situations, just like all the rest of us, need to be better.''
UP NEXT
Hawks: Atlanta heads back home, where it is 7-7 this season, to take on the New York Knicks on Wednesday.
Timberwolves: Minnesota plays Wednesday at Denver, where the Wolves will face Nuggets rookie Jamal Murray, a player they considered with the fifth overall draft pick before selecting Kris Dunn.
---
---