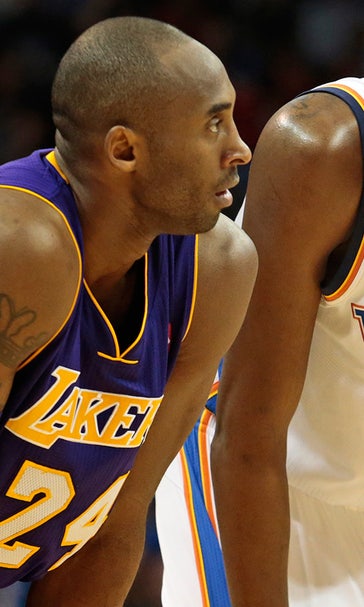 To all Lakers fans dreaming of Durant replacing Kobe this summer ... forget it
BY foxsports • February 20, 2016
This has been a lost season for the LA Lakers.
The team's superstar, Kobe Bryant, is in his final NBA season -- and despite a few glimmers of the old Bryant, his farewell tour has been mostly tough to watch as he soaks up too many important minutes, keeping younger players on the bench at times.
Better yet? The Lakers have even admitted this season (11-45, worst record in the Western Conference) is all about Kobe. In other words, the franchise is openly wasting a year in the careers of hopeful future cornerstones like D'Angelo Russell and Julius Randle. Super strategery.
But at least Lakers faithful have this offseason to look forward to, with likely a high lottery pick (so long as they don't blow it and start winning, since the 76ers own their pick if LA finishes out of the top three in the NBA Draft) -- plus, all that juicy salary-cap room once their living legend leaves to free up $25 million on the annual books. 
Then the team could sign an elite, franchise-changing free agent -- like Kevin Durant, right?
POOF! End of dream sequence begins ... now, courtesy of Yahoo! Sports NBA insider Adrian Wojnarowski on FOX Sports Radio (listen to full clip here):
Sure, the Lakers will still always be in the running for major free agents and will surely sign some decent names even if they whiff on the biggest fish in the sea in Durant. But if they can't land KD -- and he goes to a team like Golden State that's already built for winning now, doesn't that even further delay Lakers hopes for true title contention by another few years?
---
---