Karl-Anthony Towns
Karl-Anthony Towns
Timberwolves look to finish off game against Bucks (Dec 30, 2016)
Published
Dec. 29, 2016 5:34 p.m. ET

It's beginning to sound like a broken record for the Minnesota Timberwolves, who face the Milwaukee Bucks in Minneapolis on Friday.
Gain a big lead. Let the lead slip away. End with a loss. Rinse and repeat.
The latest such instance came Wednesday when Minnesota fell 105-103 to Denver. It was the 10th time this season the Timberwolves have lost a game in which they led by 10 points or more.
Wednesday's loss meant the first career triple-double for Minnesota's Karl-Anthony Towns went to waste as Towns' team fell to 10-22 on the season. Towns scored 15 points, grabbed 11 rebounds and had 10 assists.
"We played like our lives were on the line, that's really all we did," Towns told the Minneapolis Star Tribune after Wednesday's loss. "We played with such energy and intensity and sense of -- I don't know how to say it -- just a sense of determination that we wanted to come out with a 'W.'"
Milwaukee, meanwhile, is coming off a convincing road win over the Detroit Pistons. Jabari Parker's 31 points fueled the Bucks to a 119-94 win to bring Milwaukee's record back to .500 (15-15) after a loss to Washington two days earlier.
The Bucks are in the midst of a four-game road trip that will conclude Saturday in Chicago, one night after their game in Minneapolis. Like Minnesota, the Bucks have had trouble sealing games in which they held big leads.
"We feel pretty good that we're competing and we're really close to winning," Bucks forward Tony Snell told the Milwaukee Journal Sentinel. "We've just got to capitalize and finish it off."
Friday's game features two of the more versatile big men in the NBA. Milwaukee star Giannis Antetokounmpo is listed at 6-foot-11 but can handle the ball like a point guard. Antetokounmpo is averaging 23.4 points and 9.0 assists, but also has an impressive 5.9 assists per game.
Meanwhile, Minnesota's Towns -- one year younger than Antetokounmpo -- is averaging a double-double of 22.0 points and 11.3 rebounds a game. Though he doesn't play any point guard like Antetokounmpo, Towns can hold his own when it comes to ballhandling.
Neither big man made much of an impact the first time the two squared off last year; Towns was held to eight points, while Antetokounmpo scored just 11. Both topped the 20-point mark in their second meeting. However, both games were wins for Antetokounmpo and the Bucks.
Both Minnesota and Milwaukee have been inconsistent in the first few months of the season. The Bucks haven't won more than four straight, while Minnesota's longest winning streak is just two games.
The calendar will soon turn to 2017, and these two young teams hope the best is yet to come.
"Here of late we've been playing very well, not turning the ball over and finishing plays on both ends," Bucks coach Jason Kidd told the Journal Sentinel. "Hopefully we can finish '16, going into '17, on a high note."
---
---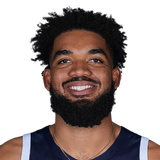 Get more from Karl-Anthony Towns
Follow your favorites to get information about games, news and more
---