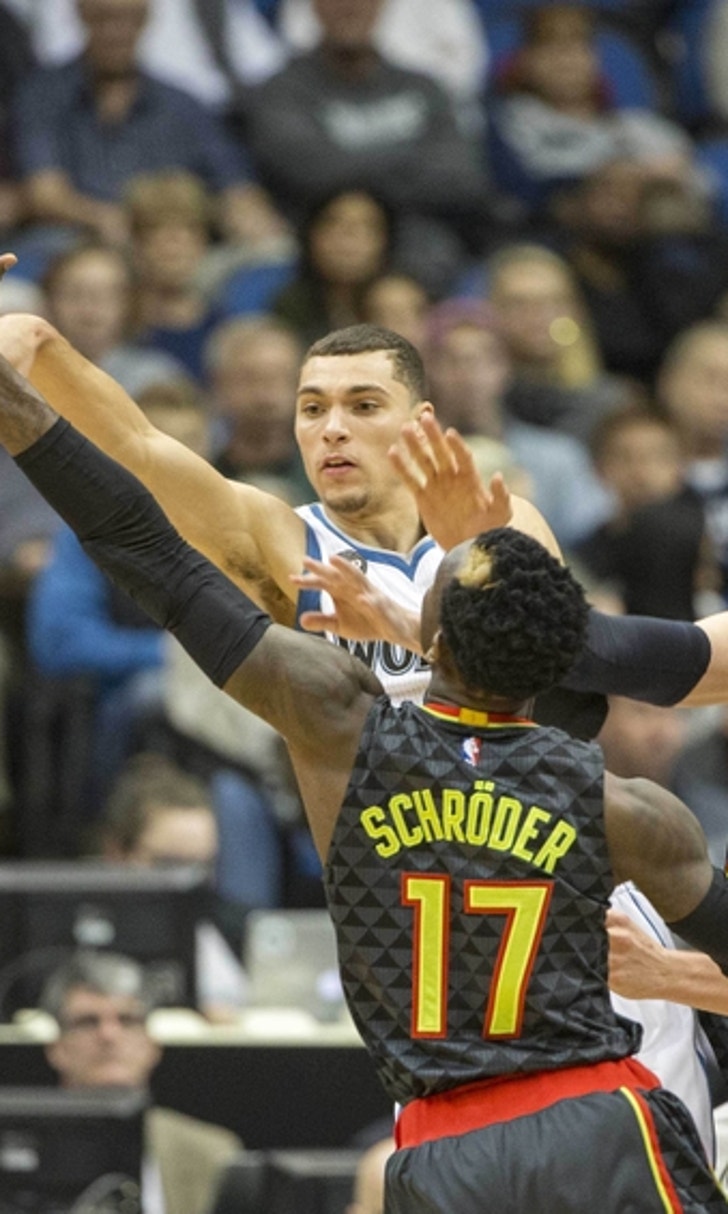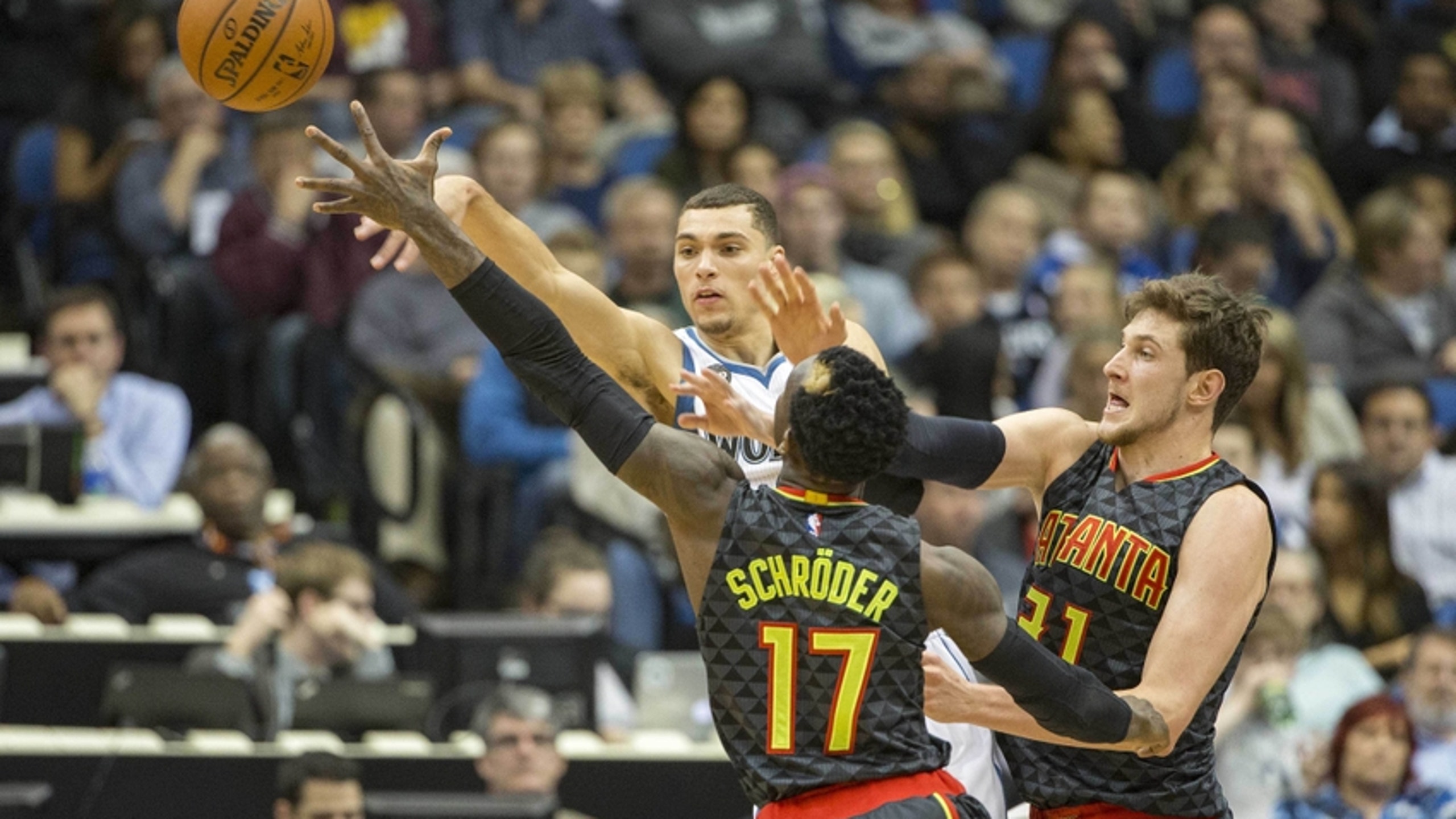 Timberwolves at Hawks: A Size Mismatch
BY Fansided and Alex Swendig/FanSided via Dunking with Wolves • December 21, 2016
Jesse Johnson-USA TODAY Sports
The Timberwolves square off against the Hawks on Wednesday in Atlanta in the teams first match-up of the season.
As of this writing, it appears that Hawks center Dwight Howard will not compete in this game, although he is officially listed as questionable. Hopefully, the Wolves can kick the Hawks while they're down and get a much-needed road win.
The Hawks come into this game with an even record at 14-14, and they've been about as average of a team as you can get this season. As of now, they're sitting on the line between being in the playoffs and being in the lottery.
The Timberwolves have simply been bad this season. There have been flashes of excitement from the team, of course, and the future obviously still looks bright, but the season is looking more and more bleak by the day.
More from Dunking with Wolves
A playoff berth for the Wolves is still possible, however, as they are only four games back from the eighth spot in the West. But they have to start winning soon. This is a good time of the season to gain momentum, too — it's holiday season, and people are watching basketball. It's also a good opportunity to build team chemistry.
The biggest issue the Wolves have had this season is on defense. It was believed that coach Tom Thibodeau would turn this team into one of the top defenses in the league, but that certainly hasn't happened as of yet. In fact, the Wolves' biggest struggles come from paint defense.
Let's not just immediately point fingers to Thibodeau and give up on him, of course. These kinds of things take time; don't forget how young this team is. Some players can't even buy a beer yet. Thibs is still teaching and the players are still learning.
This game should be an exciting match-up, which can hopefully turn out to be a win for the Wolves.
Nov 9, 2015; Atlanta, GA, USA; Minnesota Timberwolves guard Ricky Rubio (9) dribbles the ball against the Atlanta Hawks in the second quarter at Philips Arena. Mandatory Credit: Brett Davis-USA TODAY Sports
Minnesota Timberwolves Preview
Record: 8-19 (4-10 home, 4-9 road)
Starting Lineup
PG – Ricky Rubio (7.0 PPG, 6.9 APG, 4.0 RPG)
SG – Zach LaVine (20.8 PPG, 3.2 APG, 3.1 RPG)
SF – Andrew Wiggins (22.0 PPG, 4.3 RPG, 2.4 APG)
PF – Gorgui Dieng (10.3 PPG, 7.9 RPG, 1.3 BPG)
C – Karl Anthony-Towns (22.3 PPG, 11.1 RPG, 1.4 BPG)
Key Reserves
The Timberwolves bench has been near non-existent this season. Timberwolves fans have put quite a bit of faith into players like Shabazz Muhammad and Brandon Rush, and been disappointed.
This is Shabazz Muhammad's fourth season in the league after being the 14th pick in the 2013 draft. He's actually played worse this season than he the last couple of years; a season ago he played in all 82 games scoring 10.5 points per game on 46.5 percent shooting. This season, he's only been scoring 6.5 points per game on 41.7 percent from the field.
Shabazz needs to pick it up. He's athletic enough to be the best player off the bench, but the way he's played this season has hurt the Wolves' effectiveness. Kris Dunn is getting better, but he still has a long way to go.
Hopefully, the players off the bench can keep up the tempo on the defensive end and still contribute offensively. Obviously, this will help tremendously when the starters come out for rest.
Feb 9, 2015; Minneapolis, MN, USA; Atlanta Hawks guard Dennis Schroder (17) shoots the ball past Minnesota Timberwolves guard Ricky Rubio (9) in the second half at Target Center. The Hawks won 117-105. Mandatory Credit: Jesse Johnson-USA TODAY Sports
Atlanta Hawks Preview
Record: 14-14 (7-6 home, 7-8 road)
Starting Lineup
PG – Dennis Schroder (17.1 PPG, 6.3 APG, 3.1 RPG)
SG – Kent Bazemore (10.6 PPG, 3.4 RPG, 2.7 APG)
SF – Kyle Korver (9.2 PPG, 2.4 RPG, 2.2 APG)
PF – Thabo Sefolosha (7.9 PPG, 4.8 RPG, 1.9 SPG)
C – Paul Millsap (17.5 PPG, 8.2 RPG, 3.6 APG)
Key Reserves
Tim Hardaway Jr. is a key player for the Hawks coming off the bench, scoring 11.7 points in 22 minutes per game. He's a guy the Wolves will have to keep an eye on and make sure he doesn't get any easy shots.
Minnesota native Mike Muscala, is likely to get more minutes than usual in the potential absence of Dwight Howard. He's a good player that can score and rebounds well enough. Kris Humphries, another Minnesota native, is likely to see more minutes as well.
Rookie Malcolm Delaney has been a streaky player for the Hawks. He's capable of putting up ten or more points, and he isn't a guy the Wolves should ignore on the floor.
Overall, the Hawks bench isn't all that impressive. Not that the Wolves bench is much better, but Tim Hardaway Jr. is really the only major player for the Hawks off the bench.
Nov 13, 2016; Minneapolis, MN, USA; Minnesota Timberwolves center Karl-Anthony Towns (32) and guard Andrew Wiggins (22) talk during a time out in the fourth quarter against the Los Angeles Lakers at Target Center. The Minnesota Timberwolves beat the Los Angeles Lakers 125-99. Mandatory Credit: Brad Rempel-USA TODAY Sports
Three Things To Watch
1. How the Wolves play against the Hawks' small lineup. Without Dwight Howard or Tiago Splitter playing for the Hawks, they are forced to play with a small lineup. What it amounts to is the Hawks essentially playing one point guard, three shooting guards, and one power forward.
Match that up against the Wolves, who, in reality, start two centers, and the Hawks will be up against a real size disadvantage. It's very possible that the Hawks start Mike Muscala for this game to try and combat the Wolves' size in the front court.
2. Andrew Wiggins. The Hawks have a huge hole in their defense, and his name is Kyle Korver. Atlanta will be in a tough situation on whom Korver should guard, but based on position alone, there's a solid chance that he'll be guarding Wiggins.
Korver could also guard LaVine for some of the game, which would produce a similar result. If the Hawks can rotate properly, however, they could hold LaVine and Wiggins in check just fine, but if not, they will get exposed on the drive.
3.  Big numbers for Towns. Another possibility for the Wolves is that Towns will dominate the inside game against the Hawks. With only Paul Millsap to worry about, Towns could put up big points and big rebounds.
It will be exciting to see how KAT reacts to this match-up. It would be fun to see him put up 30-plus points with 15 or more boards — and in a Timberwolves win, hopefully.
Dec 9, 2016; Minneapolis, MN, USA; Minnesota Timberwolves head coach Tom Thibodeau reacts to a call in the first half against the Detroit Pistons at Target Center. Mandatory Credit: Jesse Johnson-USA TODAY Sports
Game Prediction
This might be a bold call, but I think this game looks good for the Wolves. I like how they match-up against the Hawks. I'm not saying there will be a blowout, but I can definitely see a big win.
This also looks like a prime game for someone on the Timberwolves to put up big numbers. Without a good (healthy) center on the Hawks, they are forced to have a defensive hole somewhere. It's only a matter of finding that weakness and exposing it.
I'll go with a 110-97 win for the Timberwolves on the road — a much needed win to build up momentum to make the playoffs.
---
---