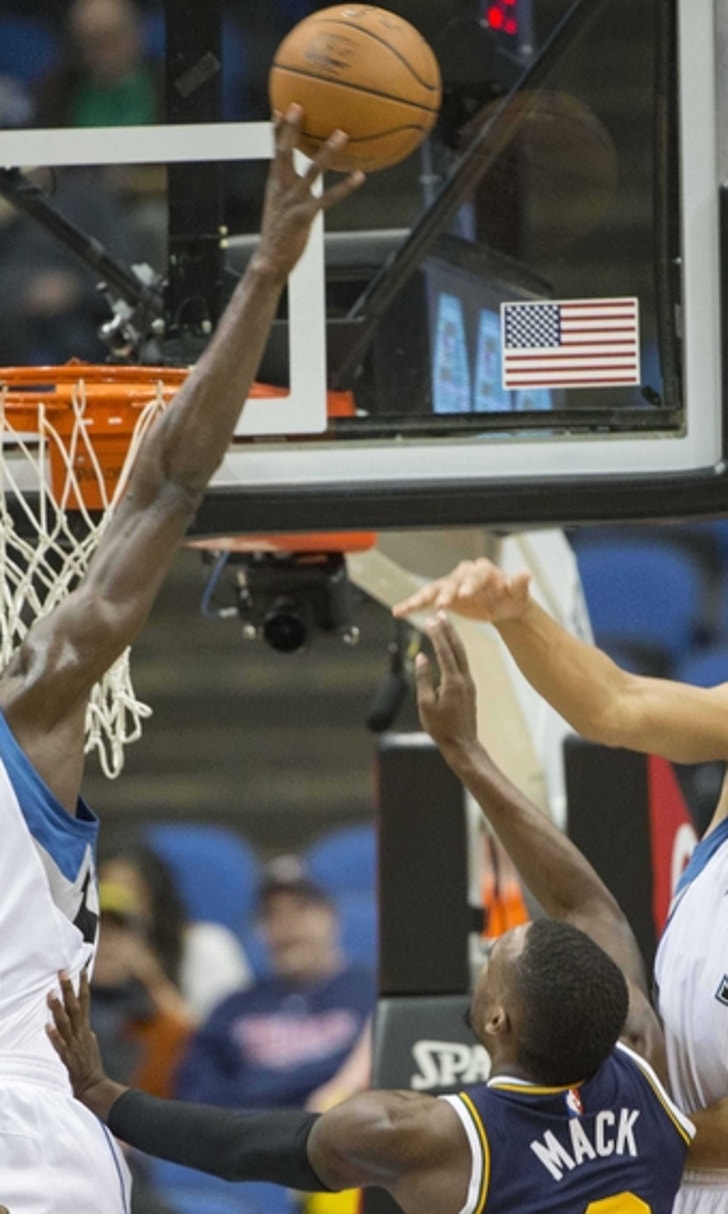 Timberwolves 2016 Year in Review: Front Court Starters
BY Fansided and Terrence Verwayne/FanSided via Dunking with Wolves • January 1, 2017
Mar 26, 2016; Minneapolis, MN, USA; Minnesota Timberwolves center Gorgui Dieng (5) blocks a shot as Minnesota Timberwolves center Karl-Anthony Towns (32) plays defense on Utah Jazz guard Shelvin Mack (8) in the first half at Target Center. Mandatory Credit: Jesse Johnson-USA TODAY Sports
As we flip the calendar towards 2017 with 33 games in the books, now is the perfect to take a look at how each player has impacted the Timberwolves thus far this season.
Let's talk about some of the positive and negative aspects of each Timberwolves player's game while taking a deeper look at their contributions from a numbers standpoint.
The Wolves have solid front court depth, and it all begins with Gorgui Dieng and Karl-Anthony Towns. One of the keys to Minnesota's big men is their versatility, as we'll see in the following slides.
First, we took a look at the reserve big men on the team and how they fared during the 2016 portion of the season. Now, let's examine the starters in Dieng and Towns.
Dec 28, 2016; Denver, CO, USA; Denver Nuggets forward Wilson Chandler (right) boxes out Minnesota Timberwolves forward Gorgui Dieng (5) for a rebound during the second half at Pepsi Center. The Nuggets won 105-103. Mandatory Credit: Chris Humphreys-USA TODAY Sports
Gorgui Dieng
Playing time: 32.8 minutes a game (33 games)
Scoring: 4th (10.4)
Rebounds: 2nd (7.8)
Assist: 7th (2.1)
Steals: Tied for 2nd (1.0)
Effective FG%: 3rd (53.6%)
Gorgui Dieng provides another option as a player who excels in the pick-and-roll offense. He's consistent with his mid-range jumper and an option down low for guards to feed off of penetration; having confidence that he'll finish around the rim at a high rate.
If you're sensing a theme here, it's because there is one. The Timberwolves are loaded with similar types of players in their front court, give or take a few traits here and there, with the only exceptions being Karl-Anthony Towns and Cole Aldrich. Either way, back to Dieng. He's not a play-maker but will make the right pass out to shooters when double-teamed.
Defense is still an issue with Dieng and something will touch on a little more in a bit.
What he does well
Gorgui Dieng is an efficient offensive player from multiple spots on the court. You can get the ball to him in many ways with the confidence that he'll score.
Many times throughout the season when the offense gets stagnate, Dieng has been there to bail them out with one of his patented mid-range jumpers. His has a really nice touch around the rim and good hands inside to receive passes. His court vision and passing ability allows the offense to rotate the ball and as stated before, does a good job at kicking the ball outside to the open man when needed.
What he doesn't do well
As promised, we're going to talk about Gorgui Dieng's defensive struggles and how it's hurting the team.
More from Dunking with Wolves
Defensive effort is a problem for him, as he does a poor job of contesting jump-shooters and has resulted in him allowing opponents to shoot 43 percent from three when he's guarding them and 41.4 percent when guarding opponents more than 15 feet from the rim. Dieng is slow to react on defensive rotations and doesn't get back consistently in transition which is really hurting the team as they don't have an anchor or anyone to compensate for his defensive ineptitude.
He lacks the strength in the post and gets pushed around by those that he's guarding. So much so that the Chicago Bulls even made it a point to feature Robin Lopez on him in a 38 point first quarter earlier in December. And when you look at the numbers, he's allowing opponents to score on him at a rate of 62 percent from within 6 feet of the rim and 58% from with 10 feet.
Impact on team
Dieng's offensive contributions seem to outweigh his defensive drawbacks from an individual standpoint, however, the problem is that when you take into account the ease in which opposing players are able to get into the paint, the need for a rim protector becomes that much more important.
When you don't have guards who can live up to their namesake and guard the perimeter on a consistent basis, coupled with a quasi-center who can't protect the paint, well you end up with a 11-22 record on the season regardless of how much you can score as a team.
Dec 30, 2016; Minneapolis, MN, USA; Minnesota Timberwolves center Karl-Anthony Towns (32) drives in the third quarter against the Milwaukee Bucks forward Michael Beasley (9) at Target Center. The Timberwolves beat the Bucks 116-99. Mandatory Credit: Brad Rempel-USA TODAY Sports
Karl-Anthony Towns
Playing time: 35.3 minutes a game (33 games)
Scoring: 2nd (21.8)
Rebounds: 1st (11.4)
Assist: 3rd (2.8)
Steals: 9th (0.5)
Effective FG%: 5th (52.2%)
KAT took the league by storm in his first year, showcasing things we've rarely seen from the center position in the NBA.
He's continued to put up, and in some cases, expand his gaudy stats from a season ago, which landed him rookie of the year honors. What excites Minnesota Timberwolves fans is that with everything he does, there's still so much room for him to grow and as good as Towns has been in his first two seasons, we still have no idea how good he can become once he learns all the nuances to the NBA game.
What he does well
Towns is about as versatile a big man as you're going to find in the NBA. The athleticism, ball-handling, vision, shooting ability and post game only rivals those of the likes of Anthony Davis of the New Orleans Pelicans and the presumptive Rookie of the Year, Joel Embiid of the Philadelphia 76ers.
He currently leads all big men in scoring across the NBA and ranks fourth among centers in 3 point field goal percentage. What really makes him special are his passing skills and court vision. When he decides to put the ball on the floor, options open up on the offensive end for the Wolves as he can score from anywhere on the floor or find teammates off the dribble for either for outside shots or easy looks inside. At times, he'll take the ball off the rack and push it up the floor himself, showcasing all of these skills while putting the defense in a bind.
What he doesn't do well
Most of his struggles, like most young players are on the defensive end. In his rookie year he made strides in this area but has regressed a bit under Tom Thibodeau's system which forces you to think a little more.
He has far too many lapses when it comes to communication in a team defensive setting and fails to close out on jump shooters, allowing opposing players to score at a rate of 40.2 percent from beyond 15 feet. He's a good one-on-one post defender but aside from the occasional highlight block, needs to do a better job in rotating over to provide help defense consistently.
Impact on team
There's no doubt that Towns is the cornerstone of the franchise for the Minnesota Timberwolves, who will only go as far as KAT will take them. This season, he currently leads the team in win shares with 3.7 and a plus/minus of 2.9. He's posted an offensive rating of 113 and a defensive rating of 109, which ranks him fifth and sixth on the team, respectively.
When he's on the court, the Timberwolves perform better offensively, scoring at a 110.2 pace per 100 possessions and goes down to 104.9 when he's on the bench. Opposing teams are scoring a 113.6 rate when he's on the court defending and only at 104.3 when he come out of the game. This falls in line with what he's able to bring to the team at this stage in his career.
He opens up the offense for coach Thibodeau but on the other side, plays his part in allowing too many easy buckets around the rim.
---
---