Aaron Gordon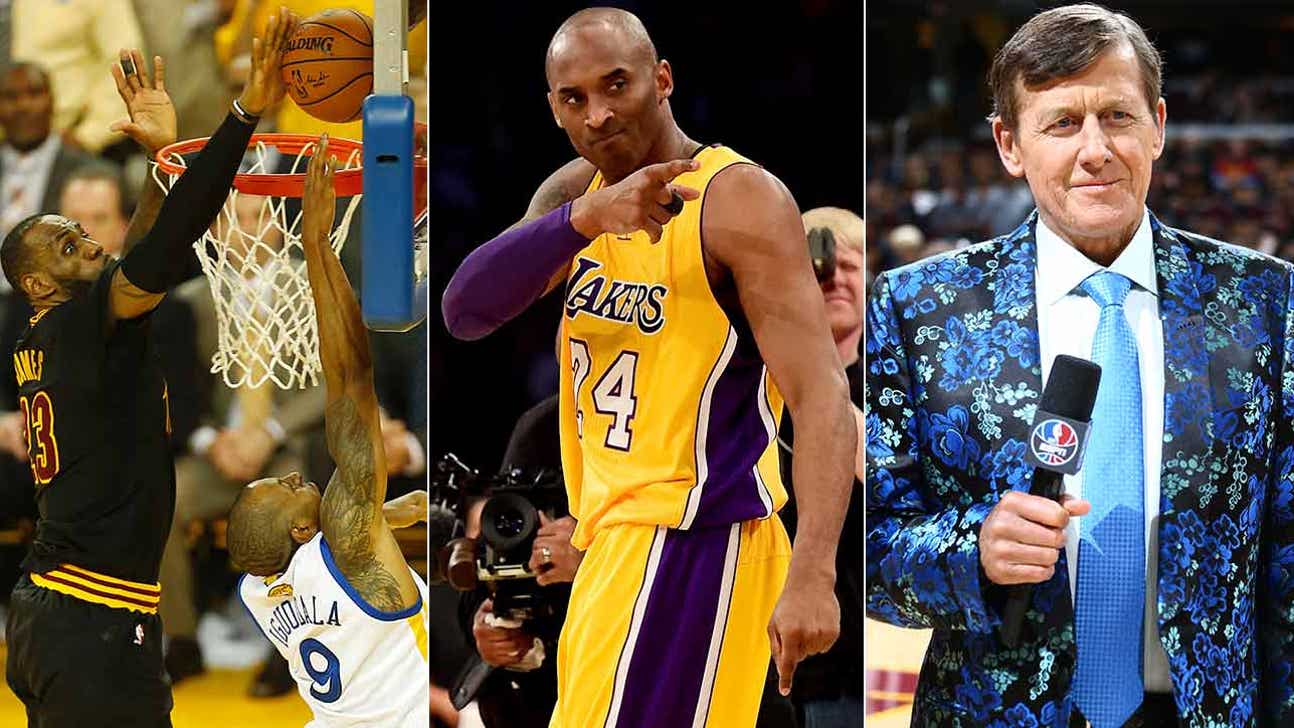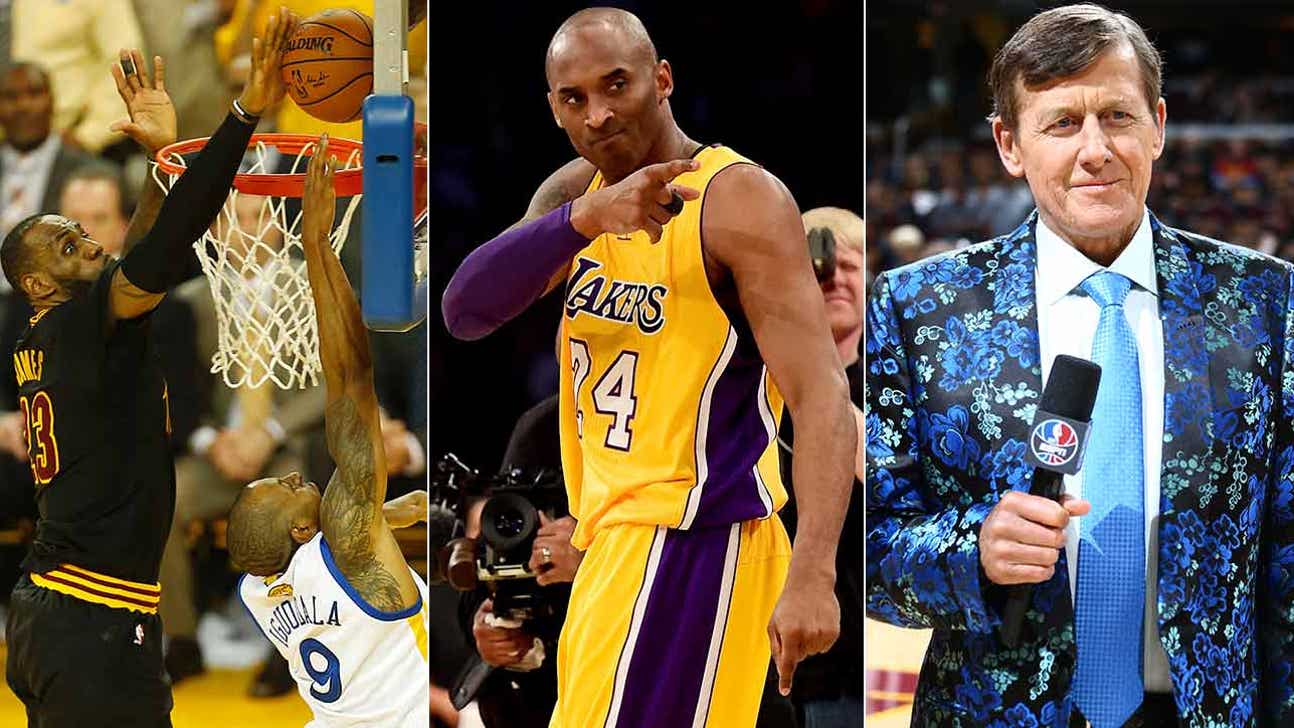 Aaron Gordon
The NBA In 2016: Our Ten Favorite Moments
Updated
Mar. 4, 2020 6:57 p.m. ET

Sports Illustrated, Ben Golliver and Rob Mahoney/Sports Illustrated
The best regular-season record of all time. The biggest NBA Finals comeback in history. The first unanimous MVP. The longest Farewell Tour and the most spectacular send-off. The defining stretch of LeBron James's illustrious career. The most momentous (non-LeBron) free-agency decision in a decade.
There's no doubt: 2016 saw more than its fair share of history. To recap the year that was, Sports Illustrated unveils its 10 favorite NBA moments, as selected by Ben Golliver and Rob Mahoney.
Feeling nostalgic? Here's SI's 10 best NBA moments of 2015.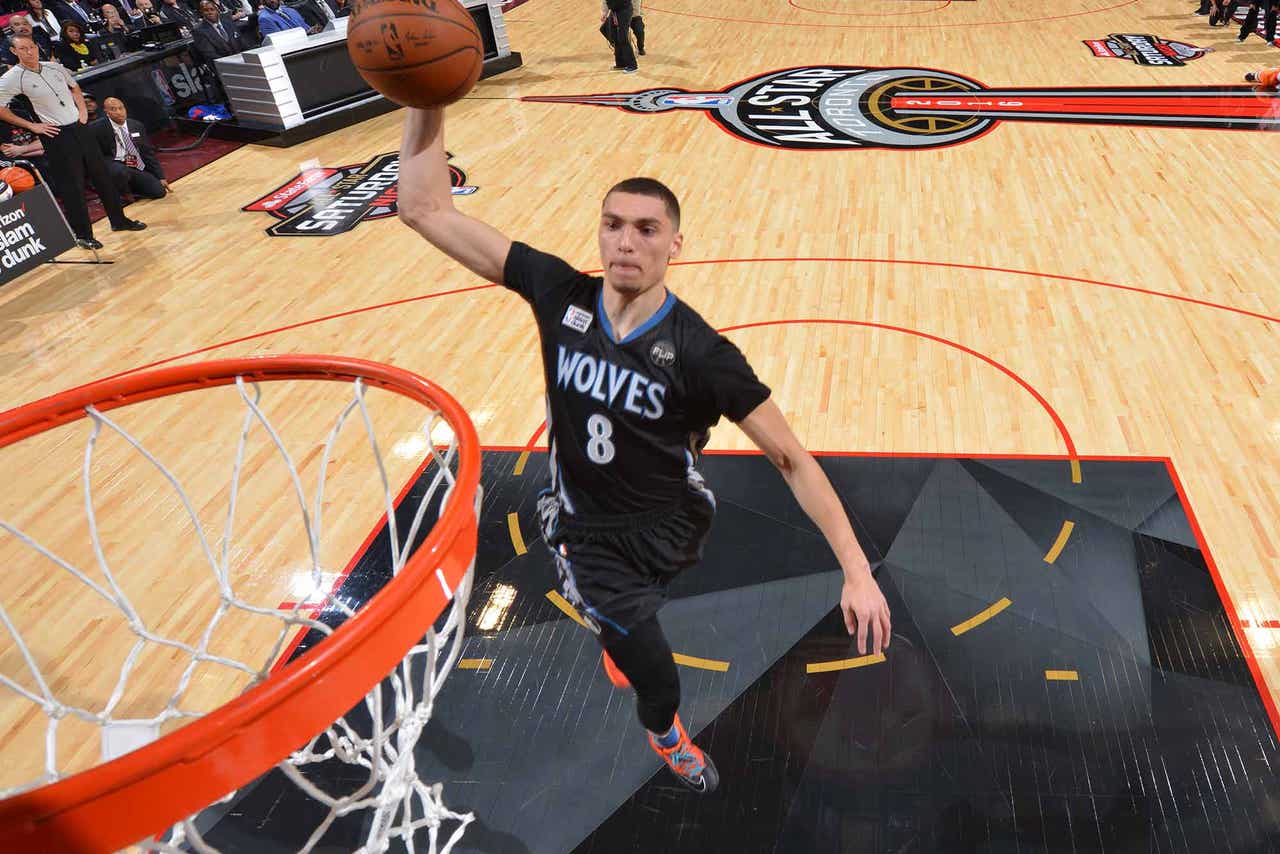 1. Zach LaVine tops Aaron Gordon in the Dunk Contest
Toronto's turn as the first international host of All-Star Weekend will be remembered for two reasons: Sub-zero temperatures, and a sensational Slam Dunk Contest that needed two rounds of tiebreakers to determine a champion. To defend his 2015 crown and outlast an unexpectedly strong challenge from Aaron Gordon, Zach LaVine ultimately needed to score 299 out of a possible 300 points.
While the sky-walking LaVine turned to a deep reservoir of long-distance combination dunks, Gordon took a different approach, employing costumes, Orlando's mascot and a hoverboard to win over the crowd. By the time he pulled off the epic "Butt Dunk"—one of the greatest offerings in Dunk Contest history—many observers were rooting for the upset. Alas, LaVine held him at bay by earning his fifth "50" in six tries, going between his legs after taking off from one step inside the free-throw line. The calls for a rematch started before LaVine was even presented with his second straight champion's trophy. — BG [READ MORE]
---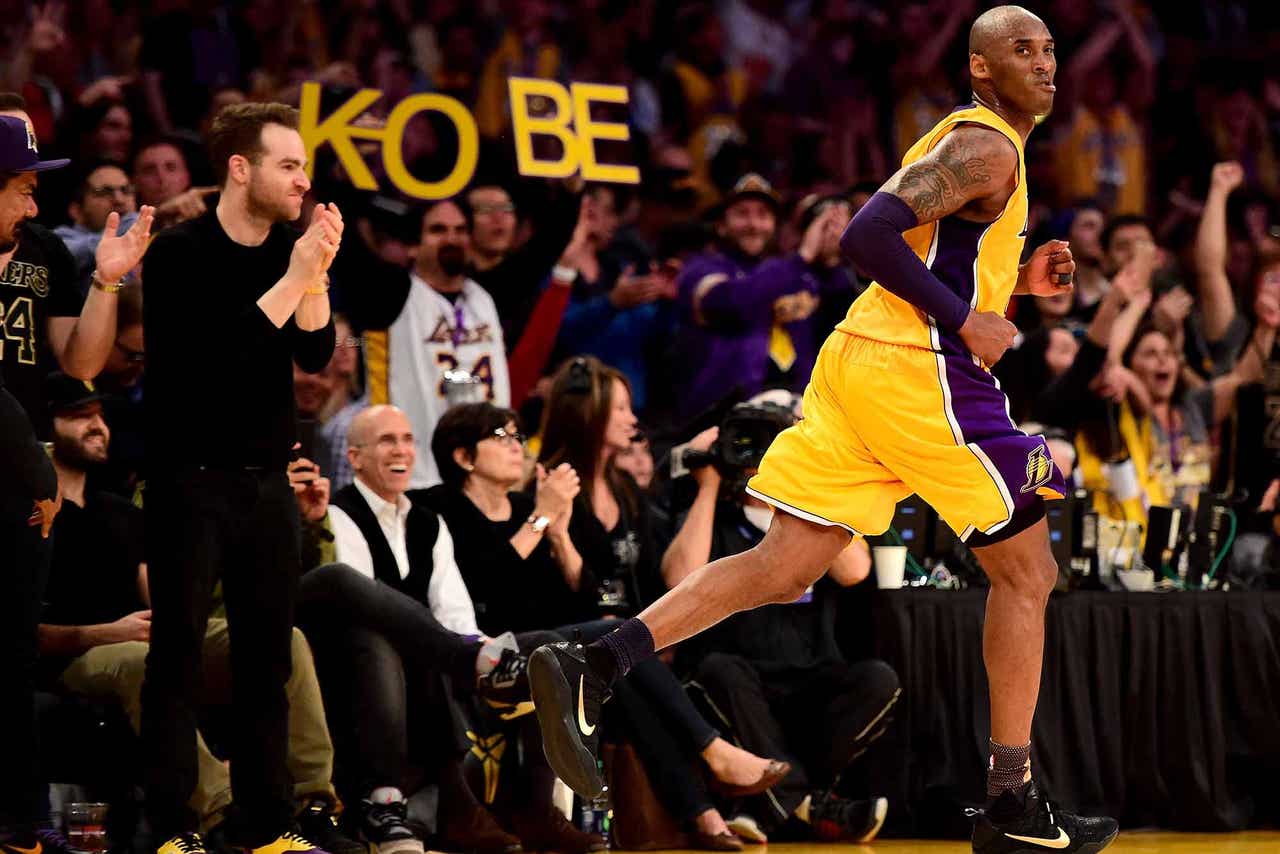 2. Kobe Bryant goes out with a 60-point bang
After 20 seasons spent accumulating rings and critics, Kobe Bryant was only going to go out one way: shooting. The longtime Lakers star, famous for his self-belief and single-mindedness, ended his season-long farewell tour by emptying his tank in a prolific scoring display that shocked his fans and detractors alike. Bryant, 37, turned his final NBA game—a mid-April contest against the Jazz that bore no playoff implications—into a philosophical statement, launching a career-high 50 shots (one more than Michael Jordan's career-high) en route to 60 points in a 101-96 win.
Remarkably, Bryant's one-man show, which unfolded slowly at first before gathering steam, managed to eclipse the Warriors' 73rd win, which also occurred on the last night of the regular season. Who else could bump such a record-breaking achievement, one that many felt was impossible to achieve, below the fold? Mamba out.  — BG [READ MORE]
---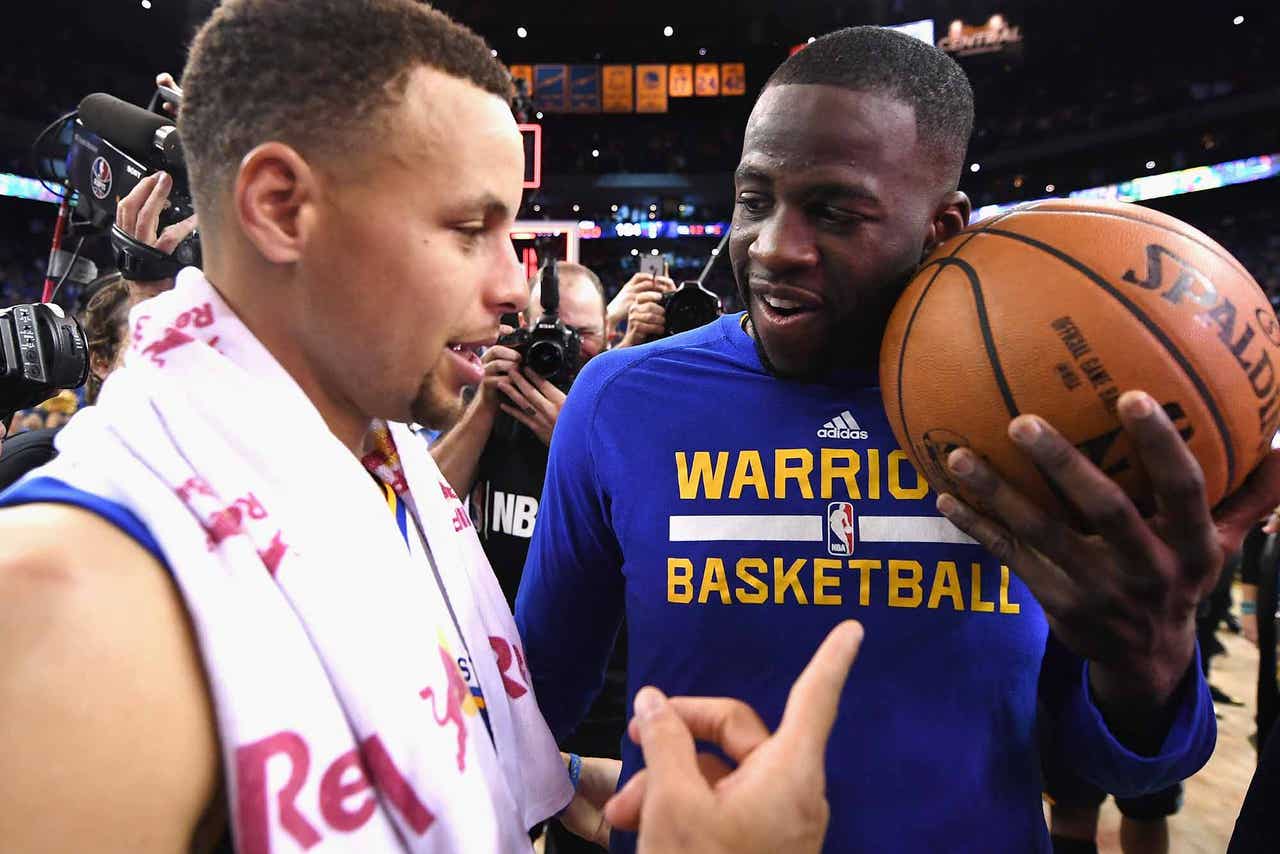 3. Stephen Curry, NBA's first unanimous MVP, leads Warriors to 73 wins
Playing the Warriors during the 2015-16 season was a totally singular experience. All it took to trigger the avalanche was a few consecutive misses or turnovers; Golden State scored so quickly and efficiently in its knockout runs that the smallest mistakes became painfully monumental. A tiny miscue would end in a quick sprint and a Klay Thompson three. A good shot that drew iron might wind up in the hands of Draymond Green and result in a coast-to-coast dunk. At the center of it all was Curry, cruelly stretching defenses beyond their structural designs. Standard pick-and-roll schemes were never meant to account for a player who could pull up from anywhere within halfcourt. Most defenders, too, have hardened their instincts to expect otherwise. It was in this Warriors season that the idea of a "bad shot" became truly and undeniably relative; Curry worked in mysterious and baffling ways, hitting shots that would get any other player benched and berated. The difference? He made them. Basketball so often requires the careful parsing of process from result, but in the case of Curry and the Warriors, the latter was so exceptional it became the former. Curry scored with such fury and such improbability that even the threat of his shooting created fertile opportunity.
Golden State exploited that threat to its fullest extent—freeing up Thompson, playing through Green, and finding wide-open shots for all of its complementary players. No game was out of reach. And no fundamental, it became clear, was quite crystalized. In their rigorous exploration of winning, the Warriors found every way possible to go from half-assed to brilliant in a heartbeat. They were just that much better than every other team in the league within the scope of the regular season. The Warriors at their best were the best team the league has ever seen. The Warriors at their worst threw foolish passes, played lazy defense, and still managed to blow out opponents. With that, one of the NBA's seemingly unbreakable records was broken and Curry punched through one of the most dominant individual seasons in basketball history, becoming the league's first unanimous MVP. — RM [READ MORE]
---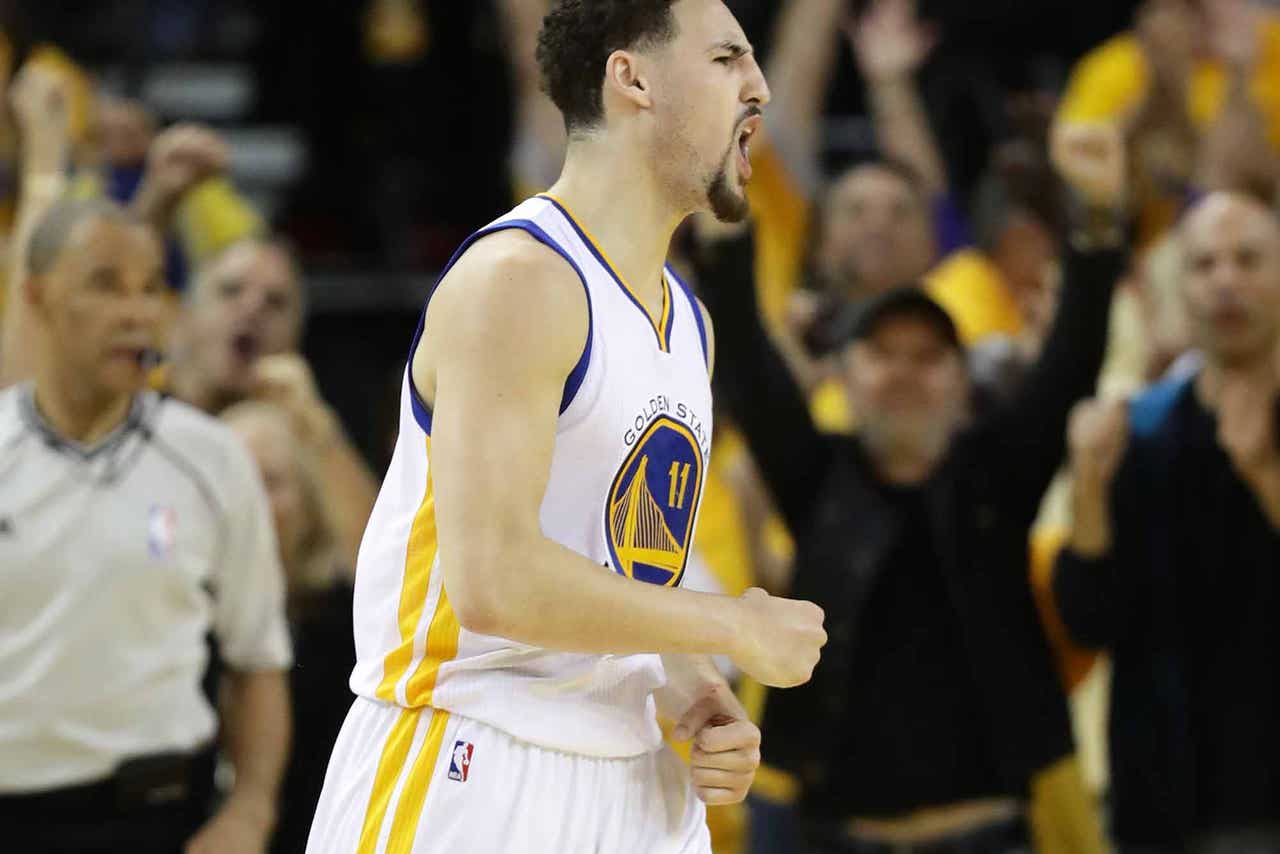 4. Klay Thompson swings West finals with record 11 three-pointers
History has a way of painting certain outcomes as inevitable, but let us never forget the wild swing that allowed the Warriors to return to the NBA Finals. A rematch between Golden State in Cleveland was by no means inevitable—not after the Thunder obliterated the Warriors in their first two home games of the Western Conference finals and returned to Chesapeake Energy Arena with a chance to ice the series. Instead, Klay Thompson caught fire. It all began with a slow-burn. A few off-ball screens freed up Thompson for a three on an inbound pass. A duck behind Andrew Bogut and a precise sidestep to create a moment of daylight. A Thompson screen for Shaun Livingston slipped to throw the defense into disarray. Warriors opponents have seen all of this before, but on this night the Thunder—an opponent playing at the top of its considerable defensive game—were powerless to stop it. Thompson ran to his spots, darted around screens, and cast aside defenders all night until he totaled 11 three-pointers and 41 points overall, including a go-ahead bucket in transition to give the Warriors the lead for good. There is being on fire, and then there is feeling yourself to such a degree that you're draining shots from just inside the halfcourt logo.
Oklahoma City was more brilliant in this game than most realize. Keeping pace with a performance like Thompson's (all while Curry added 31 points of his own) takes an amazing amount of firepower. The Thunder largely pulled it off despite Kevin Durant shooting 10-of-31 (credit Andre Iguodala, whose coverage was sensational) from the field and Russell Westbrook shooting 10-of-27. This was a tie game with roughly a minute and a half remaining—a Finals berth, a historic season, and the fate of two franchises all hanging in the balance. It was in that decisive stretch that the Thunder's playoff run was sealed, even if not officially concluded. The germ of an idea that Kevin Durant might actually leave Oklahoma City took root and was made real. All the while, Thompson knocked down playoff records and the Warriors, most importantly, survived. "If we win, that will be the game we remember," then-Warrior Harrison Barnes told Lee Jenkins. "That will be the best game of any of our lives."  — RM [READ MORE]
---
5. TNT's Craig Sager caps incredible career with first Finals broadcast
The warmth of Craig Sager turned a television into a gateway. It gave a sport of hardened coaches and testosteronic athletes an unexpected hospitality. His every appearance was inviting. Sager made a career out of serving as a constant reminder—from demeanor to sartorial choice—that basketball should be fun as hell, and from that came an energy that most everyone in and around the league wanted to be as close to as possible. 
It was only fitting, then, that one of the most memorable moments of Sager's final playoff run covering the NBA came by way of a door opening. The particulars of the NBA's broadcasting rights had left Sager, as a Turner employee, unable to cover the NBA Finals during his long career as a sideline reporter. Most playoff series are split up between Turner (broadcasting on TNT and NBA TV) and ABC (ESPN) on a rotating basis. The Finals, however, are exclusively an ABC affair—fit for a huge, national, prime-time audience. Turner and ESPN cut through that red tape to create an opportunity for Sager: The chance for a media legend, still deep in his battle with leukemia, to cross networks to cover Game 6 of the NBA's championship series. The fact that Sager's star was so bright as to overwhelm network competition and bureaucracy was a testament to his stature in the game. It was also a beautiful, poignant bit of career fulfillment for a man who unquestionably earned it. — RM [READ MORE]
---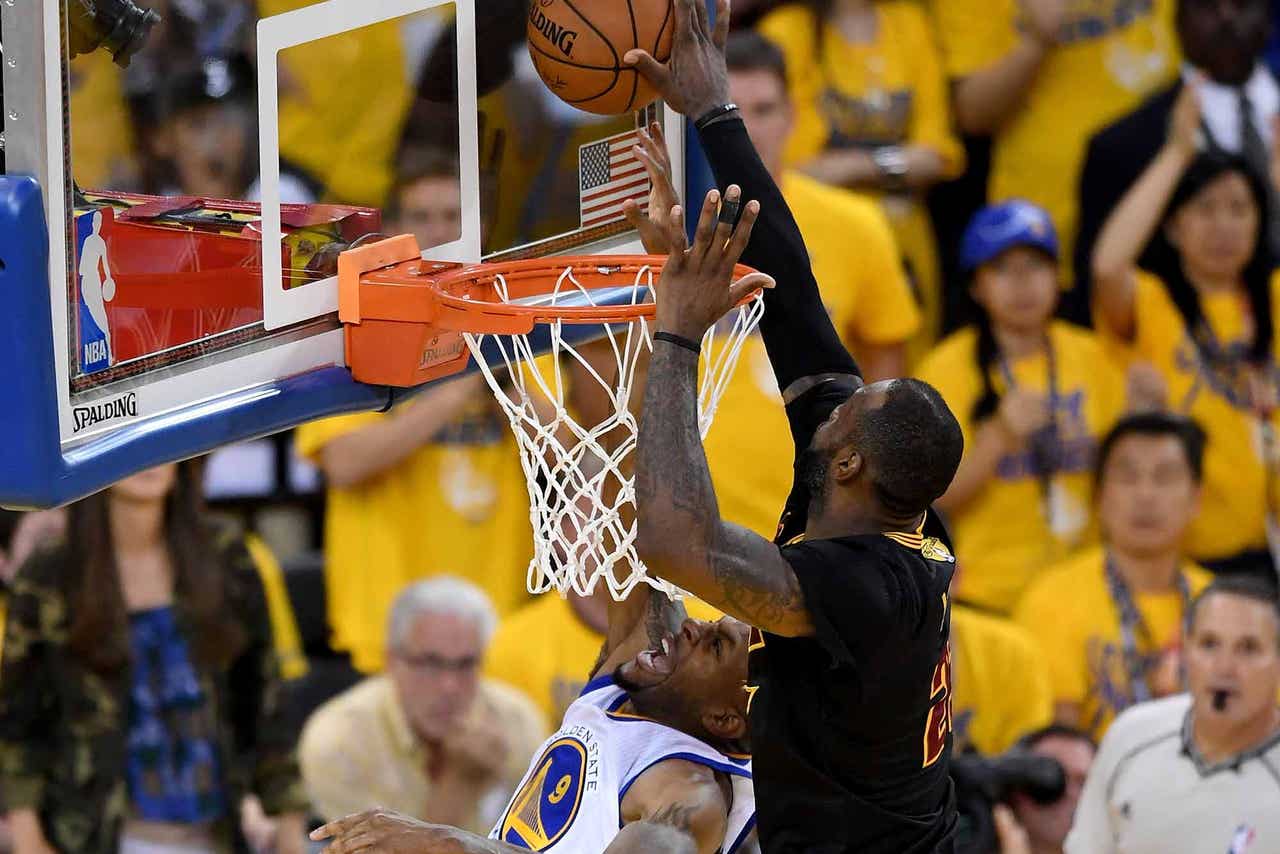 6. LeBron James completes NBA Finals comeback with "The Block"
Cleveland was on the precipice, down 3-1 in the Finals to a Golden State team that possessed an overwhelming home-court advantage and recent memories of winning the 2015 title. But then LeBron James, held in check early in the series, came alive, thanks to Draymond Green's "Groin Shot Heard 'Round The World" in the Game 4 and a healthy round of trash talk that ensued prior to Game 5. James' three closing performances—41/16/7 in Game 5, 41/8/11 in a Game 6, and 27/11/11 in Game 7—were all-timers, and he finished off the Warriors with one of the most memorable defensive plays in NBA history.
Tracking a Golden State fast break from well behind the play, James got up to full speed as he crossed midcourt and then eyed Andre Iguodala, who was trying to squeeze past J.R. Smith for a layup. When the moment was right, James jumped for a chasedown block with both arms outstretched, taking care to protect against a reverse layup. He eventually batted the ball against the backboard with his right hand, well above the rim, snuffing out what would have been a crucial basket and barely avoiding a goaltending violation. "The Block" reverberated in major ways: James clinched his third Finals MVP award, the Cavaliers won their first title in franchise history and completed the first comeback from a 3-1 deficit in Finals history, and the city of Cleveland ended a 52-year championship drought. In a subsequent Nike commercial, James referred to the swat as the "defining moment of his career." He was right. — BG [READ MORE]
---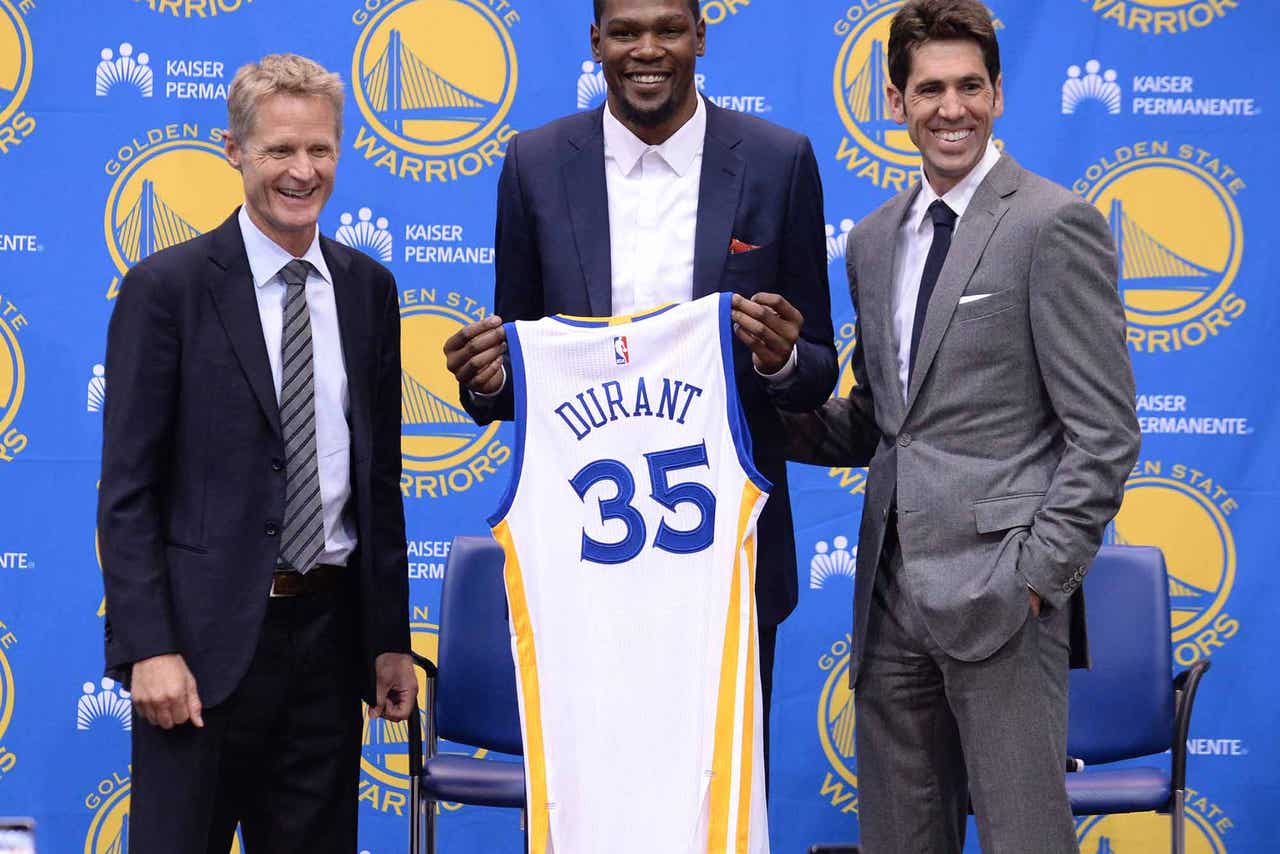 7. Kevin Durant swings NBA's power balance
Conventional wisdom dictated that Kevin Durant would respond to a heartbreaking collapse in the West finals by doubling down on his superstar partnership with Russell Westbrook and running it back with the only organization he had ever known. Instead, Durant set off the free agency fireworks on July 4, opting to leave Oklahoma City and join up with a Golden State team that was fresh off a record 73-win season. The reaction was instantaneous: Russell Westbrook posted a photo of a cupcake to imply Durant was soft, Thunder fans charged Durant with disloyalty and burned his jerseys, scattered critics bemoaned Durant's "If you can't beat them, join them" choice and the NBA's latest Superteam, and everyone else marveled at the potential of a Warriors lineup that would feature four All-Stars and two MVPs.
The "Summer of KD" continued in Rio, where Durant led USA Basketball to its third straight Olympics gold in convincing fashion. A tough Christmas Day loss to Cleveland notwithstanding, Durant's decision so far looks sound: Golden State is cruising, his fit has been seamless, and 2017 should provide his best shot yet at claiming his first ring. — BG [READ MORE]
---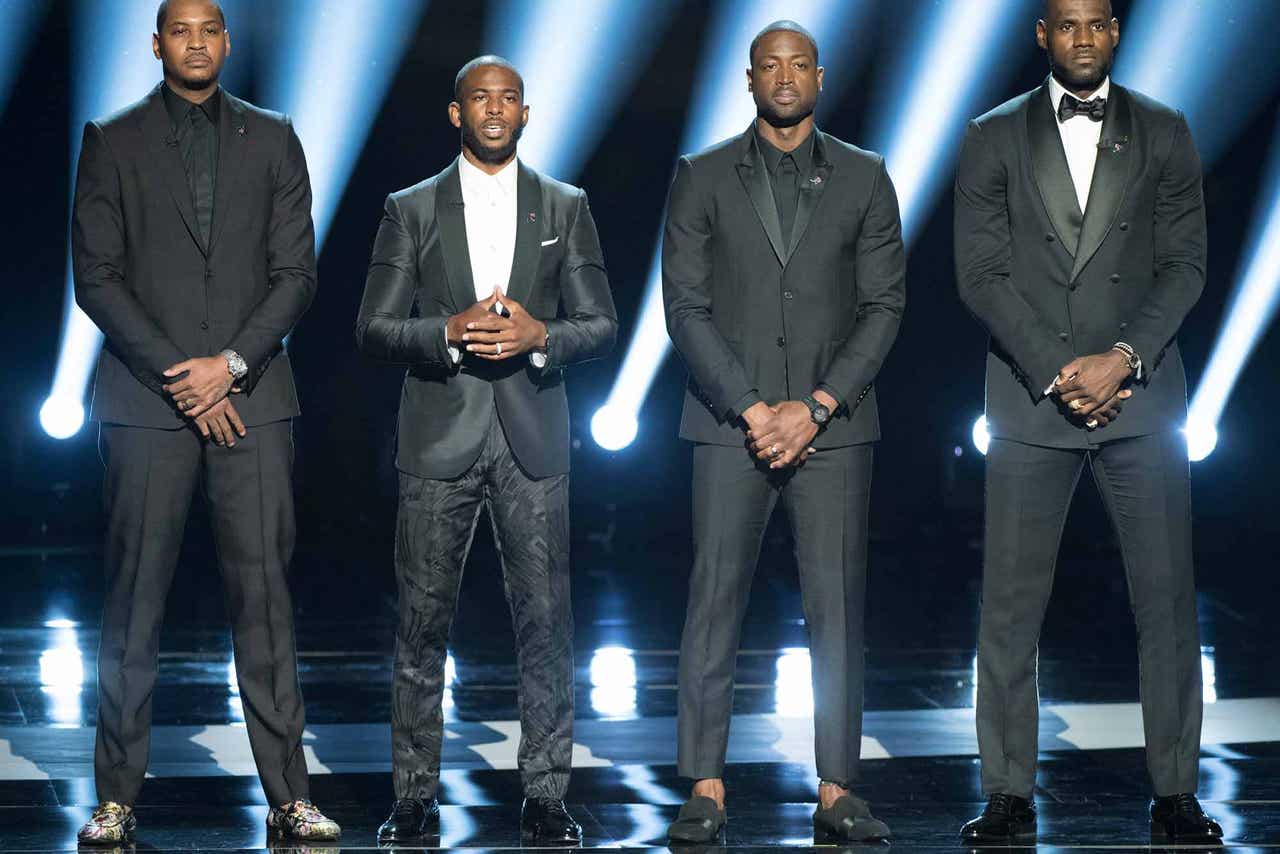 8. NBA stars make statement on ESPYs stage
Dressed in black suits and standing shoulder-to-shoulder, Carmelo Anthony, Chris Paul, Dwyane Wade and LeBron James formed a united front on the ESPYs stage, calling the sports world's attention to the issue of gun violence and calling on their fellow professional athletes to actively engage on social issues. In their shared speech, which was delivered after multiple high-profile officer-involved shootings over the summer, Anthony said that "the urgency to create change" was at an "all-time high," while Wade decried "the endless gun violence" and the devaluing of "black and brown bodies."
Paul and James saluted former athletes like Arthur Ashe and Muhammad Ali for their roles as activists, with James telling his colleagues in all sports that it's time to "renounce all violence" and to "go back to our communities [and] invest our time [and] our resources." Just six weeks later, Wade's cousin, Nykea Aldridge, was shot to death while she pushed a stroller in Chicago, providing a devastating reminder of how widespread these issues are, and how important it was for four prominent African-American athletes to take a stand. "Enough is enough," Wade tweeted after Aldridge's killing, repeating a phrase he had uttered at the ESPYs. "These young kids are screaming for help. We need more help and more hands on deck. Not for me and my family, but for the future of our world." — BG [READ MORE]
---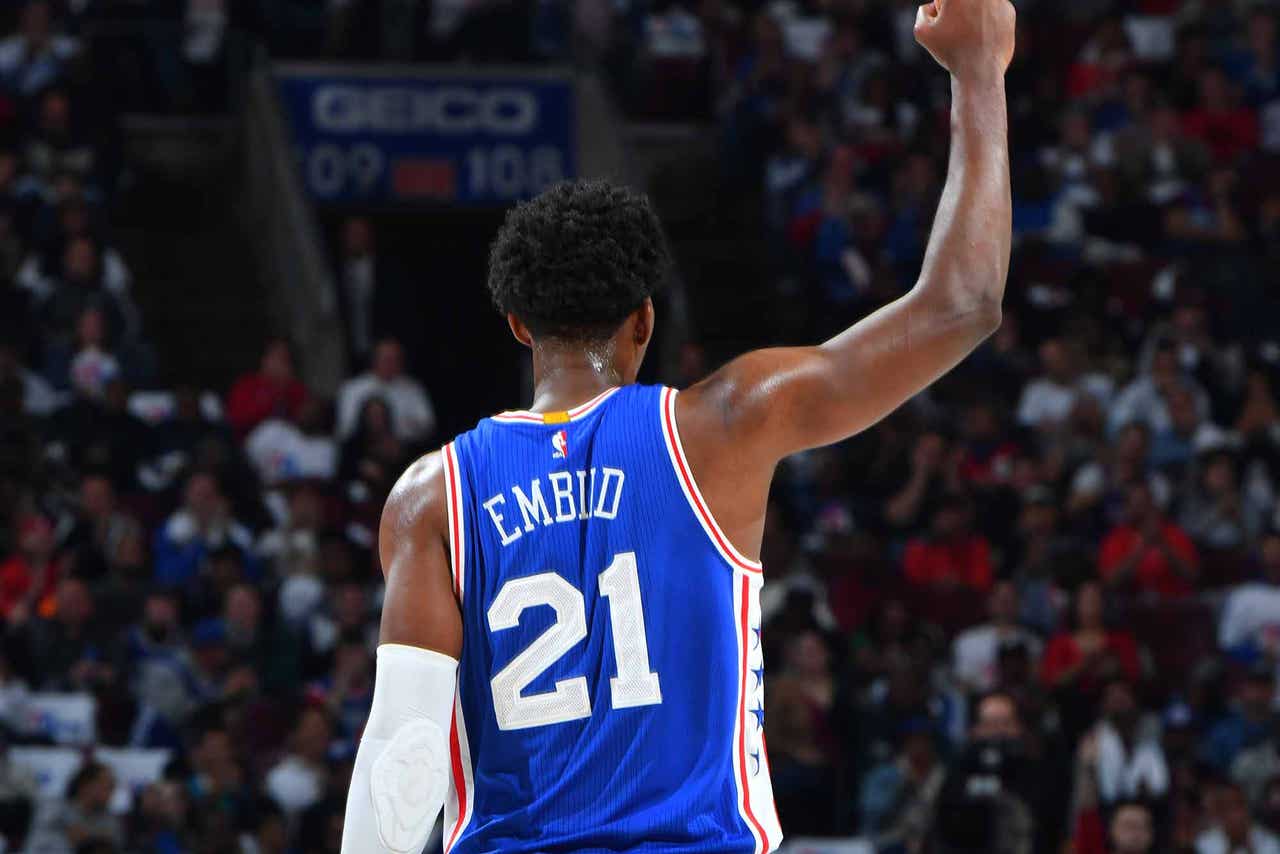 9. Joel Embiid impresses in long-delayed NBA debut
The first real Event of the 2016-17 NBA season was the appearance of a rookie two years overdue. Die-hards had pored over workout clips and preseason footage to assess the state of what was once a superstar prospect. But two years of injuries and setbacks allows for doubt to fester—in Embiid as much as in those hoping for his success. Any lost season is a long, lonely road. For Embiid, it stretched on indefinitely, dragging a bright, charismatic personality out of his comfort zone and into a world of unavoidable isolation. With no basketball to play, he stayed up late into the night flipping through League Pass and playing video games. "I was a vampire," Embiid told Lee Jenkins.
Embiid had the profile of a real-deal center, but just as important as his basketball credentials was the cost of making him a Sixer. Former Philadelphia general manager Sam Hinkie set his team about tanking in the most brazen fashion ever for the sake of landing a talent like Embiid. Culture wars were waged on the idea and its merits and Hinkie, upon what was essentially his firing, penned a sprawling opus to his years in Philly and the philsophy that guided them. There was so much preamble that Embiid's return to the court became essential viewing—all the energy of a regular-season opener wrapped in a full breadth of context.
It helped that Embiid's play was so clearly and immediately captivating. In 22 minutes, Embiid notched 20 points, seven rebounds, and two blocks. He attempted Dream Shakes and three-pointers. Embiid's long-awaited debut was The Process realized—all that the Sixers had waited for and all that Embiid had worked for. — RM [READ MORE]
---
10. Spurs honor Tim Duncan's career with jersey retirement
The Spurs go to great lengths to blanket over an organization of intelligent and interesting people with a cold, dull veneer. On Dec. 18, the light inside peeked through. One of the game's quietest giants sat smiling with his family as Spur after Spur regaled the crowd with the legend of Duncan—stories and praise earned over the course of a brilliant career. Kobe Bryant had his farewell tour and a riveting finale. Duncan, who had gone quietly into the night, had this. San Antonio wisely saved its celebration for after a regular season game (rather than at halftime) to let the moment breathe. 
[youtube:https://youtu.be/WaZSfGTeqhQ]
Breathe it did—in hugs, in laughter, in rushing emotion, and in what has to be Duncan's longest public address on record. — RM [READ MORE]
---
---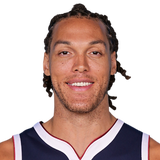 Get more from Aaron Gordon
Follow your favorites to get information about games, news and more
---