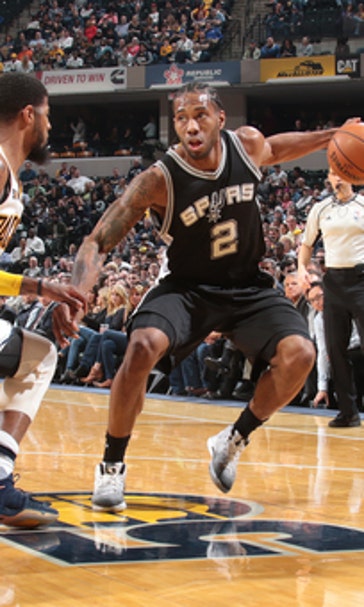 Spurs top Pacers for NBA-record 20th straight winning season (Feb 13, 2017)
February 13, 2017

INDIANAPOLIS (AP) Kawhi Leonard kept the faith Monday night.
Eventually, LaMarcus Aldridge came through, too.
Together, the new faces of the Spurs produced a familiar result - a 110-06 victory at Indiana for another milestone moment. With their 42nd victory, the Spurs extended their streak of consecutive winning seasons to a league-record 20.
''It was a heck of a competitive game,'' coach Gregg Popovich said. ''It was real physical and aggressive. I thought both teams played real well. I'm obviously thrilled with a win on the road. It could have gone either way.''
The Spurs have had a winning record every season since Tim Duncan was a rookie in 1997-98, this one coming after his retirement. Utah had set the record with 19 straight winning seasons from 1985-2004.
So, of course the Spurs did it their way.
They struggled early, gave away the lead in the fourth quarter after it looked like they might pull away and then had to grind it out with a 13-4 closing run after the Pacers retook a 97-94 lead with 4:08 left.
Leonard made 13 of 23 shots including two 3-pointers and finished with 32 points, six rebounds and four steals, including the one that sealed it. It was his fifth straight 30-point game.
''I'm just trying to win,'' Leonard said.
Aldridge, like most of the other Spurs, looked weary on the second game of a back-to-back. He finished 7 of 22 from the field with 19 points - roughly half coming in the final 6 1/2 minutes, when the Spurs needed everything he could muster to avoid losing consecutive games for the third time this season.
Paul George scored 27 points and Myles Turner had 22 for the Pacers, who have lost four straight - three on their home court.
They missed five free throws in the final 5:17 and turned the ball over after Turner came up with a steal with 29 seconds left in a four-point game.
George's 3 with 21 seconds left cut the deficit to 107-104, but the Spurs closed it out at the free-throw line to rebound from their loss in New York on Sunday.
''San Antonio played San Antonio ball,'' George said. ''They screen, they move the ball. I thought we had great looks and an opportunity to win this game, multiple occasions to pull away. But at the end of the day, they played San Antonio basketball.''
TIP-INS
Spurs: Leonard also extended his streak of double-digit scoring games to 84, the longest streak by a San Antonio player since Duncan's 91-game streak ended in 2003. ... Danny Green, Tony Parker and David Lee each scored 12 points and Dewayne Dedmon had six points and 12 rebounds. ... San Antonio was 23 of 27 from the free-throw line. ... Popovich earned win No. 1,031, moving within 24 of Phil Jackson for sixth in league history.
Pacers: Jeff Teague had 15 points, Rodney Stuckey finished with 13 and Kevin Seraphin had 12 in his first start of the season. ... Indiana has lost eight of its last nine home games against San Antonio. ... The Pacers were 21 of 30 on free throws. ... Starting forward Thaddeus Young sat out again with a sprained left wrist. ... C.J. Miles made one 3 to move within two of Mike Dunleavy (408) for No. 7 in the franchise's NBA history.
ADDING PERSPECTIVE
The Spurs aren't just rewriting the history books in one category.
Since joining the NBA in 976, the Spurs have the highest winning percentage of any team at .623. They are one percentage point behind the New England Patriots (.713) for the best winning percentage of any team in the four major sports leagues since 1997, and at this pace, they could extend their NBA record of consecutive seasons holding opponents to fewer than 100 points to 22. No other team has done it more than 18 seasons.
MAN-TO-MAN
Popovich acknowledged afterward that he thoroughly enjoyed watching the head-to-head matchup between Leonard and George.
''At times, you had to slap yourself watching those guys guard each other and do what they do out there because they are so much fun to watch,'' Popovich said.
George enjoyed it, too.
''Good friend, good matchup,'' he said.
UP NEXT
Spurs: Will make their sixth stop on an eight-game road trip at Orlando on Wednesday.
Pacers: Will try to avoid a sixth consecutive loss at Cleveland on Wednesday.
---
---