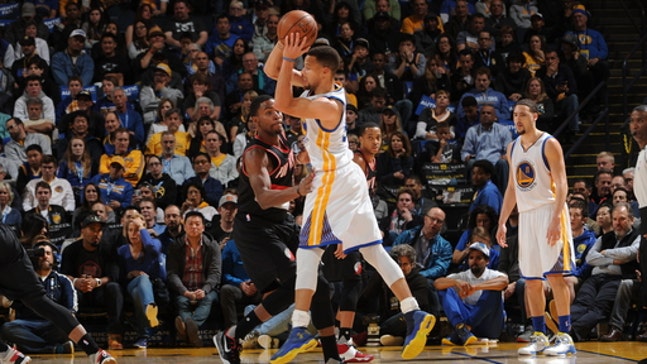 Splash Bros. combine for 71, Warriors get payback vs. Blazers
Published
Mar. 12, 2016 1:13 a.m. ET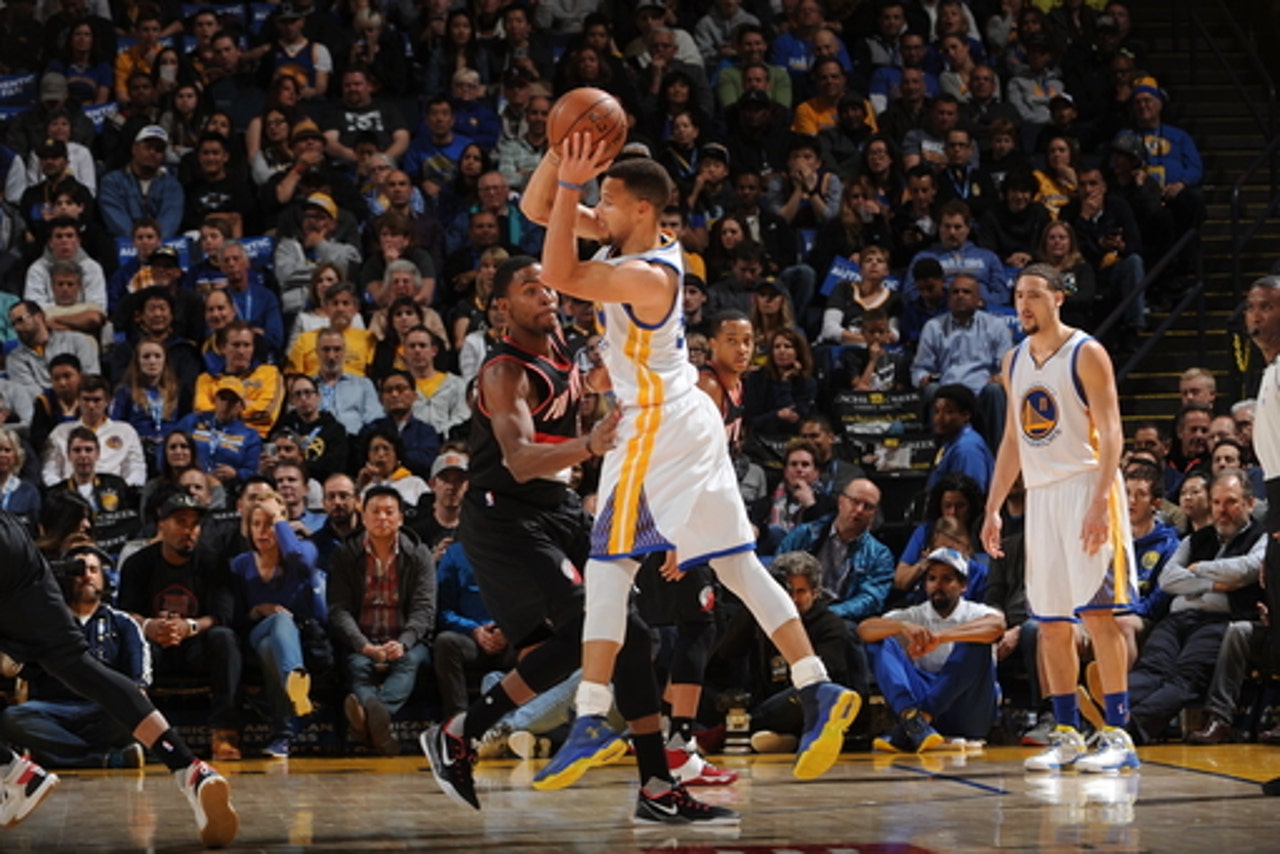 OAKLAND, Calif. — The Splash Brothers had no plans of letting Damian Lillard steal the 3-point spotlight this time.
That embarrassing defeat in Portland less than a month ago was still fresh in their memory.
Stephen Curry scored 34 points, Klay Thompson had 37 and the Golden State Warriors avenged their worst defeat of the season by beating the Trail Blazers 128-112 on Friday night, extending their record regular-season home winning streak to 47 games.
"I don't think there was revenge," coach Steve Kerr said of the Blazers, "I think there was respect."
Curry and Thompson combined to shoot 15 for 25 on 3-pointers and went 26 of 45 overall, with Thompson joining Curry as the only players with 200 3s in four straight seasons. They scored 30 or more points in the same game for the sixth time in their careers.
"Klay came out blazing. Me, not so much," Curry said. "It took me a while to get into it. He brought a lot of energy on both ends of the floor. We kind of fed off of that. It was a huge pick up considering how poorly we played against them last time."
Draymond Green added 17 points, 13 rebounds and seven assists while making all nine of his free throws.
CJ McCollum scored 18 points and Portland topped the defending champions with 19 3s to Golden State's 18 as the teams combined for the most 3s in NBA history — on 37-for-76 shooting.
From the tip, the defending champion Warriors were out to bury the Blazers after an embarrassing 32-point defeat in Portland last month coming out of the All-Star break. Golden State lost 137-105 at Portland on Feb. 19 — its largest margin of defeat since a 39-point setback to Denver in 2012 — before an impressive seven-game winning streak.
Curry scored 18 of his points in the opening period after going scoreless in the first two nights earlier against Utah, helping the Warriors improve to 29-0 at Oracle Arena this season.
On Monday, Curry became the first player in NBA history with 300 3s in a season and his seven against the Trail Blazers pushed his total to 311.
Damian Lillard returned to his Oakland roots to score 17 points on 5-of-19 shooting for Portland after missing 15 of his first 17 shots. Lillard made four 3-pointers and has the most 3s of any player in his first four seasons, topping Thompson's 784.
Playing in his hometown, it was a far cry from how he lit up the Warriors for a career-high 51 points in that February rout.
"He just had a great game last time we played them," Thompson said. "I just try to take away that 3 ball. He's got range like Steph."
He was averaging 45.5 points on 54.5-percent shooting and 8.5 assists in the first two meetings and missed scoring 20 or more points in a fifth consecutive game against Golden State.
The first half was a quite an offensive display by both teams. Portland scored 61 points and still trailed by 20 at intermission.
"The final boxscore doesn't tell the story of the game. It's an interesting boxscore," Blazers coach Terry Stotts said.
Andre Iguodala hit two quick 3-pointers midway through the second quarter as the Warriors connected on 10 of their first 16 3-pointers and 14 of 25 by halftime.
STEPH COMPARISONS
Kerr stopped Lillard after the game with kudos.
"I just told him how much I respect him and how proud Oakland is of him," Kerr said.
Lillard was so good against Golden State the last time it prompted Kerr to say, "He looked like Steph Curry out there."
"Honestly, I really appreciate it," Lillard said before the game. "I forget who I said it to earlier this week, I loved Steve Kerr growing up with Bulls and with the Spurs. My second All-Star game in New York, he was the coach. I really appreciated his speech to the team before the game, how he took the time to learn about each player."
TIP-INS
Trail Blazers: Portland is 5-18 on Golden State's home floor since the beginning of the 2003-04 season. ... The Blazers still must come back to Oracle Arena on April 3.
Warriors: X-rays on Iguodala's sprained left ankle were negative. He is questionable for Saturday's game. ... The Warriors matched their season low with eight turnovers. ... Curry has scored 20 or more points in 10 straight games against the Blazers. ... Golden State beat Portland at home for the third straight meeting.
UP NEXT
Trail Blazers: Host Orlando on Saturday.
Warriors: Host Phoenix on Saturday.
---
---