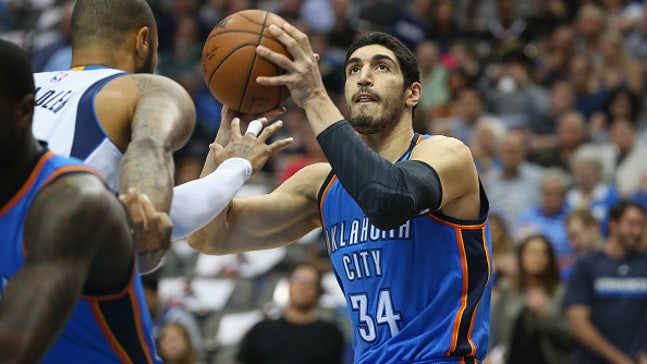 Report: Kanter signs 4-year, $70M offer sheet from Blazers
Published
Jul. 10, 2015 1:54 a.m. ET

The Portland Trail Blazers are forcing the Oklahoma City Thunder to make a big decision with center Enes Kanter.
The Blazers have signed Kanter to a four-year, $70 million offer sheet, a person with direct knowledge of the situation told The Associated Press. The person spoke on condition of anonymity because the Trail Blazers did not announce the terms of the offer.
Kanter is a restricted free agent, which leaves the Thunder three days to decide whether they will match the offer and retain their big man or let him go to Portland.
Oklahoma City acquired Kanter in a trade with the Utah Jazz last season, and the fourth-year pro averaged 18.7 points and 11.0 rebounds in 26 games down the stretch with the Thunder. It had been widely assumed that Thunder GM Sam Presti would match any offer for Kanter, but Portland GM Neil Olshey is putting that to the test.
The Blazers have more than enough cap room to make the offer to Kanter after All-Star forward LaMarcus Aldridge left in free agency for San Antonio, center Robin Lopez signed with the New York Knicks and shooting guard Wesley Matthews went to Dallas.
Olshey has tried to quickly pivot after losing the face of the franchise in Aldridge. He added Al-Farouq Aminu, Ed Davis and Mason Plumlee to the frontcourt and signed point guard Damian Lillard to a five-year max contract extension that cements him as the new focal point in Portland.
The Thunder are under a different kind of pressure with star forward Kevin Durant set to become a free agent in 2016. There is pressure on Presti to surround Durant with the talent necessary to compete in the powerful Western Conference and convince their centerpiece to remain in Oklahoma City for the long term.
But matching the massive offer will push the small-market Thunder well over the luxury tax line and send the total payroll skyrocketing past $120 million. That's a big number for a franchise that let star guard James Harden leave in part because of the costs it would have incurred to retain him, but Presti told The Oklahoman that they fully intended to match.
''Enes expressed his desire to be a part of the Thunder in our meeting with him yesterday and we have planned in advance should he receive an offer such as the one that has been reported,'' Presti told the newspaper.
---
---