Rudy Gobert
Rudy Gobert
Raptors-Jazz Preview
Published
Nov. 18, 2015 2:26 a.m. ET

The Utah Jazz certainly aren't celebrating their .500 start, though staying even could be considered an accomplishment considering their brutal early schedule.
Playing back in Salt Lake City for only the third time, the Jazz will try to start making some headway as they begin a stretch with 16 of 23 at home Wednesday night against the Toronto Raptors.
After winning 13 of its last 19 at home and 26 of its final 42 overall in 2014-15, Utah hoped to carry some of that momentum into a strong start this season.
The club, however, faced an uphill battle from the start with eight of its first 10 games on the road. After dropping the first three by a total of 14 points, the Jazz closed out a four-game trip with Sunday's 97-96 victory at Atlanta.
Derrick Favors led the way with 23 points, Rodney Hood scored 20 after missing one game with a sore foot and Alec Burks added 18 off the bench as Utah shot a season-high 51.3 percent. Favors and Hood combined to score 32 in the second half.
Rudy Gobert had 11 points and a game-high 11 rebounds in his return after missing two games with a sprained left ankle. The French native also played with a heavy heart in his first game since the terrorist attacks in Paris two days earlier.
''I was happy to see him play that way, especially considering the circumstances,'' coach Quin Snyder said. ''It was an emotional day for him.''
Gordon Hayward will try to get back on track after finishing with a season-low seven points. He had scored 19.0 per game over his previous six, but has averaged just 12.0 on 30.6 percent shooting in his past three meetings with Toronto.
Snyder says his club found "an identity last year on the defensive end" by allowing an NBA-low 94.9 points. He believes Utah can still improve in that area this season despite ranking among the league's leaders with 91.8 points allowed per game.
The Jazz, however, have surrendered an average of 110.8 points while dropping four consecutive meetings with the Raptors (7-5) by 19.0 per game.
DeMar DeRozan has averaged 24.4 points in his last five matchups, though he did not play in a 123-104 win Dec. 3 in Salt Lake City. Backcourt mate Kyle Lowry picked up the scoring slack with a career-high 39 in that contest.
The All-Star guard is playing well heading into this meeting, averaging 23.2 points while hitting 16 of 38 (42.1 percent) from 3-point range over his last five games. Lowry and DeRozan finished with 28 points apiece and DeMarre Carroll added 17 with six steals Tuesday when Toronto threatened unbeaten Golden State before falling 115-110 for its fifth loss in seven games.
Coach Dwane Casey, though, is staying positive following back-to-back losses to open this five-game trip.
"We have something good going," he said. "Our guys competed. We play like that in any game and we're going to give ourselves a chance to win."
Toronto ranked sixth in defensive scoring (95.1) through seven games, but has surrendered 103.4 points per game in its past five. The club also allowed Sacramento and Golden State to shoot a combined 52.6 percent in the first two on the road swing.
---
---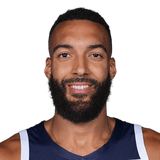 Get more from Rudy Gobert
Follow your favorites to get information about games, news and more
---