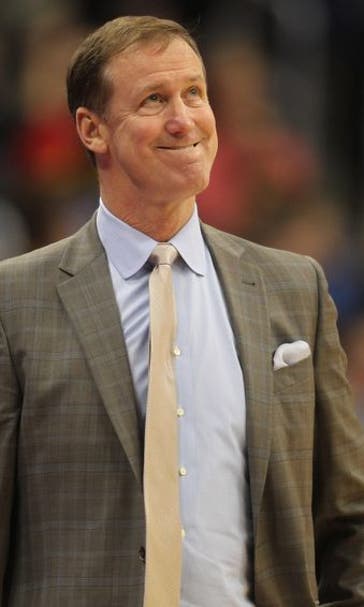 Portland Trail Blazers coach Terry Stotts rips George Karl (Video)
December 28, 2016

Fansided, Brad Berreman/Fansided
Former NBA head coach George Karl is trying to sell copies of his upcoming book, but criticizing one of Terry Stotts' players did not sit well with the Trail Blazers coach.
Former NBA head coach George Karl has written a book that will hit store shelves soon, and based on the excerpts that have been released he is intent on leaving a trail of scorched Earth. His most recent subject of criticism is Portland Trail Blazers point guard Damian Lillard, via a Q &A with New York Magazine.
Here's what Karl had to say about Lilliard
"I was watching the Portland Trail Blazers play, and I was trying to figure out what the hell is wrong with this team?" Karl asked. "My conclusion is that Damian Lillard is getting too much attention."
"I think their coach, Terry Stotts, is a great coach," said Karl, whom Stotts has often credited as his coaching mentor. "So I'm going to say the problem is Lillard. They were a together, connected, committed team last year. This year, they're not. What changed?"
Prior to Wednesday night's game against the Sacramento Kings, Trail Blazers head coach Terry Stotts was asked about Karl's criticism of Lillard. To say the least, he was none too pleased.
It's hardly surprising that Stotts defended Lillard the way he did, and he also hinted at playing for Karl in the CBA while crediting Karl for his start in coaching. Stotts served as an assistant to Karl with the Seattle Supersonics (1992-1998) and the Milwaukee Bucks (1998-2002) before landing his first NBA head coaching job with the Atlanta Hawks.
Lillard is a visible young star, and he has dabbled in music as a hip-hop artist with an album recently released. That kind of thing surely doesn't sit well with an old-school guy like Karl, who is assuring himself of no further coaching opportunities with each passing day.
More from FanSided
This article originally appeared on
---
---