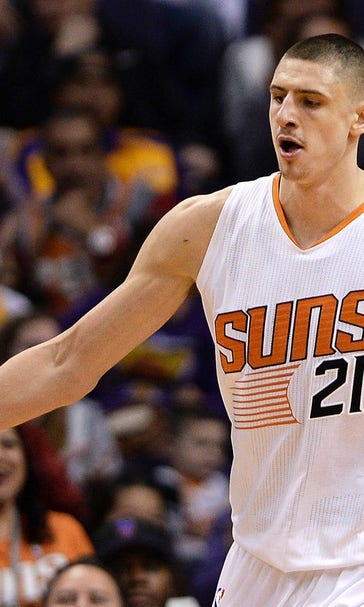 Phoenix Suns C Alex Len's height helped save his friend from drowning
May 6, 2016

There are times when it comes in handy to have a friend who is a 7-foot-1 basketball player. Phoenix Suns center Alex Len used his height and his strength as a swimmer to rescue his friend, Jay Johnson, when Johnson nearly drowned on a trip to the Dominican Republic last month.
According to a story from The Arizona Republic, Len, Johnson and a few friends hit the beach in the Dominican on their final day of a vacation there despite warnings from locals that bad weather was creating dangerous tides. The basketball player went for a swim and had just returned to their chairs when Johnson decided to check out the water too. He originally was just going to get his feet wet but then decided to jump into a wave because the water was cold.
That's when it all went wrong. Johnson told the paper that he jumped into three waves before he looked back to the beach and realized he was already about 40 yards out from the shore. He attempted to swim back, but the waves were so strong that Johnson did not make any progress toward the beach.
Johnson called for help, and while Len at first said he thought it was a joke, he told the paper he quickly realized based on the sound of Johnson's voice that Johnson was in trouble. Len did not hesitate; he immediately dove into the sea to rescue his friend.
Via The Arizona Republic:
"By the time I got to him, he was halfway passed out," Len said of Johnson, whose arms were exhausted as his legs cramped. "He couldn't swim. He wasn't moving. If I would've come a couple minutes later, he probably would've drowned."
Len is a strong swimmer. He told the paper that his basketball training routine includes 90-minute non-stop swims, but this was no training swim.
The sea waves continued to knock Len deeper into the water as he held onto Johnson, repeatedly going underwater to lift his 6-foot, 200-pound friend's listless body above the water.
Len and Johnson drifted close to a public beach where a lifeguard with a flotation device spotted the pair and attempted to come to their rescue. But the seas were so rough that day that once the flotation device was attached to Johnson, the lifeguard was not strong enough to tow him back to shore.
It was Len who managed to get all three of them to the beach.
Len, whose leg strength is tops among the Suns, grabbed the rope and powered them toward the shore, going underwater and pushing off the seabed.
"I was panicking at some point too," Len said. "You're putting all of your energy into it and it's taking you back."
Eventually, Len could stand with his head above water to walk the pair in. Len said the rescue lasted about 10 minutes. They carried Johnson to their room. He skipped his scheduled flight but felt better by dinnertime, when a hotel security guard told him, "If he wasn't as tall as he was, we'd be digging out your body."
According to The Republic, the story was only made public because Johnson felt that fans should know about it. Len told the paper he does not believe he is a hero. He said he was just trying to help his friend.
---
---