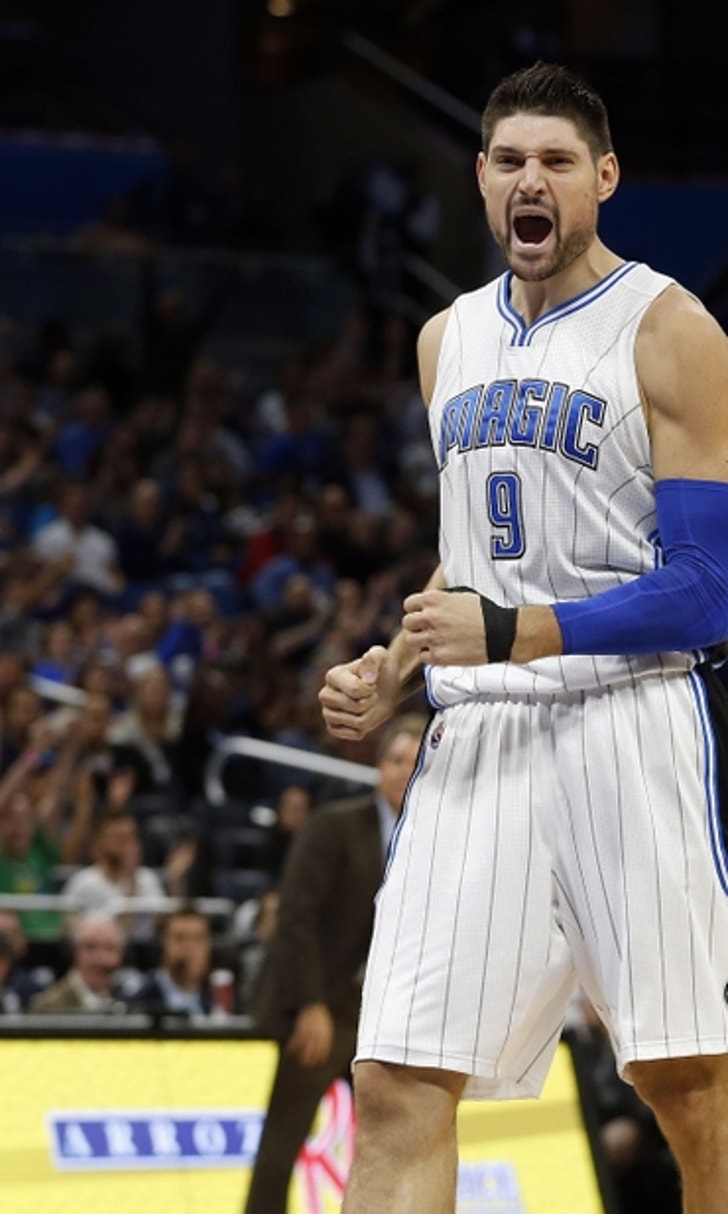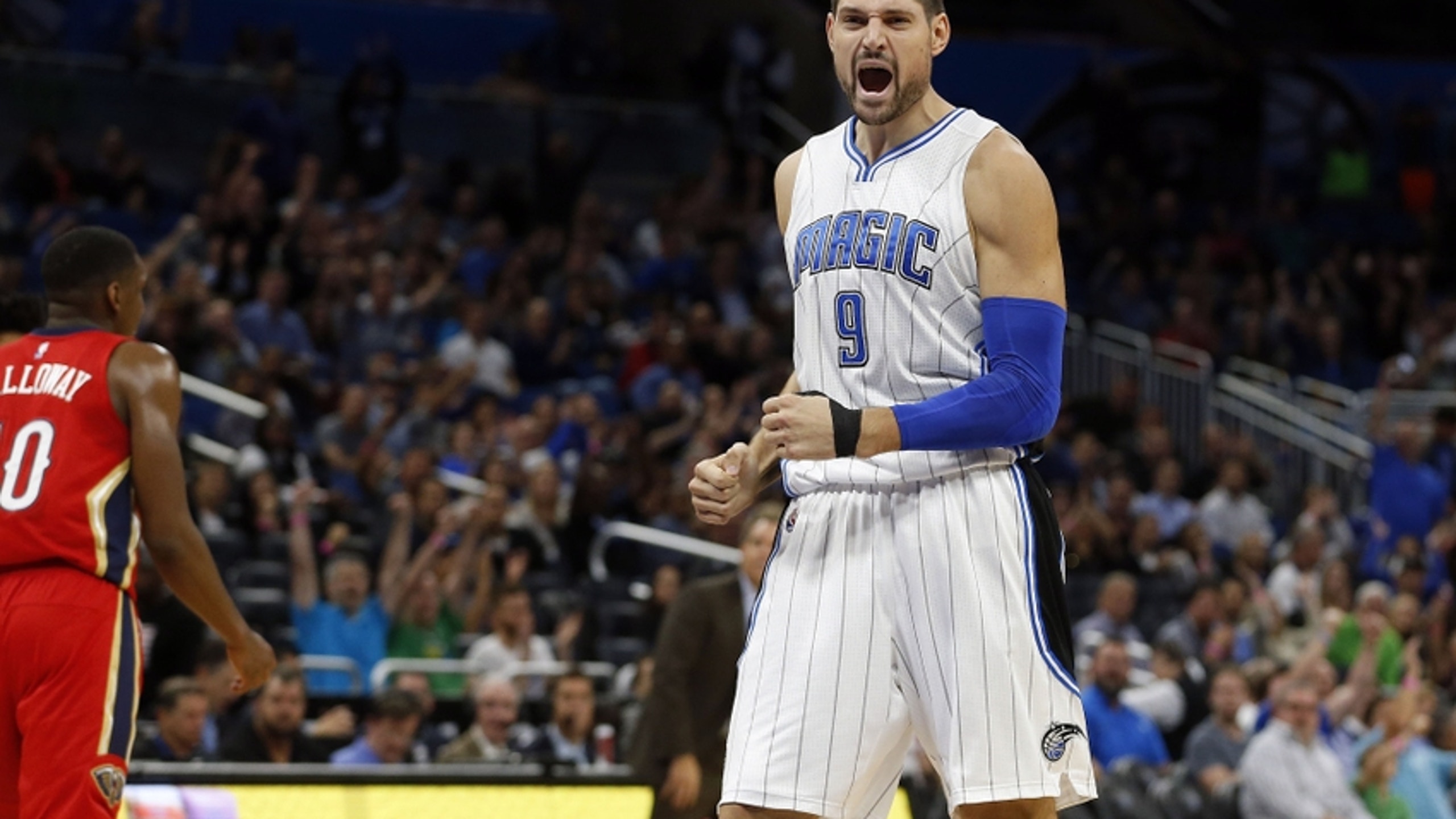 Nikola Vucevic is the Orlando Magic's first-quarter MVP
BY Fansided and Ricky Scricca/FanSided via Orlando Magic Daily • December 14, 2016
Nov 16, 2016; Orlando, FL, USA; Orlando Magic center Nikola Vucevic (9) celebrates after scoring against the New Orleans Pelicans during the second half at Amway Center. The Magic won 89-82. Mandatory Credit: Kim Klement-USA TODAY Sports
In an otherwise rocky start to the Magic's season, Nikola Vucevic has shined through with his wide-ranging scoring acumen and improved defense.
It has been a rocky road for the Orlando Magic so far this season. For every reason for optimism, there sometimes seems to be at least one or two more for cynicism.
But for all the struggles, tribulations, and question marks, Nikola Vucevic has shined through as the team's clear first-quarter MVP.
His already-strong scoring acumen has grown even more. His defense has surpassed even the wildest expectations. And some of the Magic's most important players consistently benefit from his presence on the floor.
Vucevic's statistics are not eye popping. In many categories he is not near his career best or the team lead.
He is averaging a mere 12.2 points per game and shooting 43.5 percent from the floor. Those are both lows in his time with Orlando. It would suggest Vucevic is not performing up to his standards.
Yet, he is doing things that are not quite easily quantified. He is averaging 11.0 rebounds per game, pulling in a career-high 21.6 percent total rebound rate and 33.7 percent defensive rebound rate. His defensive metrics are also looking strong.
If a MVP can be defined as the player who contributes the most all-around value to a team, it is hard to argue against Vucevic's performance thus far. The fact it was
Feb 3, 2016; Oklahoma City, OK, USA; Orlando Magic center Nikola Vucevic (9) shoots the ball over Oklahoma City Thunder center Enes Kanter (11) during the second quarter at Chesapeake Energy Arena. Mandatory Credit: Mark D. Smith-USA TODAY Sports
Nikola Vucevic's ever-expanding offensive game
Not only has Nikola Vucevic established himself (if he was not already) as the Magic's best scorer, but he also takes on a good chunk of the team's total points volume while still maintaining outstanding efficiency.
Per NBA.com, Vucevic takes 25.4 percent of the team's shots when he is on the floor, good for the highest rate on the team. His usage rate of 23.6 is also the highest among Magic players with more than 16 games played.
His Player Impact Estimate of 15.1 is also the highest on the team by a considerable margin.
Although they are just numbers, those stats clearly indicate Vucevic is the Magic's most important offensive player.
Not to mention, the guy is averaging a double-double — largely coming off the bench.
He is one of four players (Hassan Whiteside, Andre Drummond, Dwight Howard) in the league with 20 or more games played averaging 20 or more points and 19 or more rebounds per 100 possessions.
Moving away from the numbers, Vucevic has looked as strong as ever offensively. He can beat his defenders in so many ways: spin moves, fadeways, post-ups, pick-and-pop jumpers and even the three-ball now.
Having expanded his range even further, he has become even more of a problem for defenders.
They can either play him close and risk a spin move or drive to the basket, or they can ease back to defend closer to the basket and give him space to hit a jumper.
His offense has been relatively steady whether he has started or whether he has come off the bench, despite his low shooting percentage. Now that he has gotten going, Vucevic has proven to be a key difference maker offensively.
If Enes Kanter is in the sixth man of the year conversation, there is no question Vucevic should be too if he continues to run with the second unit — off the bench, he averages 13.0 points and 10.0 rebounds per game off the bench.
Offensively, Vucevic has only gotten better regardless of his role on the team. His increasing versatility has made him a lynchpin for a confusing roster that needs experimentation to grow.
Nov 3, 2016; Orlando, FL, USA; Sacramento Kings center DeMarcus Cousins (15) looks to pass the ball in the first quarter as Orlando Magic center Nikola Vucevic (9) and forward Serge Ibaka (7) defend at Amway Center. Mandatory Credit: Logan Bowles-USA TODAY Sports
Vucevic's improving defense
Defensively, Vucevic has often been considered a liability. In the first quarter of this season, he has flipped that assumption on its head.
Although his shot-blocking numbers are down (possibly because of Bismack Biyombo and Serge Ibaka eating up opportunities), Vucevic has shown serious improvements in many areas of defense.
As a result, the team allows around seven fewer points per 100 possessions with him on the floor than they do with him on the bench, according to NBAWowy.
Vucevic's defense has actually dropped opponents' field goal percentage almost four percentage points below their average, good for the second-best differential on the Magic.
His defense is not quite "elite," but he has shown some great flashes.
Here, Vucevic successfully switches onto Bradley Beal, stays in front of the speedy guard when he drives, blocks the passing lane to Beal's roll man Marcin Gortat, forces Beal into a tough, contested floater, and then blocks the shot.
In this clip, Vucevic again displays solid footwork to prevent an easy transition bucket.
These were not things Vucevic did consistently in previous years. He appears to be doing them now and has been one of the Magic's most consistent defensive players.
Although Vucevic has not necessarily made any significant improvements defending other big men, both of those videos are great examples of how he is able to compensate for that with versatility.
Because of that improving versatility, Vucevic has been an excellent complement to the team's stronger post defenders in Serge Ibaka and Bismack Biyombo.
Nov 25, 2016; Orlando, FL, USA; Washington Wizards center Marcin Gortat (13) reaches for the ball against Orlando Magic center Nikola Vucevic (9) during the first quarter of an NBA basketball game at Amway Center. Mandatory Credit: Reinhold Matay-USA TODAY Sports
Making his teammates better
Not only has Vucevic improved on both ends of the floor, but also, simply put, he makes his teammates better.
If the Magic are counting on Aaron Gordon to become a franchise player, they should also be counting on Vucevic to be right there with him.
Whether Aaron Gordon gets to play his natural position or not, he benefits from Vucevic's presence.
Gordon is best when he gets to play close to the basket – this allows him to catch lobs, slam putbacks and post up smaller defenders.
Here, Gordon gets the most out of his incredible athleticism.
Having a player who can draw bigs out of the paint, like Vucevic, is more than necessary if the Magic want to let Gordon play to his strengths.
There are numbers to support this, too. According to NBAwowy.com, with Vucevic on the floor, Gordon is able to take around 12 percent more of his shots within 3 feet of the basket.
Elfrid Payton benefits from Vucevic's skills similarly.
One of the most effective wings in the league when he gets to drive the ball inside, having Vucevic stretch the floor lets Payton drive more often and generate more points per shot.
With Vucevic on the floor, Elfrid Payton exactly creates more points per shot on drives than even James Harden or Russell Westbrook, according to NBAWowy.
There is obviously a difference in sample size there, but those comparisons should just go to show 1.4 points per shot is nothing to scoff at.
Here is a perfect example of how Vucevic benefits Gordon.
Dario Saric and Richaun Holmes are forced away from the basket to guard Vucevic and Ibaka (another strong shooter). So Gordon is allowed to exploit a mismatch against the smaller Gerald Henderson for a putback layup.
On this play, Vucevic forces Roy Hibbert away from the rim allowing Payton to take Frank Kaminsky, a weaker defender, 1-on-1.
If the Magic want their current young franchise cornerstones to thrive, Vucevic's value cannot be understated.
No other player on the team has offered such consistently important contributions on both ends of the floor. That is why he is the Magic's undisputed first-quarter MVP.
More from Orlando Magic Daily
This article originally appeared on
---
---