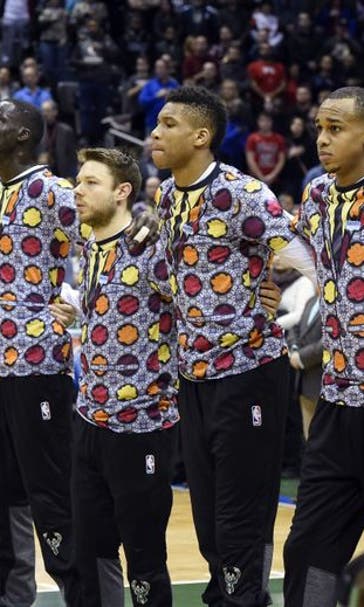 Milwaukee Bucks pay tribute to Craig Sager
December 15, 2016

Fansided, Sarabeth Pollock/Fansided
Legendary sports sideline reporter Craig Sager passes away at the age of 65; the Milwaukee Bucks pay tribute with colorful warm-up jerseys.
When news broke Thursday afternoon that reporting legend Craig Sager lost his battle with leukemia, the reaction was felt all over the sports world. Athletes and coaches from all leagues and teams posted messages of condolences and fond memories of the man on the sidelines with the unmistakable colorful suits. The Milwaukee Bucks took their celebration of Sager's life to the next level with colorful warm-up jerseys that resemble Sager's trademark suits.
The Bucks were scheduled to play the Chicago Bulls on TNT, Sager's longtime network, when news of Sager's passing broke. To commemorate his passing and celebrate his life, the entire Bucks team came out to warm up wearing jerseys made to look like suits, with a yellow shirt and black tie, and a coat full of brightly colored basketballs.
Even the Bucks' cheerleaders got in on the celebration of Sager's life, wearing the same shirts as the players.
Sager was much beloved around the NBA, and the story of his fight with cancer inspired players and fans alike.
Earlier in the day, TNT president David Levy released a statement about this huge loss to the Turner family: "While he will be remembered fondly for his colorful attire and the TNT sideline interviews he conducted with NBA coaches and players, it's the determination, grace and will to live he displayed during his battle with cancer that will be his lasting impact. Our thoughts and prayers are with Craig's wife, Stacy, and the entire Sager family during this difficult time. We will forever be Sager Strong."
Sager was diagnosed with acute myeloid leukemia in 2014 and was able to knock the disease into remission after aggressive treatment. However, he revealed earlier this year that the disease had returned. Sager was inducted into the Sports Broadcasting Hall of Fame only a few days ago.
More from FanSided
This article originally appeared on
---
---