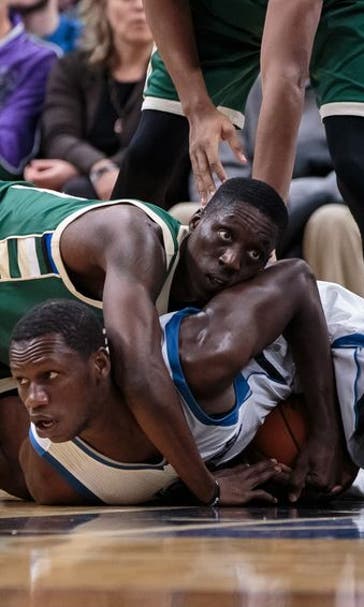 Milwaukee Bucks Daily: Bucks Fall Short With Delly Out Injured
December 31, 2016

Fansided, Adam McGee/FanSided via Behind the Buck Pass
The latest Milwaukee Bucks Daily is here as the Bucks lost the first of a couple of games they'll face without point guard Matthew Dellavedova.
Welcome back to Milwaukee Bucks Daily.
If this is your first time joining us for the daily roundup, the idea of this piece is generally to help keep you up to date on the best of all the latest Bucks news on a day-to-day basis.
This column acts as a means to recap what you might have missed from us at Behind The Buck Pass on the previous day, but also more importantly to share with you some of the work from around the internet that is worth your attention as a Bucks fan.
As usual, if you spot something that you think might be of interest, you can send it our way too. Tweet it to @BehindTheBucks or mail it to winin6podcast@gmail.com.
Let's get down to it:
Best of Behind The Buck Pass From 12/30/16
Milwaukee Bucks: Player Power Rankings (Dec. 22 – Dec. 28) (read here): Lukas Harkins returns with his latest player power rankings as the middle of the pack continues to shift around.
Milwaukee Bucks: Best and Worst (December 23-29) (read here): Adam Coffman also rounds up some of the best and worst things he's seen from the Bucks over the previous seven days.
Milwaukee Bucks Game Preview: Dec. 30 at Minnesota Timberwolves (read here): Ti Windisch looked ahead to Friday's game, highlighting his keys for both teams and sharing our staff predictions.
Best of Bucks Across The Internet From 12/30/16
Dellavedova out with hamstring injury; Brogdon to start (read here): Charles Gardner of the Milwaukee Journal Sentinel reports on the injury that will keep Delly out of action for at least two games, thrusting rookie Malcolm Brogdon into the starting five.
T'wolves 116, Bucks 99: Wiggins, Towns Lead Rout (read here): Gardner also recaps the action from Friday's loss in Minnesota, gathering reactions from Jason Kidd, Mirza Teletovic and Jabari Parker who shared a strong sense of disappointment at how the game played out.
Best Bucks Bench Performances of the Year (read here): Bucks.com highlight five of the leading contenders for the team's best individual bench performance of the 2016-17 season so far.
That's it for today's roundup but check back in tomorrow when we'll do it all again.
More from Behind the Buck Pass
This article originally appeared on
---
---
National Basketball Association
The Boston Celtics are heating up, but can they keep streaking in the postseason?